Mick lives, Wilko falters, and Julian makes it clear that something was left unfinished last year.
KP sends them out early, in the pale light of dawn, with clean, crisp lines running down the point. Mick's in the first heat, alongside Connor and Alejo. What scars does he carry, bobbing there in the same line-up that nearly killed him? He lets the youngsters get things started, all energy and aggression, but their caught rails and subpar wave selection fails to put any real pressure on him, so he goes on bobbing, waiting. Then he sees one, the kind of long, groomed wall that's carried him to countless finals out here before, and from the moment he drives down the face it becomes apparent that all the media, all the talk of sharks and ankles means nothing to him now, as he rips the thing from start to finish and goes on to control the heat in much the same way. He wins easily, looking as smooth and graceful as we've ever seen him, and just like that last year is delivered firmly into the past.
J-Bay unravels like a dream for natural-footers, but not so much for goofies. Then Medina comes along and in spite of the increased gusts, in spite of the fact he'll have to stand there with his back to the wall, he grabs a wave straight off the bat and belts it to buggery and beyond. It comes in at an 8.17, and as so often happens when the Brazilian wunderkind hits the water, he swings every ounce of momentum in his favour. Things only improve from here, as he links strong backhand wraps and reos with lofty down-the-line speed floaters and before you know it, fellow Brazo Ribeiro and Dusty are comboed and unlikely to get out. They don't, and Medina goes on to post the highest combined total of the round so far.
The sky turns gloomy for Wilko's heat, and as the waves slow with the dropping tide, he fails to take control of the kind of match-up most champions would dominate. There are moments of brilliance, including one beautiful under-the-lip hook on his best wave, but by the time the hooter has sounded the judges have sided with Cathels' longer, more lateral rides and Wilko is once again sentenced to Round 2. Luckily he draws Sawyer, the local trials winner, who is pretty much a non-event in the first heat and little more in the second, and Wilko scrapes through to Round 3 with the precarious combined total of 8.47.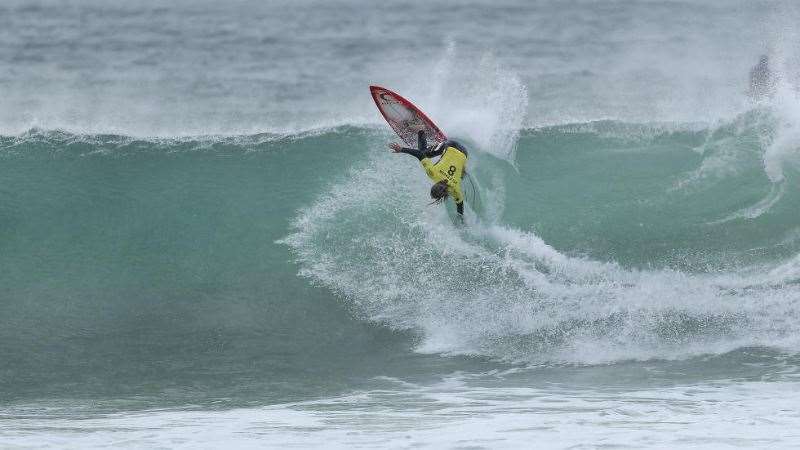 Wilko got through, but it wasn't pretty. Photo: WSL/Cestari
Jordy looks beautiful on his first wave, like he was born to ride the place, then Wiggolly strokes into a gem and belts the shit out of it and suddenly you're thinking uh-oh, here we go. But the big man refuses to lose his head, not here, not at home, and under the brilliant glare of the South African sun he pairs an 8.1 with an 8.33, looking confident, fluent, the most perfect arcs cascading off every turn. Watching him flow so flawlessly across the long mesmerising walls, it occurs to you that if he surfed every heat out here like this no one would even come close.
Julian has a look on his face that says something was left unfinished last year. He paddles into one up the point and surfs it with the kind of beautiful body positioning and effortless flow that would win him a title if only he could connect with it all the time. It quickly becomes clear, as he takes apart another wave that will probably score somewhere up near his first, that he wanted that J-Bay title last year and is here to make it his in 2016. With more than fifteen minutes to go, Nat and Jack are left comboed and thoroughly outsurfed. Julian only catches three waves, but they score a 9.17, 8.97 and 9.6 respectively, and on a day of good surfing and good waves, it's enough to earn him the highest heat score and most impressive performance of the event so far.
Tracks