Artist captures Fanning in hyper-real style for Australia's premier art prize.
Mick Fanning and Joel Rea go back a long way. Mick was two years ahead of Joel at Palm Beach-Currumbin high school on the Gold Coast and, although they weren't mates back then, Joel still remembers the powerful if somewhat brooding presence Mick had. "It was like 'there's Mick Fanning he just rips so hard' … but he also had that heaviness about him because his brother had passed away… it was clear he was the kind of guy who'd used whatever he had and made the best of it."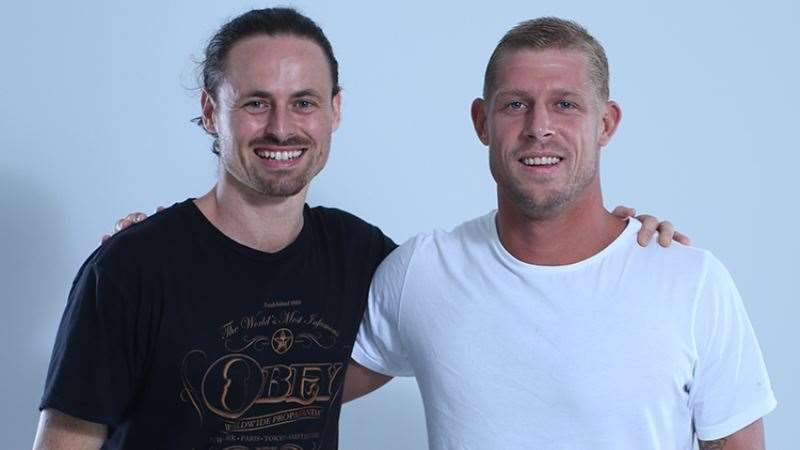 Almost twenty years later, Mick is the three-time world champion and Joel is an internationally recognised artist who boasts both commercial success and critical acclaim. The two recently got together to paint a portrait of Mick for Australia's premier portraiture competition, the Archibald prize.
Talking to Tracks Joel explained how he arrived at a perspective that has Mick perched on a cliff edge, staring up, almost as if he is looking to the sky for answers.
"When we went to his house and did the photos that I worked from, it was just a real fluke that he had this really cool stair case in his house and I could kind of get above and shoot him as if I was in the sky looking down on him. It gave it this great, interesting perspective that I hadn't seen before. It also added to the whole idea of Mick just trying to look towards the stars and just get through this time of his life. "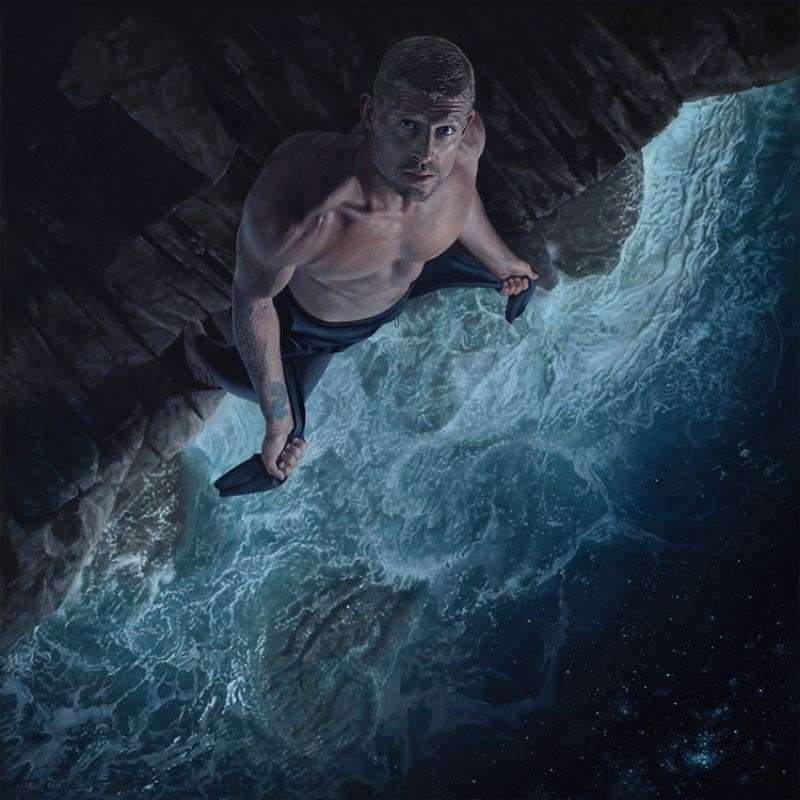 Rea suggested he also wanted the painting to convey a sense of ambiguity, given that Mick is in a phase where he has to make some big decisions about returning to the tour and also has to overcome a psychological hurdle by going back in the water at J-bay after last year's shark incident. "… Is he leaving or is he going? I staged him with the wetsuit so it kind of looks like he could be taking it off or putting it back on. It's just kind of a reference that he's in a stage where he's kind of got to figure some stuff out."
Rea describes his style as Hyper-Real, and achieves the effect by combining classical oil painting techniques with elements of photo shop. "Sometimes people see my work and think 'Is that someone painting over a photo?' but it's not, it's 100's of hours of work, oil painting on a canvas and then I just use aspects of photo shop to give it a contemporary feel."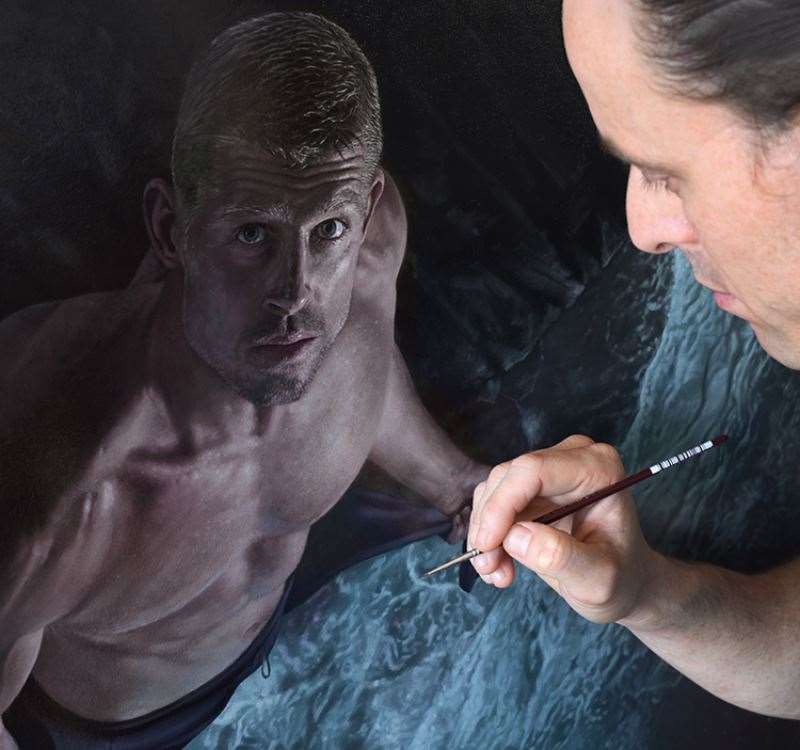 On a more philosophical level Joel stresses that his aim is always to produce something, which reflects the true nature of the individual and captures the essence of the life journey they are on. "I want it to reflect that spiritual quest kind of thing that we are all on… something which prompts you to take the time and look inside yourselves."
The idea of capturing young people who aren't afraid to embrace their ambitions and jump outside their comfort zones to achieve them is appealing for Rea, who admits to being on his own mission to crack the highly competitive New York art scene. "I've also painted Chris Hemsworth who was just a young Australian actor who took the risk and went to L.A. and it paid off… I guess I just like painting young people who are having a go." Rea has Hollywood siren and star of Wolf of Wall Street, Margot Robbie, in his sights next, but for now he's pinning his hopes on his Mick Fanning
portrait. The finalists will be announced on July 7 and then hung in the art gallery of NSW before the winner of the $100 000 prize is announced on July 15th. Mick usually makes the finals, hopefully Joel does too.
Tracks