The big South African climbs on board the confidence train, heading for Supertubes.
Despite a tummy bug that threatened to wipe him out of the Ballito Pro presented by Billabong in the first day or two, Jordy Smith kicked in towards the last few days of surfing, timing his performances perfectly by not peaking too early, and then going to town on the final day of competition to bank another Ballito win.
Jordy's victory puts him straight into fifth place on the WQS rankings, and is obviously a massive boost in confidence for the big chap. There were, however, a bunch of other cool stories going down alongside the champ and his win.
Smith's confidence must be soaring. Photo: WSL/Cestari
Willian Cardoso has been around for a while, coming close to becoming a fully fledged Championship Tour champion, but never really fulfilling the dream. He is a powerful kind of surfer, would actually be a close battle between him and Michel Bourez for the most powerful surfer/strongest thighs on tour, but despite the brute force that he annihilates waves and lips, he's a pretty mellow dude to boot. The second place to Jordy puts him at number 2 on the WQS, and within striking distance of a 2018 berth on the Championship Tour.
Wade Carmichael has a great, minimalistic style when it comes to surfing decent waves, and given the opportunity, he would do well on the dream tour. He has a long way to go though, but his drawn out bottom turns to huge lip cracks with nothing in between harkened back to a nice and pure style of surfing without any wiggling or jerking, and was a pleasure to watch. The dude seems pretty relaxed as well.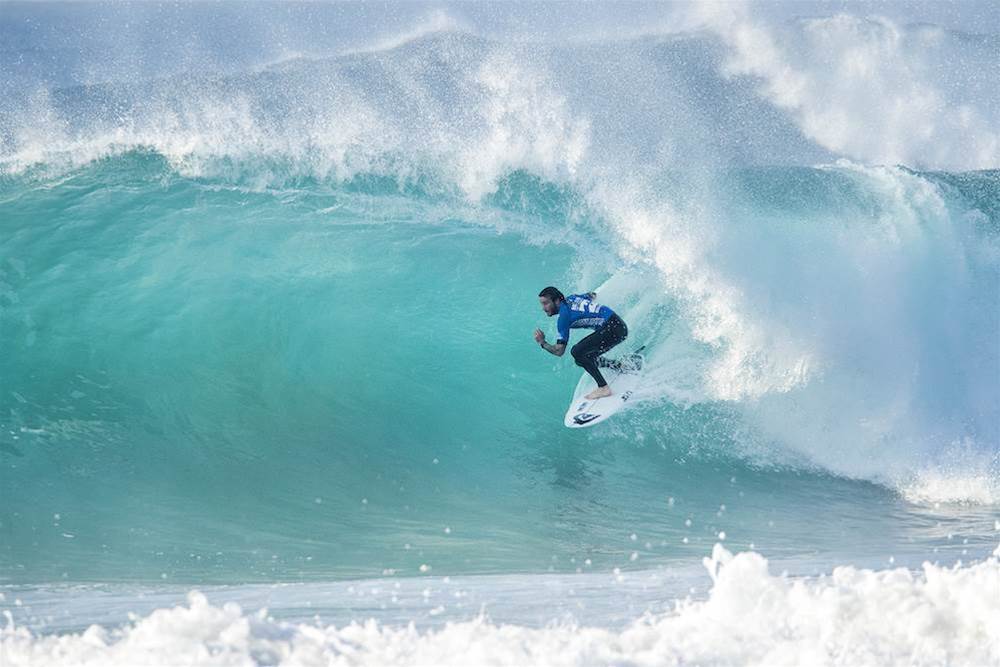 A semi final finish gives credence to Mikey's desire to join the tour. Photo: WSL/Cestari
Mikey Wright was a one of the biggest success stories of the Ballito Pro, more so for the discovery of what a brilliant surfer he is in those sorts of chunky, difficult waves with consequence, but also his buttery smooth style in conditions when it would be so easy to compromise style for moves. He seemed to falter when the waves got a bit smaller and less demanding, so he too will flourish on the Championship Tour if he could get there, and join the rest of the family.
Mikey February, a star in the making, had a breakout event in Ballito. The dude stayed calm and collected through it all, and was always ready for an intelligent conversation masquerading as an interview. When he needed to pull out the stops and go to the air, it wasn't a problem. When the conditions were calling for carves and rail turns, he provided just that. His levels of confidence were tangible, and when Jordy finally eliminated him, he was still stoked beyond belief that he had got so far anyway, and spoke highly of Jordy's performances.
The always smooth Michael February. Could he be SA's next tour surfer? Photo: WSL/Cestari
Vasco Rabiera was another surfer who looked intent on a big result. He's no surprise face, being a former world junior champ, and currently being coached and mentored by Portuguese legend Tiago Pires, but he seemed to lack the killer instinct when it came to the business end of the competition. Still, he has a big future ahead of him and has the right people in place to guide him into a successful professional career.   
Jesse Mendes is the runaway leader of the WQS at the moment, and is thoroughly deserving of his position at the moment. He already has 22,060 points in the bank, bearing in mind the Zeke Lau climbed onto the last slot on the Championship Tour with a total of 18,750 points last year. He is fast and dynamic, his interviews are self-effacing, and he just seems to be so happy on the tour and looking ahead to a good 2018. He's the sort of guy that you want to do well. He's also dating Tatiana Weston-Webb, so high fives all round. 
Tracks