Tracks in the trenches for the king of style's ASP World Title victory at Pipeline.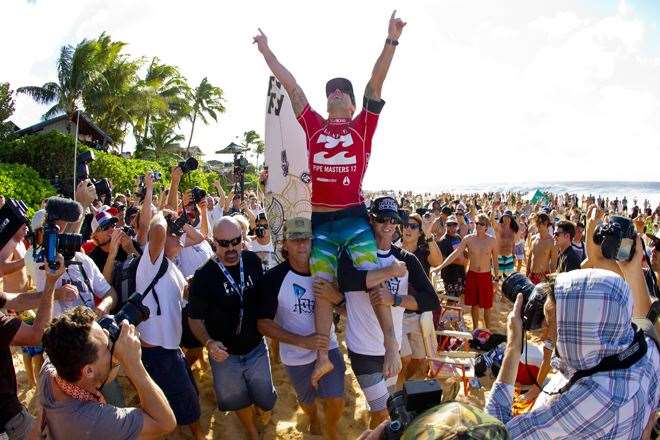 The final day of the Pipeline Masters in Memory of Andy Irons was to belong to Joel Parkinson in every way. He won the event and the world title. Rewind to the morning – dark skies appeared and for the fans of Joel Parkinson the threat of a fifth, World Title runner up finish loomed.
Seeing the stylish natural footer break that hoodoo was at the top of almost everyone's agenda. While the average American on the beach might have been cheering for Kelly, most of the surfing fraternity wanted a Parko win. The Dodgy winds and mixed up wnw swell added to the drama that would unfold throughout the day.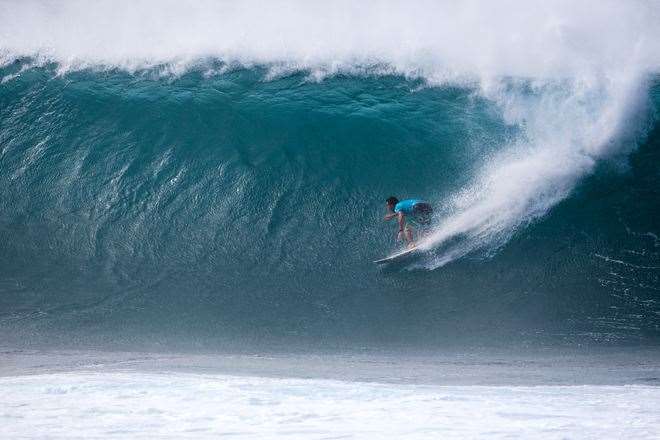 Parko coiled and ready to release on a bomb. Pic: ASP/Cestari
With his twelfth title possibly hours away, Kelly had to first flip the script on young Gabriel Medina, who had started strong in their no loser fourth round heat. But while Kelly was digging in for a duel with Gabriel, Josh Kerr threaded a Backdoor drainpipe. From there Kelly and Gabe were playing catch up. Like a dramatic script writer, Kelly waited till heat's end to try to shock the audience … but it wasn't to play out as planned – the chunky peak had the required eight written all over it and the K-Man was on the right side of it, but unfortunately Pipe had other plans… While his broken board from the uncharacteristic wipe-out floated in the line-up, the champ re-entered the water with seconds to go for one last ditch effort to skip round five and go straight into the quarters. The last minute paddle out wasn't worth the trouble as Josh Kerr progressed, but it did emphasize just how much Kelly wanted title number 12 in the twelfth month of 2012. Meanwhile, Josh Kerr hadn't played his final card in this game of high stakes, Pipe poker.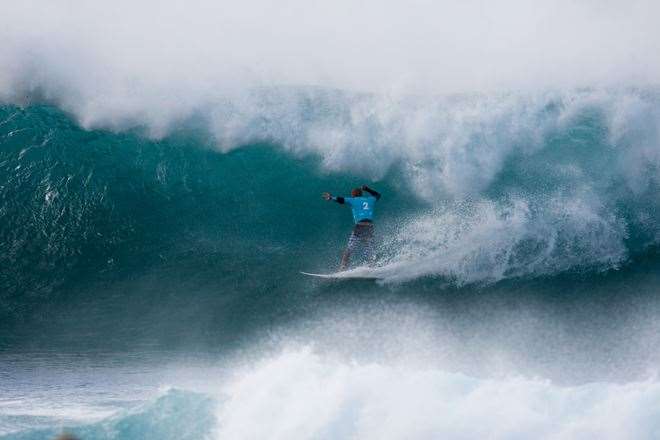 Number 2? Kelly took a back seat today – for once. Pic: ASP/Cestari
On the other side of the draw Joel had already planted his front foot firmly in the quarters with a massive 18.10 heat total in his fourth round win. With Parko sitting pretty, one step ahead, the pressure was on for Kelly to beat Brazilian Miguel Pupo in their round five heat. The tension on the beach was palpable – excitement crudely mixed with a strange fear Kelly may falter and deny us a classic Pipeline showdown. As luck would have it Western Australian Yadin Nicol was on hand to distract the beach and put the crafty Gabriel Medina on the ropes with a "Two for one special, with two doggy exits" as described by the pumped up beach commentator Beau Hodges, in classic Hawaiian fashion.
Gabriel hasn't won too many new friends in the inner sanctum of surfing of late, refusing to shake Julian Wilson's hand in Portugal, dropping in on crew at will and allegedly spitting on a young hot-rat, Australian grommet from Western Australia – not cool at all. While his wave-riding skills are sky-rocketing, Gabe and his team of supporters need to learn sportsmanship goes a long way towards helping a surfer win world titles. If he were 25 you'd be concerned he's too far-gone, but at just 18 he'll learn. Ever-smiling Yadin Nicol led by example, hunting the young Brazilian down and offering him a handshake after he heat – I hope Gabe was taking notes.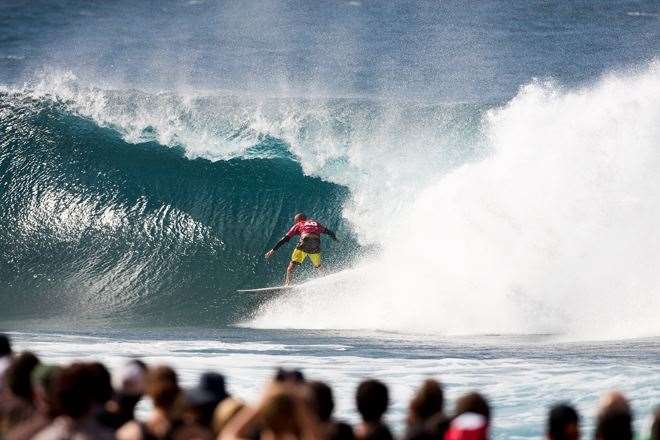 Shane 'Back' Dorian lost no cred with his blistering performance throughout the week.
While all that was happening Kelly slipped out [insert weird face here – nothing Kelly does goes unnoticed], and did a number on poor Miguel. When Kelly returned to the beach I was able to pull him aside and gauge his thoughts on the state of play. "Is making the final with Parko the ultimate scenario from here? I ask. "What? I've already lost all my hair", he said with a wry smile. "I don't want him to catch any waves in his quarter final so it's done." Half- jokes aside he re-geared and offered diplomatically. "For the fans and people on the beach that'd be the ideal way to settle it for sure."
When I shifted the subject to equipment, Kelly was happy to elaborate on one of his favourite topics. "I went a few inches shorter after breaking my other board earlier, it's tough with the wind. You have to take off right under the lip and on the other side of the peak…"
Following Parko's successful grind against CJ Hobgood in their quarter he spoke of the poison chalice that priority can be out at Pipeline. "I hate priority out there (sometimes) – I like to hunt".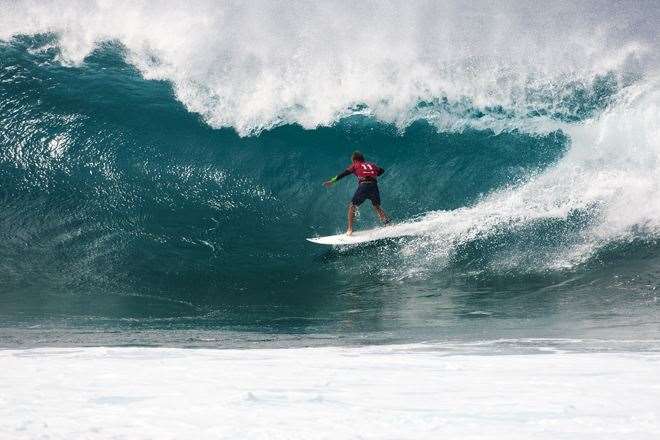 The man Parko will be buying beers for from this day forward, Kelly killer, Josh Kerr. Pic: ASP/Cestari
If you'd evaluated the combatants last two heats before trying to pick a winner, you'd have dropped the house on Kelly to prevail. But like Julian Wilson told me a little later, "If Parko can get through a heat like that with limited opportunities – he's going to be hard to beat when things go his way." Sounding wise beyond his years, JW added, "It feels like his day – and he deserves it if it all works out – I'm on team Parko for sure."
Kelly's next obstacle came in the form of his old mate – and gnarliest big wave dude ever – Shane'o Dorian. Two friends who once famously went switch on their first waves in the final of the Hot Buttered Pro Junior at Narrabeen back in 1992.
"Any switch deal on this one?" I asked Shane'o, as he descended the ladder from the competitor's area. His headshake and stern look telling me, "No way!" Like Kelly, Shane's chances of competing on the world stage are surely soon to dry up and, title or no title, he was taking no prisoners against his old friend.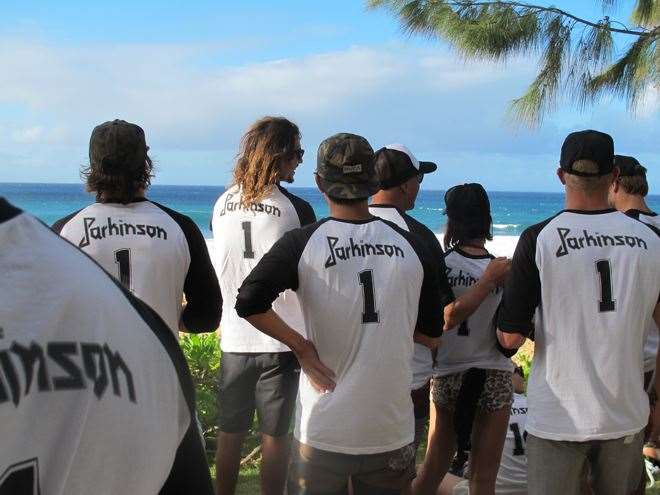 Team #goparko sweating bullets, but ready to explode. Pic: Zenla
Speaking of friends – despite lighting up the beach with a perfect 10, Yadin Nicol got bundled out of his quarterfinal by his relentless mate, the injured, Josh Kerr. Yades needed a semi result and now finds himself off the world tour for 2013. It's the second time this year Yades has lost a heat with a ten and no one is happy to see him back on the WQS. Even Josh's West Australian, Rusty team manager, Ryan Batista, admitted to being bummed for Yadin – it's a state thing. I asked Josh about the bittersweet situation. "Curse of the ten – not that I've (ever) had one." Adding, "I feel for Yades, but I got a chance and I took it." Kerrsy took it all right, and shot himself straight into the firestorm – a possible world title-deciding semi final with Kelly Slater who managed to hold off Shane 'Back' Dorian in the heat of the event.
Parko's following semi-final was a stress-fest for team #goparko – and that appeared to be the entire beach. Even Damien Hobgood [his semi final opponent], had told me a little way back he was on team Parko (sic) and "loved the under dog," (even though his own twin brother was surfing against him at the time). Patriotism can be fun but it's a narrow vision to cling to.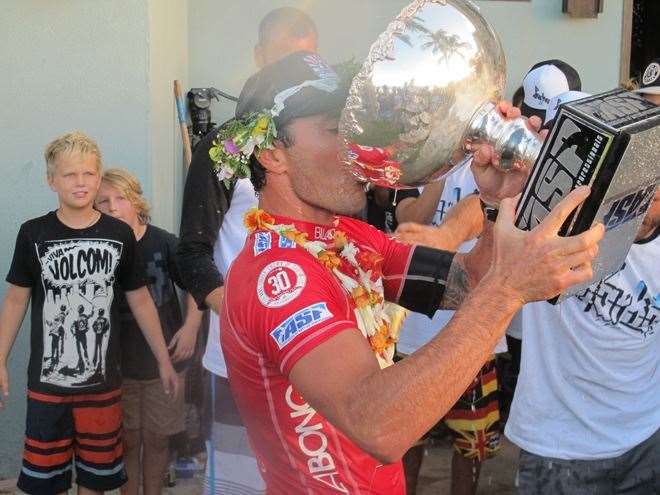 "Victory – It's so good when it hits your lips!" Parko and cup over-floweth. Pic: Zenla
No one would have begrudged Kelly another WT, but a fifth, runner up place for Parko would have been a dark cloud from hell. Luckily he got late chances and capitalized on them. "I was behind but I wasn't out," he said back in the media area, prior to his official post heat interview with the sharply dressed (from the waist up) GT. "I don't care if Josh beats him (Kelly)… I'll take whatever."
Knowing he was in the final, Parko was edgy and wanted to get the web interview over ASAP. GT said he had to wait for the call as media and fans gathered in the awkward silence. "Let's just start without them?" [The web commentator's] Parko said in a dead serious tone. That made no sense of course, but Parko wanted out – if he was to witness Josh beat Kelly and hand him the title, he wanted to be back up at the Billabong house with his family and friends – not under the microscope.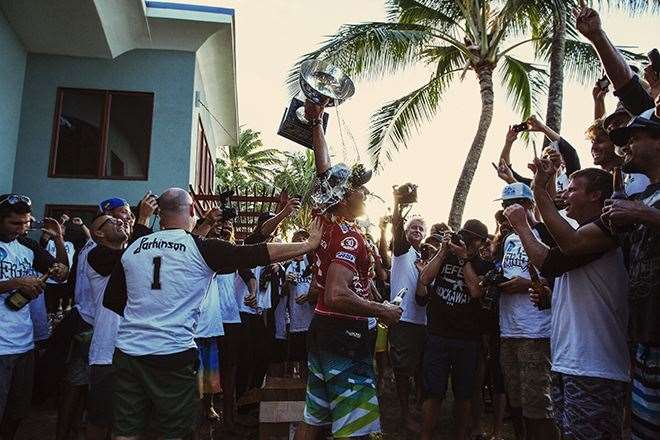 Deep camp Parko. Pic: Nate Smith
With Parko gone into his safe house, the beach fell oddly quiet. Kelly and Josh's heat was starved for waves, save one right Kerr locked into that netted him a 9.20. Still, no one would believe the king was down till the clock was cooked and the scores confirmed. All three Billabong houses rode the mood roller coaster until Kerr had Kelly well and truly in a tangle with the ocean being his rope of choice.
With 30 seconds to go Parko held his breath, and the beach held their's with him, "5, 4, 3, 2, 1" came 'that' count down… "Joel Parkinson is your new ASP World Champion". Cue massive cheers, que, sighs of relief que shoulders slumped in Kelly Slater's camp. The duke-out was done and finally the bridesmaid became a bride.
Team Parko was elated, as too were his friends and family – that includes his extended Hawaiian family. He'd flicked the monkey and kicked in the door.
After his friends Mick Fanning, Makua Rothman and co carried him to the stage, he announced his joy and best of all acknowledged his family. "My mum, my dad – who took me surfing when I was 10 and 12, and especially my wife and kids – this is for us!"
A family man winning the selfish, single man's title, I loved that. And I reckon a lot of you did too.
#goparko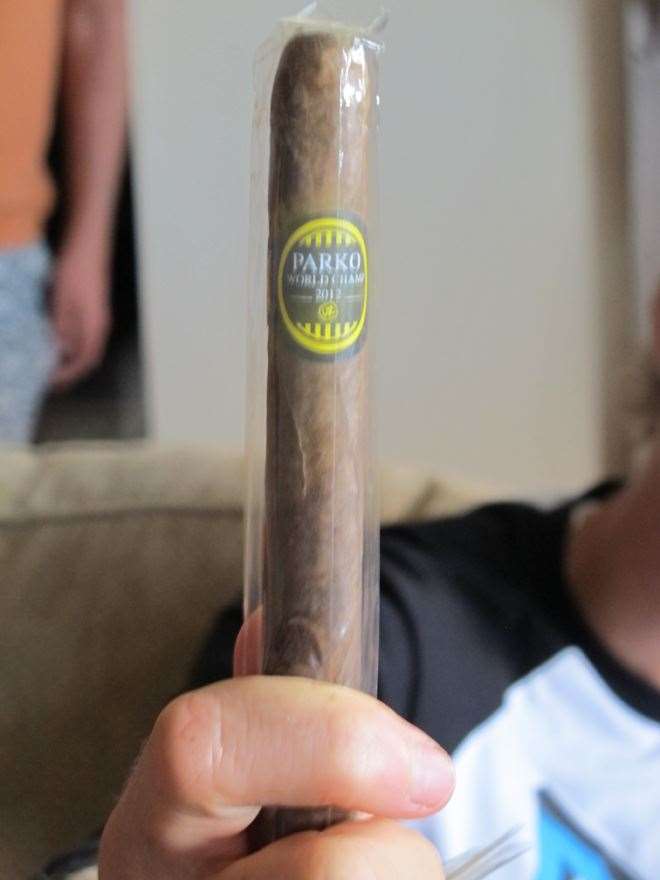 Brought to you by...

Book your flight now: HERE
Tracks