What went on behind the scenes when Kelly and Joel paddled out at the Volcom Pro, Fiji
Kelly Slater was all bronzed muscularity as he stickered up a new board alongside his waifish girlfriend, Kalani. For someone who hadn't shown up for round one he looked confident and languid. Pre-heat he had time to sit down at a table with a few of us and chat about why Tommy Peterson [Michael's brother] reminded him of his Dad, why Bill Murray should be in the commentary box for a couple of contests and how Ben Stiller is apparently working on a comedy that sends up surfing. Of course between comments his eyes would occasionally dart intensely towards the Restaurants lineup where slightly ribbed, 4-6 ft zippers hurled down the reef.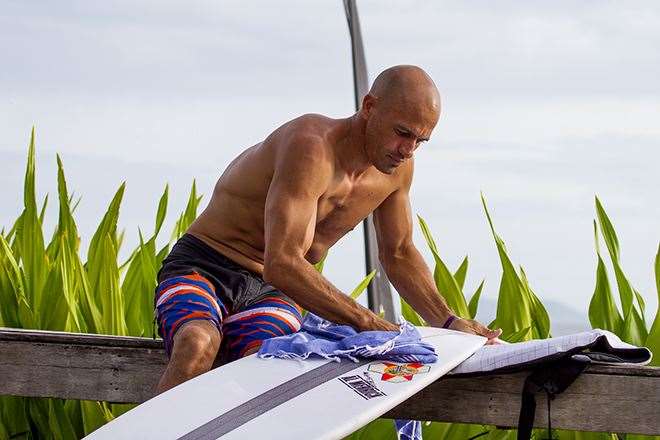 Kelly stickering up a beautiful looking Merrick. Photo: ASP/Kirstin
Mick stopped by to casually enquire about what Kelly was riding.
" Just a little 5'9" quad Kelly responded," readily giving up his board digits to his competitor. " Do you like the epoxies in these conditions?" Mick continued.
" Yeah, I rode them most of last year and I'll use them in any conditions," Kelly offered confidently as he tucked his trusty Fred Rubble Merrick under his arm.
Admittedly Kelly wasn't up against heavily fancied competition.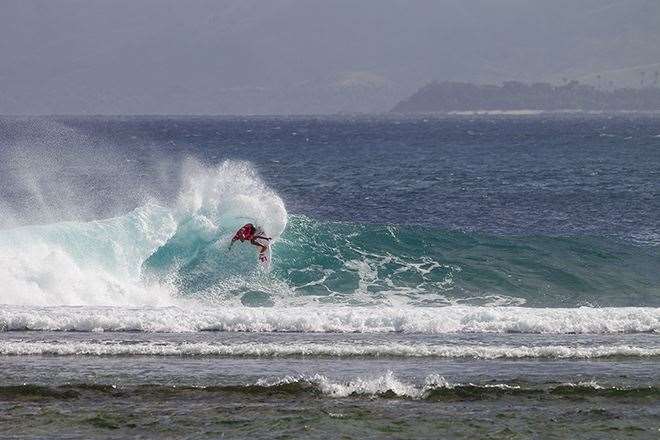 Slater makes his first mark on the Volcom Fiji Pro with a dominant performance in his round 2 heat. Photo: ASP/Kirstin
Local Fijian wild-card Aca Lalabalavu hadn't really registered on anyone's radar but he obviously knew the wave well and also had the support of a full Fijian choir/cheer squad on the beach. Every time he took off on a wave they erupted and by mid-heat they were in full song. It was a touching moment but no amount of sentimental backing could save poor Aca from Kelly the merciless. Kelly manufactured a tube on a foamy left for his first one and then it kind of went, barrel, backhand skyhook, barrel, backside hack, barrel in one continuous blur of brilliance. " Oh my God," was the loudly shouted response from one of the pool-deck dwellers as Kelly played Mr Squiggle on the chattery faces. Kelly reads the wave at Restaurants incredibly well and understands that you have to combine ultra-deep tubes with sublimely timed backside turns – it's both not one or the other. To his credit Aca rallied late with a 7.23 but he was delivering counter meals while Kelly turned on an Ala Carte performance at Restaurants. Before you knew he was sauntering back up the beach, whispering 'hey baby' to Kalani and strolling arm in arm down to the shore for a quick swim.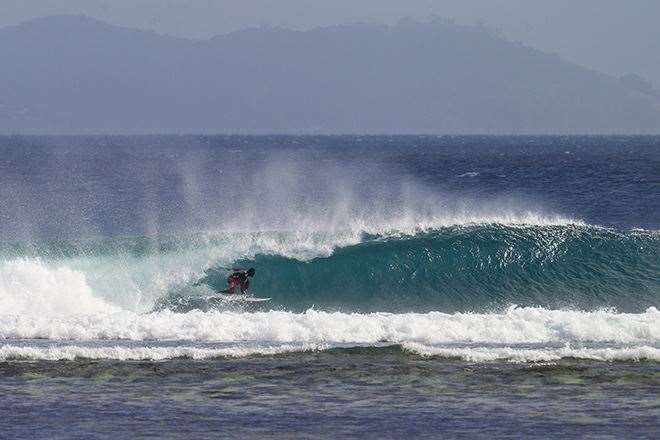 Local trials winner, Aca Lalabalavu shows his form at a wave he knows inside-out. Photo: ASP/Kirstin
Parko's preparation kicks off with a blow-by-blow recap of the night before's State of Origin match. Mick Fanning and Sean Doherty are both on hand to chime in. Having missed the NSW drubbing of Queensland as I was rocking around on the Tracks yacht, I do my best to piece together the game's details from the description. When Parko turns his attention to the surf a smile peels across his face and he states emphatically " This is where you don't care what round you're in … The eight guys that aren't going to surf today are the ones missing out."  Parko's much publicised round one absence, courtesy of a fishing misadventure, doesn't seem to be bothering him at all. The Wahoo he'd caught had already hit the griller and fed forty guys. As far as he was concerned he was in front. All he had to do now was get past training buddy Dusty Payne – no easy task.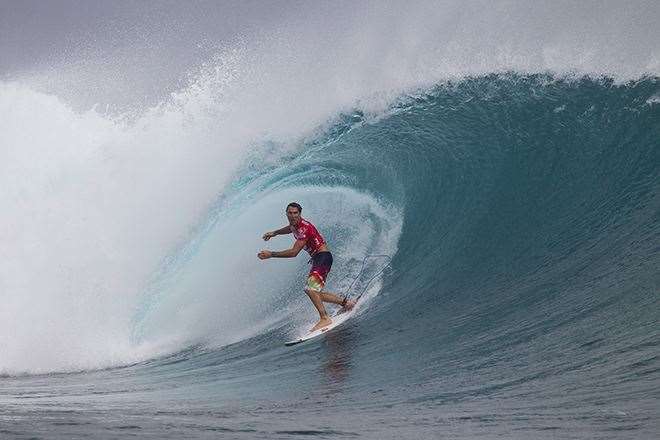 Embracing his inner fisherman, Parko jagged a couple of beauties in his round 2 heat. Photo: ASP/Kirstin
Pre-heat a NutriGrain capped Wes Berg delivers Parko a protein bar and it's game on. Wes has the unfortunate honour of being the trainer for both Joel and Dusty.
Dusty disappears on a wave with 10 point potential in the early moments and Kelly is heard screaming "Come on!" but Kelly's vocal support isn't enough to get Dusty to the exit signs.
Kelly is more emotionally invested in heats than anyone else. If he's not surfing himself he loves nothing better than to sit around and analyse everyone else's attack. For much of this one he can be heard delivering insights and comments on the choices made by the surfers. The heat evolves into an out and out duel. Dusty gets the better of a mid-heat exchange but then Joel lays down a 9.1. " Get back in there big nose," Mick Fanning is heard yelling as Joel throws rainbows off the top of a section.
When Dusty locks in a multiple barrel, heart-breaker a hush goes over the Parko support crew.  The score comes in at an 8.63 and the consensus, even amongst Parko's camp, is that Dusty's score was a little low-ball. However, the heat has one more dramatic twist. A set rolls through in the final moments and Dusty, holding priority, buys the wave that Parko sells him. From behind I hear Kelly's running commentary.
"That was the wrong wave. That's just not knowing the wave," he states earnestly. "He should have been on this one."  Parko strokes confidently into the one that Kelly is talking about, threads his way towards a 9.37 and instantly transforms a close call into an emphatic victory.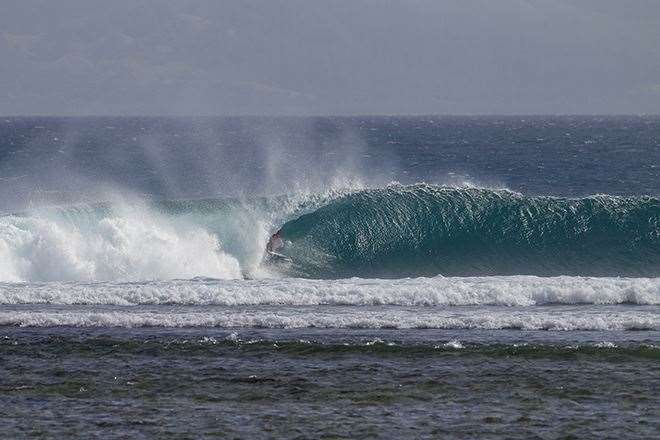 Fanning locks into a thick little numer on his way to victory in round 2. Photo: ASP/Kirstin
Post heat Parko is honest about his round two encounter. "It was so hard. Dusty is like a quartes or a semis guy… it's bumpy and really chattery out there too. You don't know what the wave will be like until you are right into it."
Joel had enjoyed the Restaurants challenge but moments earlier I'd heard him tell another journalist that Cloudbreak is definitely his preferred wave.
Kelly and Joel were both through and with the current Number 1 ranked surfer, Adriano De Souza, bowing out to a deserving Yadin Nicol the world title race takes another turn.
Other Classic Quotes from today
"You didn't expect it but I did." - Brett Simpson to Mick Fanning and co after exiting the water from his round 1 victory against John John and Ace Buchan.
"I probably would have never done another contest again if the call didn't go my way."  - Perennial bad luck guy, Yadin Nicol, on his close win over Adriano De Souza.
Tracks