It's official.
| | |
| --- | --- |
| | It's official. Kelly Slater now has another world title trophy to find a shelf for. |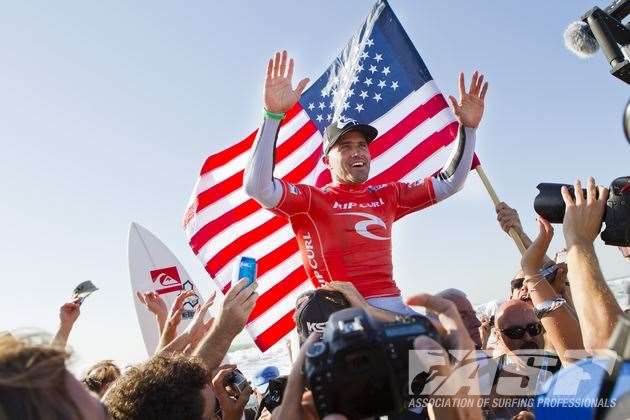 Kelly with 10 fingers and we're assuming, one toe raised in the air. ASP

Kelly Slater has again created history by winning the ASP World Title for the eleventh time today in San Francisco. His eleventh title secured in the eleventh month of the year 2011 (and on the first anniversary of Hawaiian immortal Andy Irons passing no less).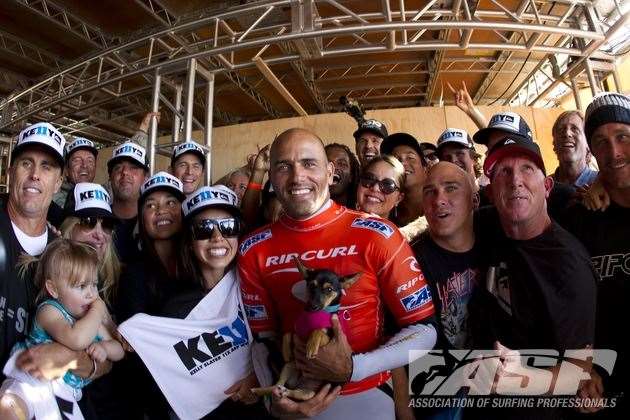 In pit lane with the Slater racing team. ASP


Under beautifully sunny skies Kelly's moment came when he surfed past Australian slugger Dan Ross in their crucial round three heat with just over a minute left on the clock. Taking off on an inside right-hander with a steely focus, Kelly, pausing for a split second, jumped to his feet. Despite the pressure, the undeniable pressure, he set himself up for a bottom turn that positioned his body perfectly to allow his now patented front side hack-back to be unleashed. His money turn followed by another less vicious version from which he then tracked the tapered wall all the way though to the inside for a powerful layback into the oncoming wash. "I was hunting those lefts", Slater later said in his post heat interview, "and they were fading off I was thinking 'why am I taking off on these things.' I knew I had to get in on some of those rights. That wave had a nice open face and I thought it'd probably be just enough."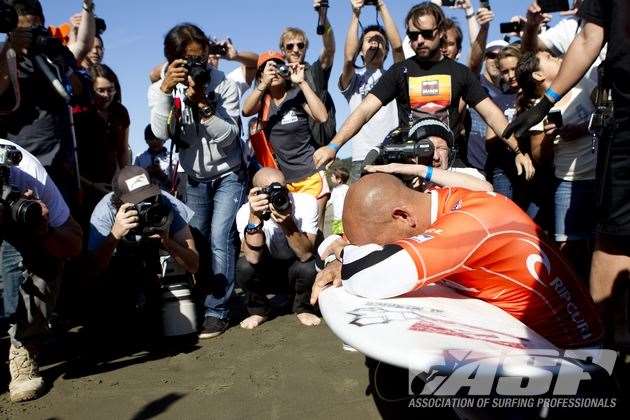 A pre-heat request for devine intervention. ASP

It was no nine, but it had mid seven to eight written all over it. With his brother Stephen, double fisting his back up boards on the sand, and now smiling with delight, Kelly, ever the fighter, turned tail and kicked and scratched his way back out towards the lineup. But this last ditch effort for one more wasn't needed – the announcement was made, it was a 7.60 – he'd taken the lead.  The remaining seconds passed quickly, the title was his. The beach erupted with cheers and a lone red white and blue flag rocked like it was on the bow of a ship in torrid seas. "Kelly! Kelly! Kelly!" If, as some have suggested, San Fran was to be an unwelcoming town for the Rip Curl Search event, no one told this lot. The jubilant crowd were there to share the moment with the greatest surfer of all time, their countryman, it was one to be savored. The Curl may have gambled their Pro Search events good fortune once again by hauling their caravan of courage to Ocean Beach (a notoriously cold and tidal beach break), but thankfully they have inadvertently given the United States of America something they have never had before, a local world title winner crowned on the mainland. The importance of the occasion summed up perfectly by the man himself, "I've dedicated my life to surfing and competing and to go a whole year and win a world title and have it pay off, it's really fulfilling. To win on American soil is nice. Everyone's been so cool and the locals have been so stoked. It's been a special time. It's been warm and offshore and a nice little swell. Someone's looking over us and probably Andy (Irons)."
Some facts courtesy of ASP.
2011 ASP World Title Series Results:
Quiksilver Pro Gold Coast: WINNER
Rip Curl Pro Bells Beach: Equal 5th
Billabong Rio Pro: Equal 13th
Billabong Pro Jeffreys Bay: No Show
Billabong Pro Tahiti: WINNER
Quiksilver Pro New York: Runner-Up
Hurley Pro at Trestles: WINNER
Quiksilver Pro France: Equal 5th
Rip Curl Pro Portugal: Runner-UP
Rip Curl Pro Search San Francisco: TBD
Billabong Pipeline Masters: TBD
Kelly Slater's ASP World Title Clinch Locations:
2011: Rip Curl Pro Search San Francisco – USA
2010: Rip Curl Pro Search Puerto Rico – USA Territory
2008: Billabong Pro Mundaka – Basque/Spain
2006: Billabong Pro Mundaka – Basque/Spain
2005: Nova Schin Festival – Brazil
1998: Mountain Dew Pipeline Masters – Hawaii
1997: Expo 98 Figueira 97 – Portugal
1996: Coca Cola Figueira 96 – Portugal
1995: Chiemsee Pipe Masters – Hawaii
1994: Chiemsee Gerry Lopez Pipe Masters – Hawaii
1992: Alternativa Surf Rio – Brazil
Note: Since the inception of the ASP world tour in
1976 30% of all world titles have been won by Kelly Slater.
Tracks