The Suffolk Park local stoked with the announcement of his re-signing to clothing label, Rhythm.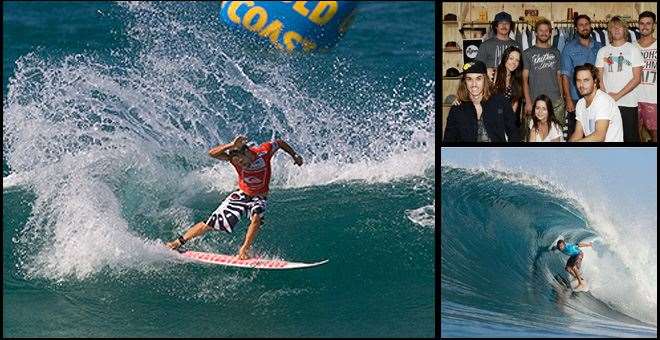 Following a stint on the side lines with a knee injury and a rejuvenating trip to the Macaronis Resort in the Mentawai Islands with Tracks for the Byron Bay Boys trip, Kieren Perrow had a blistering second half season in 2010. Finishing his run of good results of with a second at the Billabong Pipeline Masters. A title that would have sat perfectly next to his name and reputation as a stylish charger. The close lose to a lucky Jeremy Flores only fueled the belly of the Suffolk Park local and with the announcement of his re-signing to clothing label, Rhythm, KP's set ready to give the 2011 ASP world tour a solid shake up.
This what Rhythm had to say about attaining Kieren for another year...
"Rhythm is stoked to announce that today it has re‐signed a sponsorship agreement with ASP World Tour no. 15
surfer Kieren Perrow (Byron Bay, AUS) 34, for the 2011 season. "2011 is shaping up to be our biggest year in the history of the brand", says Josh Barrett (Rhythm AUS General Manager) "This endorsement is our first global contract tying in Rhythm EU and Rhythm USA". This endorsement comes off the back of a stellar performance by Perrow in the second half of the 2010 season including an incredible runner‐up placing at the Billabong Pipe Masters in Memory of Andy Irons..." "I'm super excited to re‐sign with Rhythm and continue working closely on future projects to build the brand within Australia and internationally", said Perrow "Heading into the 2011 season with a great World Tour ranking and having a strong relationship with my sponsor gives me a lot of confidence and I'm psyched for the year ahead". With Rhythm growing by leaps and bounds and Kieren's incredible performances, this relationship is set to solidify the company's presence on a global level.The hard‐charging Aussie is about to embark on his 7th year on the 'Dream Tour' and will look to use this confidence boost to stamp his authority on 2011 ASP World Tour season."
Good to see such a creative Aussie born company making good and supporting Aussie surfing talent.
Col.B
Tracks