Down Under, the Australian film that hilariously revisits the ugly scenes of 2005.
The Cronulla riots of December 2005 undoubtedly marked one of the darkest chapters in Australia's brief history. The beach, so often a symbol of the Australian ideal, became a war-zone when thousands of Sutherland shire locals turned out to protest against the bashing of two, voluntary surf club members. The protest soon descended into several days of violence with the battle lines roughly drawn between Anglo-European "Aussies" and predominantly Muslim "Lebs".
While academics, journalists and politicians have debated the events of 2005, the just released film – Down Under ­– seeks to unravel and amplify some of the issues using a much more powerful method – humour.
Down Under sets the scene with actual footage from the 2005 Cronulla riots, which ten years down the track, is more confronting than ever – there's that infamous call to arms text, the t-shirts with the horribly racist slogans like " Ethnic cleansing unit " and the unforgettable footage of the cop swinging for the fences with his baton to keep a jeering crowd at bay.  
The real-life footage makes it apparent that the film has a serious undertone, but after it features in the first few minutes, black comedy becomes the film's primary weapon.
The dualistic plot follows the ill conceived, but hilarious misadventures of two groups from opposing camps who are both hell-bent on performing some violent act of reprisal in the aftermath of the riots.
The Lebanese group is spear-headed by a suppressed homosexual, Nick,   (Rahel Romahn), and includes a staunch, recently arrived uncle, an amateur wrapper and a brooding student, Hassim (Lincoln Younes), who is reluctantly hauled from behind the counter of his part time job at a suburban chicken shop to help his mates bash some 'skips'. They reach Cronulla via Maroubra, where they score a gun from an ostentatious, gay drug dealer who lives and works with an army of scantily clad Thai men.  You will likely recognise the camp drug dealer as Australian acting legend, Dave Field, who usually plays the tough as nails character.
Meanwhile, the Aussie clan is comprised of a bong-smoking pacifist know as 'shit-stick', a bogan 'pussy-whipped' ringleader named Jason, a Ned Kelly obsessed bank worker, an asthmatic islander and a down syndrome cousin. Armed with an antiquated WW1 gun and pep talk from shit-stick's delusional, cake-baking Dad they set out to defend the beach from a Lebanese enemy, romanticising the notion that it's like Gallipoli all over again. Of course they sing along to the sound track of The Never Ending story as they cruise the shire in search of "Wogs".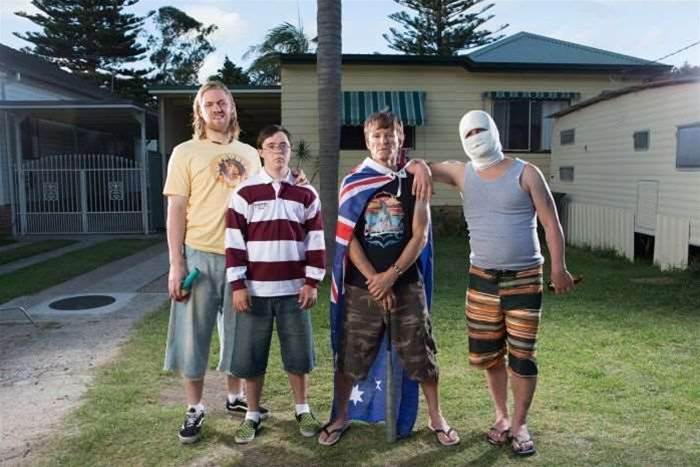 The script adopts what might be called the South Park approach, that being, if we are offensive to all parties equally then we can't be accused of discriminating against one particular race or minority. Needless to say Down Under's slickly written, witty dialogue tramples down all notions of political correctness to the point where some audience members aren't quite sure if it's OK to laugh or not.
The down-syndrome character of Evan (Chris Bunton) has some of the best, deadpan lines as he frequently corrects the other characters on their logic and facts. When Ditch (Justin Rosniak), who is covered in Ned Kelly tattoos, complains that Ned wouldn't have tolerated all these migrants coming in, Evan rightly points out Ned's own origins,  "But Ned Kelly was from Ireland".
As the two crews whirl calamitously towards a confrontation, Down Under turns its back on the notion that we are simply the Lucky Country and instead presents Australia as a dystopia where bigotry, ignorance, provincialism and the lack of a unifying identity create the setting for what was arguably the closest thing we've come to as a civil war. However, if there is one binding Australian concept in the film it's the Australian reputation for being able to take the piss out of each other. The movie will upset people on both sides, but for anyone who sees Down Under (and I strongly recommend you do) it's worth remembering something a wise old surfer once told me, "If you can't laugh at yourself you might just miss out on the best joke in the world." 
Tracks