Beachley will compete for her beloved Queenscliff Boardriders for the first time since joining in 1987.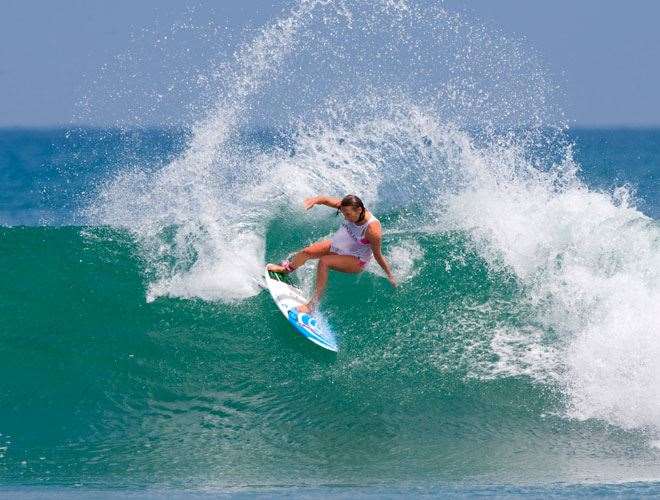 Seven x ASP World Champion Layne Beachley lays one over. Pic: JBST
The 2013 Women's Jim Beam Surftag begins Saturday, February 2 at South Curl Curl Beach, NSW
SEVEN-time World Surfing Champion Layne Beachley will lead a competitive field of Sydney surfers at the 2013 Women's Jim Beam Surftag - the only women's team event of its kind.
After an illustrious career at the top of the ASP Women's World Tour, Beachley will be bringing it all back to where it began, competing for her beloved Queenscliff Boardriders Club for the first time since joining in 1987.
Beachley said finally being able to compete for her local club was the ideal way to give back to the sport at a grass-roots level.
"I love how the boardriders clubs breed an inclusiveness, especially for women," she said.
"We've been standing on the outside looking in for quite a long time so to have women included in the clubs gives them confidence and special friendships in the water.
"It just shows the spirit and development of women's surfing at a grass-roots level and how far it's come."
Beachley said the Jim Beam Surftag allows the local female surfers the only opportunity to fulfill their competitive drive outside of their clubs.
"The girls don't really get to compete against each other too often outside of the club environment so to have us come together as a team instead of individually will be a completely different dynamic but one that'll be a lot of fun."
Fellow Queenscliff surfer Bronte Barham said she is excited, and admittedly a little nervous, to be teaming up with the legendary surfer.
"It's going to take the day to a whole new level having Layne competing with us," she said.
"She's been someone I've looked up to since I started surfing as a kid, so to be in the same team is a really exciting opportunity."
With a cash-prize pool of $3300 ready to be won, it certainly won't be a walk-through for the Queenscliff club with six teams including Bondi, North Shelly, Norah Head, Northern Beaches Women and defending champions North Narrabeen raring to go.
ASP world number eight, Laura Enever will call on her variety of surfing manoeuvres in an attempt to lead her North Narrabeen team to a back-to-back victory.
Enever said she's thrilled to be competing for the club that she's been apart of since she first hit the ocean.
"I'm really excited to be surfing with the girls again and for the club," she said.
"It's always such a fun day and surfing in the team environment in Surftag is completely different to surfing in a normal comp.
"There are plenty of other good teams and if everyone does their bit and surfs well hopefully we can win the title again."
The Jim Beam Surftag Series involves teams of five surfers who compete in a relay-style format. Each surfer must catch three waves and then return to the beach to 'tag' their teammate. But any winning team knows the key to trumping their opposition is to solidify on the second wave that scores double points, known as the 'power wave'. Securing a high score on a power wave has seen teams jump from last position into first, meaning no heat is ever over until the final hooter.
BOSCH, Sanuk, Perfect Wave Travel, Swimmable Underwear, Tracks and Coastalwatch proudly support the Jim Beam Surftag Australian Series.
-
Tracks