Chris Christenson visits Onboard Store Byron Bay.
Good point breaks and fun beachies define the North Coast wonderland of Byron Bay. So it's no surprise the latest surf shop to open its doors to the public boasts a range of surfboards catering to surf city.
The store itself is a luxury surf shop. Vintage photographs of Channel Island team riders line the walls, there's a shaping bay and all the major surf fashion brands are covered.
Onboard Industries was established in 1986 and operating from its Headquarters in Mona Vale NSW on the East coast of Australia. Shortly thereafter Onboard Store became the go to spot for Channel Islands and Simon Anderson team riders while retailing the best surf and hard goods equipment in the market to Average Joes.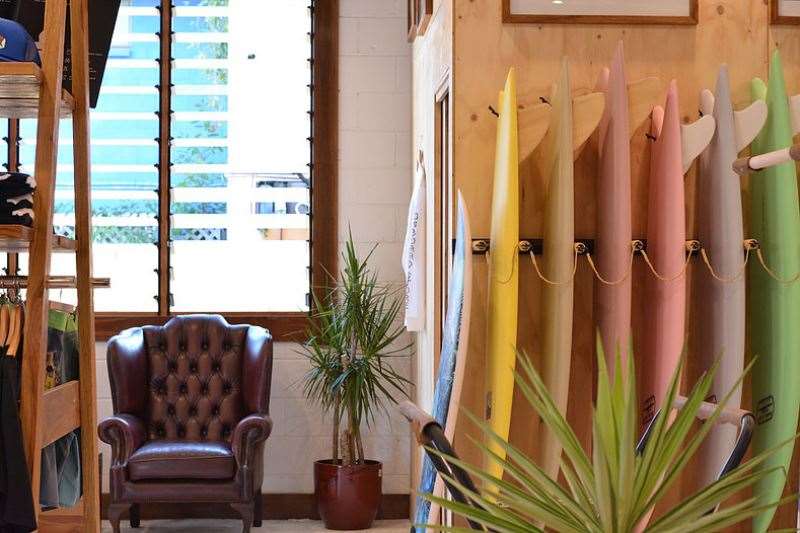 The sensory joy of browsing a real surf shop will always have a place in surfing. Photo:Brenden Back/Onboard
"What we're trying to do at Onboard is have every style of board that caters to all surfers; longboards, fishes, single fins and high performance shortboards," says, Onoard Byron Bay's Brendan Back.
"We want to offer all varieties of surfing. Not just your WSL lover but the guy who surfs on the weekend or the local you see in the line up every day. We have a strong focus on surf culture, from the books we stock to the labels that line the racks."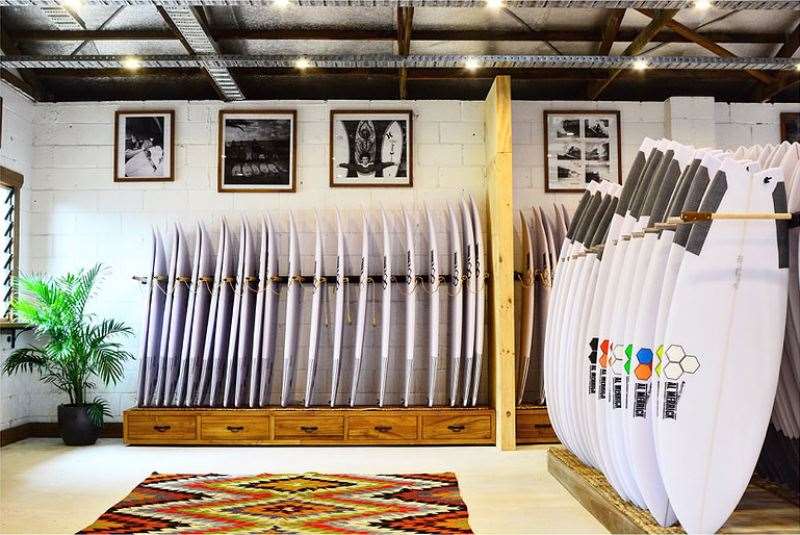 Wall-to-wall blades. Photo: Brendan Back/Onboard
Since opening up in Byron Bay, Back has been keen to continue the Onboard tradition of attracting local shapers and getting back to the grass roots of surf culture.
Aside from the many Al Merrick light savers immaculately stacked on wooden board racks, you'll notice a range of shapers. Twin fins from Morning of the Earth Surfboards master craftsman Simon Jones, Hayden Lewis, Simon Anderson, Catch Surf foamies along with some exquisite looking Campbell Brothers bonzers.
The Byron Bay surf shop has also opened up their shaping bay to traveling board builders. The most recent shaper in residence has been San Diego's Chris Christenson. "Chris brings the Onboard label up another level," says Back.
"We're looking for the best shapers that have kept it pretty core and haven't sold out."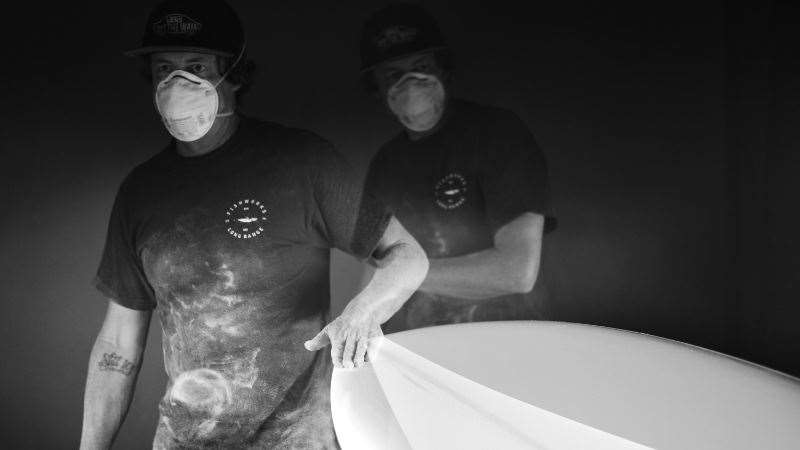 San Diego's Chris Christensen who recently did a stint in the Onboard shaping bay. Photo: Brendan Back/Onboard
Christenson developed his trade under shaping legend Dick Brewer and is one of the most well respected shapers in the world. His boards are like works of art, borrowing inspiration from motorcycle workshops that deliver high on aesthetics. He shapes everything from 11-foot gliders, to the traditional keel fin fish, and everything in between. His team riders, which include Ian Walsh, Greg Long, Brad Gerlach and Sterling Spencer, reflect the expansive range of equipment he builds.
"He shapes boards for that guy or girl that wants a premium product. You won't see many of his boards around so they're highly desirable. If you get a Chris Christenson it's a board you'll have forever," adds Back.
"The boards are shaped here, we literally pick up the blanks and run them around the corner to Evan Squirrell at North Coast for glassing then they come back full circle."
Onboard Byron Bay has a range of Chris Christenson Surfboards currently in stock. See the full range here follow Onboard Store Byron Bay on Instagram or simply drop into the store.
Tracks