A monumental day of surfing… picture gallery and quarter finalists.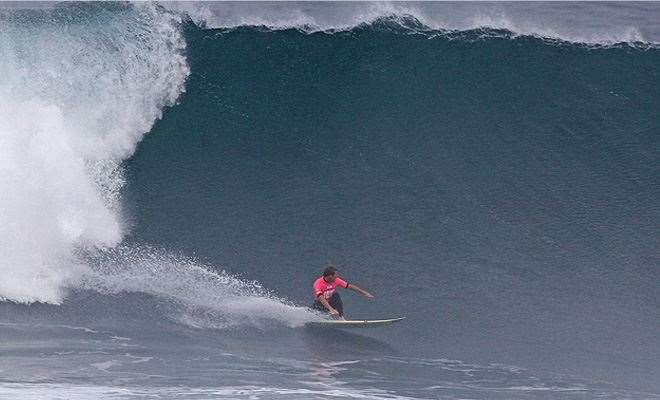 The day of days called for big old bottom turns – this is Taj Burrow's version.
While the North Coast of NSW and Queensland have been scoring big waves this week, Margaret River decided to join in today and there were some seriously large waves here for a full day of competition which featured Taj Burrow, Mick Fanning, Sunny Garcia, CJ Hobgood, Bede Durbidge and more surfing some of the biggest waves in Australian Surfing competitive history.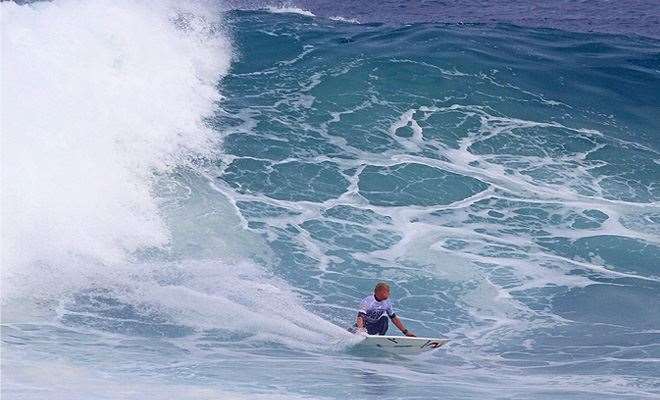 And world champ Mick Fanning's version...
There were 4m sets (12 feet plus) pouring through. Local favourite and current Association of Surfing Professionals (ASP) World No. 1 surfer Taj Burrow lead the charge by easily winning both his round of 24 and round of 16 heats to advance through to tomorrow's quarter finals where he will face fellow WA surfer Yadin Nicol. "It's seriously big out there this morning, said an excited Burrow after the heat win.The largest sets are closing out the bay and we had to really had to communicate with the Jet Ski water patrol and avoid some of those sets - I concentrated on surfing the smaller 10 feet sets, which worked well for me."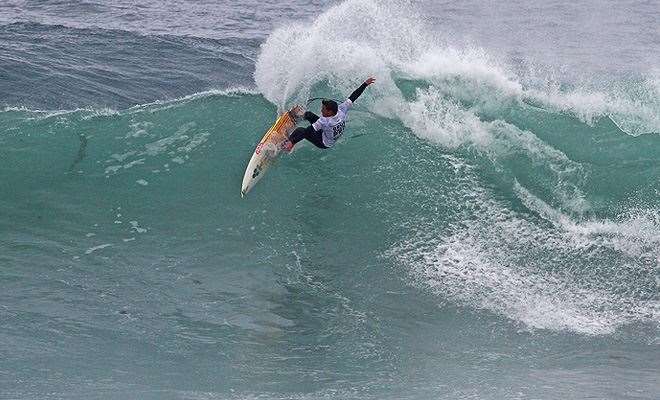 Yadin Nicol and a critical crack on a smaller inside right.
Big wave surfers were in their element today.
Late in the day C.J. Hobgood dominated the break scoring both the day's highest scoring ride of a 9.17 along with the day's highest heat tally of 17.17 in his big win over Heitor Alves from Brazil. "I love it out there it's really like surfing in Hawaii and there's so much wave face to work with said the 2001 World Champion."I'm excited about tomorrow with clean offshore winds and excellent conditions it should be a great day to finish.
Shortly after current World Champion Mick Fanning was eliminated from the event going down to a rampaging Josh Kerr who controlled the heat early when he scored an excellent 8 point ride on a solid wave and performed some critical vertical moves to win the heat by 2.36 points 14.93 Kerr to Fanning on 12.57."That's the first time I've beaten Mick in a man-on man heat so that's a notch in the belt said Kerr."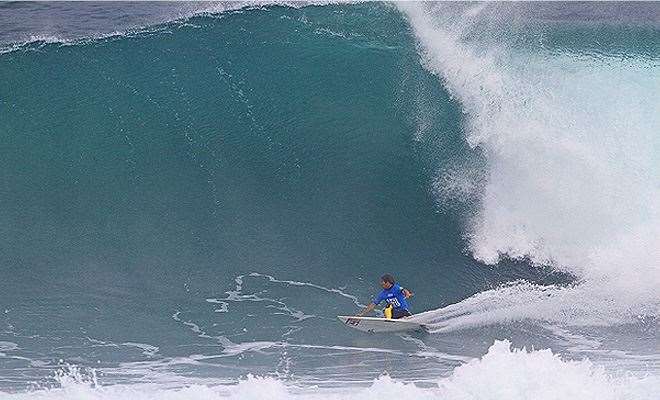 CJ Hobgood carves around big old bowling right.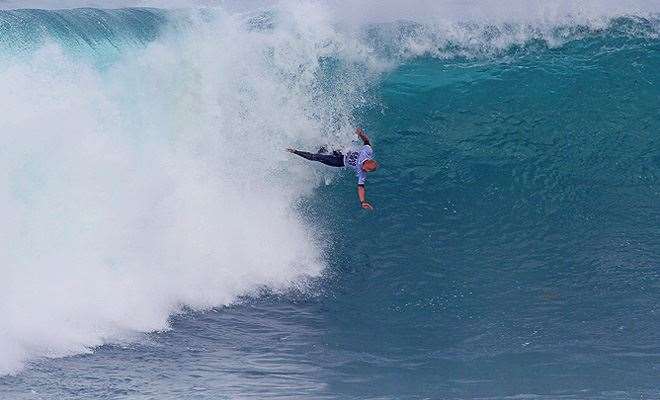 Mick Fanning and the upside down saturday night fever to zombie dive wipeout.
Adrian Buchan won the closest duel of the day defeating Vic Muscroft in a heat that saw the lead change multiple times. Buchan's last ride in the final 30 seconds when requiring a 6.4 wave score and registering a 6.8 saw him take the heat to advance to quarter final three tomorrow.
The final two heats of the day, with strong winds and consistent solid sets were won by Corey Lopez (USA) and Sunny Garcia (Hawaii) and they will face off in tomorrow's 4th quarter fina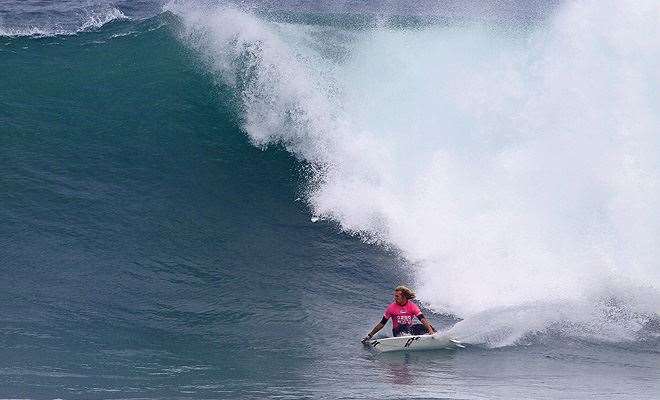 And the winner of the days best bottom turn, Adrian 'Ace' Buchan.
Contest Director Mike McAuliffe, an experienced Margaret River surfer, adjusted the event schedule maximising the men's division on the peak of this swell and at this stage is aiming to complete the Men's final of the Drug Aware Pro presented by Rusty around midday tomorrow with the Women's scheduled for Sunday. "The swell has peaked today and will slowly but I expect it to remain quite solid to 2m and with ideal winds the weekend's looking really good if anything, tomorrow's conditions will be ideal for super high performance surfing which will be fantastic for the large crowds we're expecting here."
Quarter final match ups...
1 // Taj Burrow vs Yadin Nicol
2 // CJ Hobgood vs Bede Durbidge
3 // Josh Kerr vs Adrian Buchan
4 // Cory Lopez vs Sunny Garcia
Be sure to tune in tomorrow at 7.30 local time (10:30 eastern)
All photo: ASP/Robertson
Follow the event live via www.drugawarepro.com or www.aspworldtour.com
Tracks