Can Matt Wilkinson go the distance?
Who'd have thunk it? Here we are in August and Matt Wilkinson is still in the yellow jersey and the hot seat for the 2016 World Title. The shaggy underdog's thrilling rise started back in February with a decisive win at Newcastle Surfest. You know the rest: back to back at Snapper and Bells, ninth at Margies, up on the podium in Fiji. His backside has received almost as much praise as Beyoncé's: so in-tune, so versatile, so round. All this from a guy who rocked up to his first CT event on a rollerblades and has struggled to re-qualify almost every year since. To find out how he's going in the lead up to Teapuhoo and better gauge his title chances Tracks spoke to his coach and good mate, Glenn Hall.
Tracks: You've known Wilko forever. What's led to his success this year? What's changed?
Glen: I've known Matty since he was a kid, so I've always known his potential. Besides his incredible natural ability, he's smart and crafty and a competitive prick. It kind of made him scared of losing in the past. The fear of losing was coming from lack of preparation. So this year he's always fully prepared and that competitiveness has turned into a desire to win, rather than a fear of losing. He's confident, he feels like he deserves to be fighting with the best for the top spot. He's been working on things in his surfing which have made a big improvement also.
From the outside it doesn't look like he takes the tour or himself very seriously. Is that the Wilko you know?
Yeah, he's a character that everyone loves because he has fun. I haven't ever wanted that to change about him. Being himself keeps him comfortable and relaxed and not wound up all the time. I wouldn't say he doesn't take the tour seriously, because he does for sure, his 'serious' is just way more fun then everyone else's. I love it, because if you can tick all the boxes and get fully prepared, plus enjoy it all and have fun, then you're in better head space than most.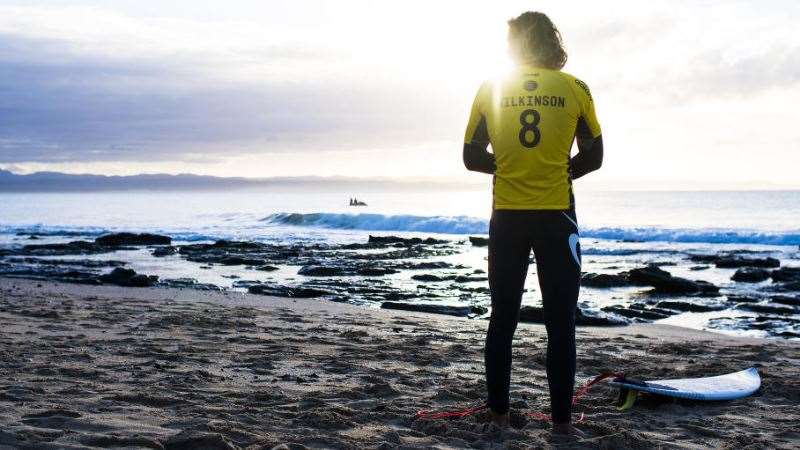 After the sting of a Round 3 loss at J-Bay, Wilko will be looking for a big result at Chopes. Photo: WSL/Kirstin
What would you say are his strengths and weaknesses?
I think one of his strengths is his sharp thinking. He's smart and can weigh up a situation in a heat as it unfolds which helps him make fast clear decisions. In his surfing his backhand is so unique and deadly that he can rely on it as a strength. His weakness is maybe his airs, compared to the air freaks anyway. Fortunately, the tour is held in such good waves they allow all types of good surfing. Not just airs. Then there are the locations that are pretty much just barrel events, with some big turns. So he's not at any disadvantage in my eyes. Mick, Joel and Adriano help to prove that.
What does coaching Wilko involve? Heat drills? Prizing beers from his hand and escorting him home at 1am?
Every coach has a different approach. The way I see it: I'm here to help him get better. It's 'an all in' approach. I try to make sure all the necessary areas are ticked, then I try to think outside the box. At the WT level everyone is amazing so if you can get the edge in any little way it could be the difference. So I obviously help Wilko at the events, but also write up plans for him in between events with ideas for working towards the next comp. He also has Chris Heighington (Cronulla NRL player) writing him specific training programs for each individual event. And as far as having beers, it's simple really. Just have balance and have your nights out at the right time. Wilko still has fun. It's not rocket science.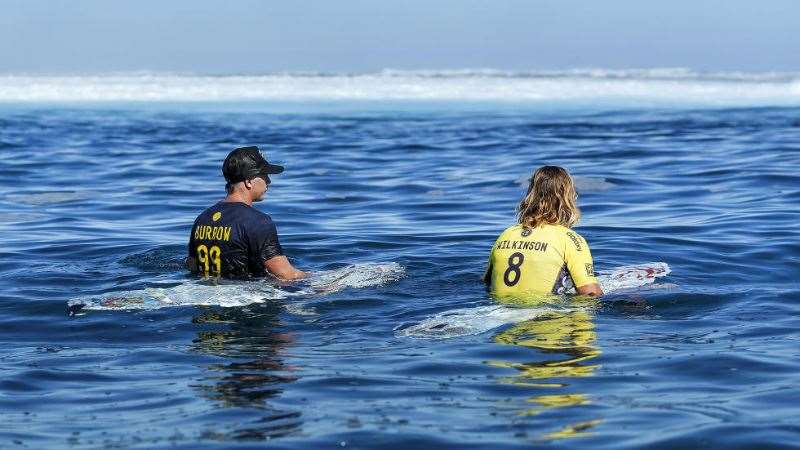 Coach Hall and Wilko on the job in Fiji. Photo: WSL/Cestari
Six events down and he's still in the yellow jersey. Do you think he's feeling any world title pressure at this stage?
I don't think so. It's easy for the people at home watching to say he's nervous every time he falls off or loses a heat. But he's actually been in a really good head space each event. We just keep talking about not surfing to defend the lead. He's still attacking and surfing to win every heat he's in like it's just another heat with a job to do.
What's his preparation for Teahupoo?
He's been in G-land getting barrelled. Then he's heading to Tahiti real soon for a week to get barrelled. Then he will head back over a few days before the comp to get barrelled. So he will be ready!
Who'll be left in the world title race come December?
Gabriel, John John and Wilko.
Tracks