Glenn 'Micro' Hall has defied the hardship of a long term WQS campaign to qualify for the 2013 ASP elite world tour.
Meet Your New Favourite WCT Underdog Qualifier.
It's official, Australian Glenn 'Micro' Hall has overcome the hardship of a long-term World Qualifying Series campaign to qualify for the 2013 elite ASP World Championship Tour. An amazing feat considering only four maybe five surfers will make the jump to hyper-space. Like Kelly Slater and the Hobgood brothers before him, the 30-year-young father-of-one cut his teeth surfing virtual slop. Through determination and strong friendships with guys like Ace Buchan, Micro stayed on point, re-located his family to Ireland (becoming a citizen in the process) and from his base in Bundoran tapped into the main frame of the WQS circuit in the Northern Hemisphere. Flying under the radar, Micro managed two wins and a second in his successful 2012 campaign.
To celebrate his achievement Tracksmag.com sat down with the diminutive goofy footer to find out what it's like being an Aussie Irishman travelling with a family on the WQS and much more.
Introducing, your new favourite underdog...
Glenn "Micro" Hall

Born: 11/11/81

From: Umina NSW Australia

Resides: Australia and Ireland.

Nationality: Australian/Irish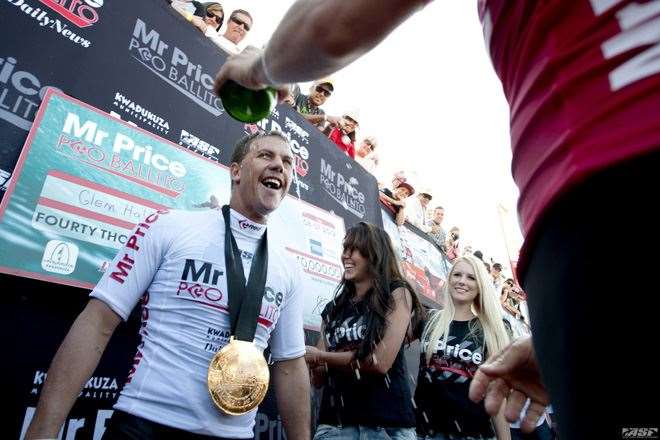 If you want to qualify for the WCT you gotta win six star prime events; something Micro did in South Africa in July. Pic: ASP/Cestari
How does a true blue Australian end up surfing for Ireland and why?
Having an Irish passport helps me travel through Europe… But the thing is making a living surfing in Australia – I could name a thousand good surfers digging holes, put it that way. I've dug holes too – in the middle of my career. I've always known about my Irish heritage, and I'm proud. My grandfather [from Ireland] is a frother – he loves it (he lives in Australia now). Obviously I'm a proud Australian as well, I was born and bred here and I'll live here forever, but I don't see any harm in representing the Irish side of my heritage as well.
Can you actually represent Ireland in the ISAs etc?
Since I began surfing for Ireland it has caused a bit of a stir. Some people are keen for me to be selected to surf and represent the country and others only want me to do it if I qualify like everyone else – though regional events etc. And I 100 percent understand that – I don't want to take anyone's spot, if everyone doesn't want me to be there. So I haven't surfed for Ireland in those sorts of things... It's funny, since I've done this so many people have come and asked me for all the ins and outs. Guys saying 'I'm from Italy', all these random countries, that are their backgrounds. I know Bottle [Thompson] has gone and got his Irish passport. They're interested in what I've done and it's opened doors of possibility for them too I suppose.
Such as?
Apart from the simple travel aspect (travelling through Europe is way easier with a European passport), there's sponsorship. If you're one of the best surfers in Europe you'll get good sponsorship. If you're one of the best in Australia you're battling against people like Parko [Joel Parkinson] and Taj [Burrow] and the rest of them.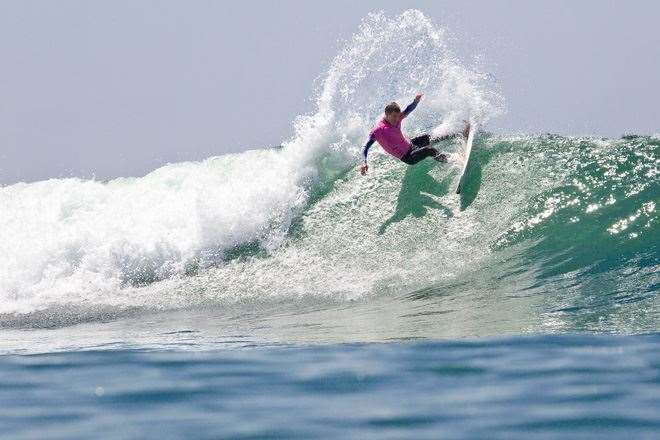 Micro putting his back into a critical gaff on a Lowers left. PIc: ASP/Rowland
How's it working out for you financially?
I don't make any crazy money or anything but French clothing (and wetsuit) company Sooruz is looking after me and I love 'em – and obviously that wouldn't be happening if I were living at Umina still. It's a small company over there who are into wakeboarding [and] snowboarding as well, windsurfing. On the Australian scale of the average contract, what the Euros get is a lot more. They got me for the Australian scale – but I'm happy, they're happy.
With the population comparisons the "smaller" European companies are still doing more business than many Australian companies. The market is so much bigger…
I get devo thinking about all the good surfers in Oz that should have a career but can't get sponsored.
There are so many good surfers here, there's always that feeling that even in a pro event a top full time professional might get smashed in a heat by the local pastry chef or carpenter or something...
And you won't feel bad about it if it does happen.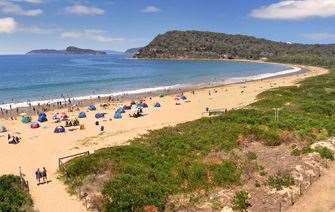 If I can just clear this up, especially for the guy online who gave it to me for saying you're Australian; Umina Beach, NSW, Australia, born and bred right?
Grew up in a little house in Trafalgar Avenue, Umina Beach [left], rode my bike to school and surfed the beach break out front everyday.
As you know I live in Umina now – I've surfed the beach break twice in 18 months! Your success reminds me of the Hobgood brothers rising out of Florida. The waves are terrible?
You've got to not check it beforehand and just go out! The more onshore the wind the better it is. It's when it's offshore that it's shit and closes out. That's the trick. And I do think about that (the Hobgood's and Kelly Slater successfully coming from bad waves), people that come from average waves seem hungry and I they learn to read shit waves which can be hard.
How long do you and Jemma (your wife) spend in Australia each year?
Not long. We're staying out the back of my mum and dad's new house at Terrigal at the moment. It's kinda like a holiday in a way – but I also do a lot of coaching when I'm in Oz. So I'm kinda busy and not having to pay rent at the same time allows me to save some money to keep travelling. I don't get paid that much so I need to save when I can.
Back in Ireland where do you live and surf?
My relatives all live in Cork, but I mainly hang in Bundoran – that's where the best waves are. We've got some good friends there. Matt Colgar, and there's a few younger kids that are surfing good. Bundoran is the coolest community, they love their surfing, sick fucking waves there and north and south of the main peak there there's good waves no one knows about too.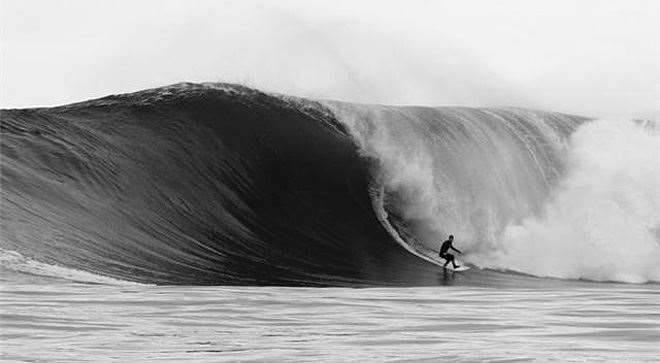 Who ordered the Guinness? Micro on a solid darkie near his Irish home town, Bundoran. Pic: Paudie Scanlon
Do you like Guinness?
I'm trying. I drink it when I'm there, but I prefer a good old Aussie lager.
They love going to the pub right?
Oh, yeah.
Like, "that was a good surf, let's go the pub!"
That was a sick EARLY! Let's go to the pub. But I don't go often. I stay with a family that I randomly met in France while there to watch the young Irish team in the ISA. I started chatting to this dude who turned out to be the father of one of the kids and is the local doctor in Banooran. So when I went back to Ireland I met up with them and went and stayed at his house and have been staying there ever since. His boys are right into surfing, they love it. They are really welcoming so it's us, his wife, the dog – it's cool. Good people.
At the Nike Lowers Prime event at Trestles in May you finished second – and also did a bit of coaching with none other that Ace Buchan; tell us how that works?
That week I was staying with my wife Jemma, little girl Zhara and Adrian, it was like a little super team. Adrian and I would help each other through each heat – and obviously on the last day of competition it was every man for himself. It was a good week, we really helped each other out – and when I made it though the semi final I was thinking, "If he makes it to the final," but it wasn't meant to be – working with Ace is amazing.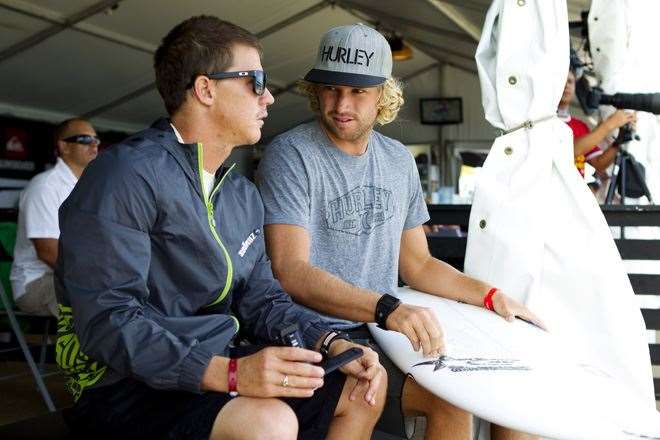 MIcro and Ace speaking in code at the Nike Lowers Pro back in May. PIc: ASP/Kirstin
How did that relationship come about? Ace grew up at Avoca, which is around 20 minutes from where you grew up at Umina.
I don't think there ever was a moment of, "will you coach me?" We grew up together, and surfed together almost every day. If I left Umina I'd get dropped at his house and we'd surf all weekend. Every little comp we'd compete together, and now, when we see the surf we almost talk in code. So, when we're at a comp, we just sit down – and because we're both goofy's – who don't do airs (really) – we both read waves exactly the same. So as far as a partnership working through heats it works. I went to Brazil and worked with him there, but there has never been a time where he's flat out called me his coach, or whatever, but he's paid me to go to a few events and it feels good, it makes me have confidence in what I see too.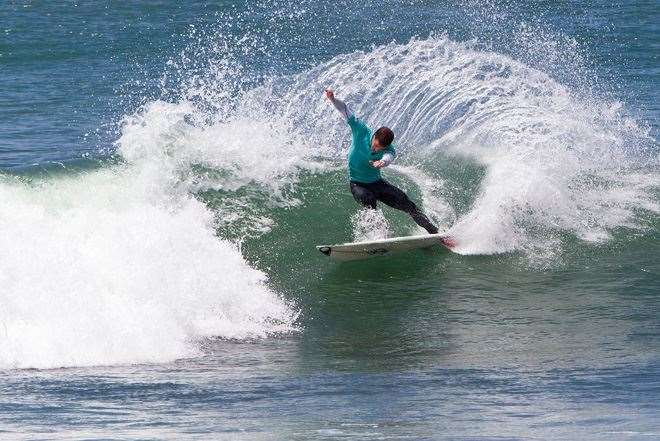 Micro makes mince meat of a fading wall at Lower Trestles. PIc: ASP/Rowland
Do the top echelon of surfers even need a coach? Surf coaching has at times gone too far – surely a guy like Ace needs more of a sounding board?
That's the perfect way to put it – a sounding board. Even if it's something simple things like 'What do you reckon, red wax or orange [label] wax?' And you say 'yeah, red for sure' or whatever. You're instilling confidence in what they're doing. But with Ace I suppose we work that much better together because we do see waves identically and we have that complete trust, it's not like someone you picked up because you think they might be good for your surfing. We're actually good mates and we'd trust each other to forever. If you throw out a wild idea he knows I'm not trying to fuck him over. I'm seeing an opportunity for real. Especially at that Trestles event. We were in opposite sides of the draw, and although both confident in what we see as individuals, when we leaned on each other that little bit we became super confident.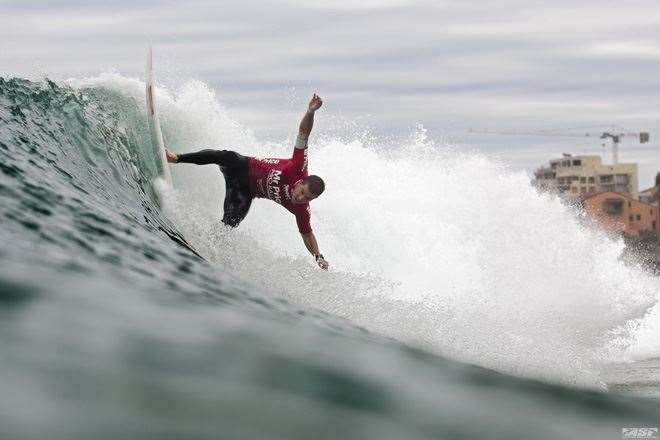 Nice water shot of Micro surfing his way to a win in the Mr Price Pro, Ballito, South Africa. Pic: ASP/Cestari
You qualified for the WCT and you have another future in coaching for after that part of your life already in motion, not many can say that – the end can be abrupt and a hard transitional phase.
Coaching isn't for anyone, some people couldn't think of anything worse, but I love it. I love thinking deep and taking apart the little things that could work in a heat. Some people aren't into that and some are. Find the right person to work with and there could be a future career on it for sure.
Although you're now officially on the WCT for 2013, is the WQS really that bad a life? You hear people moan about it but Damian Hobgood once told me he and CJ would be happy to surf it as there are heaps of good waves and events with plenty of prize money...
They're a great example for the guys on the 'QS as they rock up to the events and are smiles all week. And you've got 18-year-olds who have just come on and they're moping around, whinging the food's shit or whatever. I'm the same (as the Hobgoods), I'm old and I've been everywhere but in the middle of my career I've had to dig holes to make ends meet. You want misery try digging holes at 4.30 in the morning.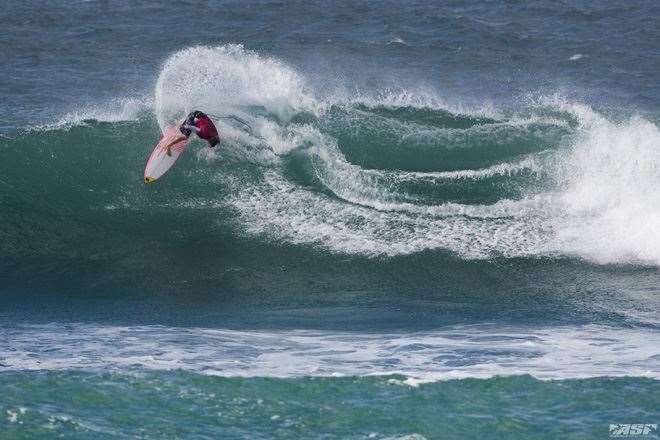 He may be short in statue, As his moniker suggests, but Micro is capable of big arsed turns. Sunset, 2011. PIc: ASP/Cestari
You're not going to last long if you fall into that black hole of whinging about everything.
The main advice I give to young guys starting on tour is to pick guys to travel with that aren't going to drag you down and complain all the time. It's always good when you're winning but no one's winning all the time but if you're working together with a good little team you'll enjoy it no matter what. Even if you are in a shit spot – not everywhere is going to be your favourite spot to be. There's always somewhere worse to be [he says, eyes alight as they flash back to digging holes].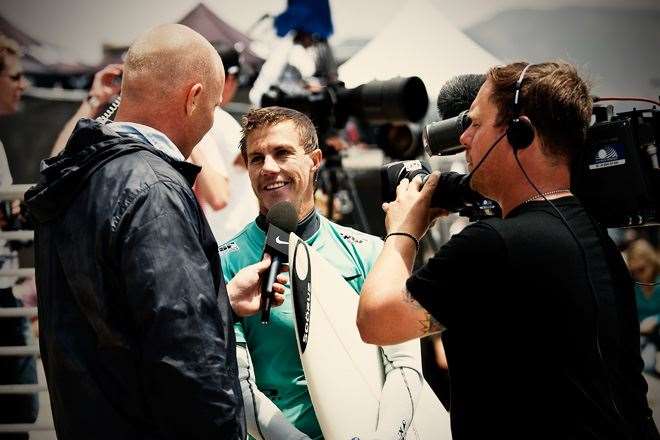 Beach interviews – there'll be plenty more of these for Micro in 2013. Pic: ASP/Rowland
Keeping that memory of digging holes fresh is a great motivator?
There was a couple of American kids moping around in Brazil and I told them they should honestly go home and work for a bit – get a job! That'd snap them out of it real quick. It might be a cliché to say but it does wonders for ya.
Life on tour with a family's all good then?
Being on the WQS is not classed as the "Dream Tour" but it's not far from the dream life. Being away with the family seeing the world and having a good time. And now that I've made it onto the World Tour my family and I will be able to enjoy it all that little bit more.
No one deserves it more Micro, thanks for talking with tracksmag.com and good luck in 2013.
New qualifiers for the 2013 WCT: Glenn Hall (IRE/AUS) Filipe Toledo (BRA), Sebastian Zietz (HAW).
Strong possibilities: Nat Young (USA), Fred Patacchia (HAW), Willian Cardosa (BRA).
Tracks