Tracks speaks with World champion Mick Fanning about why the change to FCS? Can he win the title again? And what does he think about the new ASP format? Mick knows how to get himself into game mode.
| | |
| --- | --- |
| | Tracks speaks with World champion Mick Fanning about why the change to FCS? Can he win the title again? And what does he think about the new ASP format? |
Mick knows how to get himself into game mode.
World champion Mick Fanning has for the better part of three years been one of the sole set fins guys on the ASP world tour. Mick has spoken fondly of his love for the rovings and fibreglass setting that bases a glassed on fin and the feeling this gives his board. But travelling with 12 boards with set fins has become too much. Mick recently signed to FCS and Tracks spoke with him about why he changed, can he win the title again and what he thinks about the new ASP format?
Firstly Mick, when signing a new sponsorship agreement, is it the money or the product itself that you consider most – fins surely has to be performance-based decision?
What happened was I went and tried different fin systems, cause I was riding glass on fins and I was so set on them I couldn't ride any other fin system. I eventually became sick of carrying 12 boards with glass ons. What I did was I got a couple of different fin systems put on a quiver of boards and took them all on the Red Bull boat in Indonesia last year and tried all the different ones together – and the FCS ones felt the best.
So you were one of the last guys on tour lugging around boards with set fins?
Yeah, it was heavy.
Literally.
Yeah.

Mick winds-up and then releases at home at Duranbah Beach, NSW. Pic: Simon Muirhead

So, after your little test – FCS won. Why them?
It just felt like the FCS fin system had an extra bit of zing. We'd copied my favourite fin exactly (that I was using in glass ons) so I was using that as well and they felt great.
Would you consider yourself a fin expert? Or are you a bit of a novice?
It's one of those things where the slightest little change in your fin affects the board's performance so much. And then it keeps evolving. Put it this way, I know what I like. I have been working on a new fin by throwing around ideas and that, but it's hard to find the exact right things.
Bit scary to get too far away from what you know and love. You might never find your way back?
That's the thing. I guess that's what happens when you have a board and you put the wrong fins in it – if it goes bad it can really put you off. But then you put a different fin set in that fits it perfect – and it goes completely different. Changing what initially felt like a bad board, into a good board. That's what I like now – the options.
With all your boards Mick, and all these fins, you could rattle yourself at an event with too many options?
I tend to use the same fin for all my short boards then change up for my guns. On my guns the fin I use is a little smaller and pivoty.
So, it's not the bigger the board, the bigger fin? But more rakie?
My bigger board fin has got a good base with a bit more rake and more sort of bend through the back. Allows you to still have the drive, but if you wanna turn it – it will turn on a dime.
Is this fin that you had set in all your boards previously going to become your signature fin?
We were going to do a signature fin but we're still working on which one to go with. It's like I said before, you think have something, then something else comes along, and then that feels better, then something else comes along and then that feels better – or worse – and you go backwards. It's forever evolving. We'll have a signature fin out by next year and that will be the fin that I ride 95% of the time. And then we'll have something else out after that. Something more diverse I'd imagine.
That makes sense. A smaller fin that allows you to turn a big board in big waves and a bigger fin that gives you drive in an already lose small board.
That's what we do. I have a fin now that is nice and even through the whole way. At places like Trestles you want that drive but when you throw the fins you don't want it to be out of control. You want it to grab when it hits the deck again. And you also want to be able to draw out your turns and mix it right up.

And the subsequent belting of the lip continued. Pic: Simon Muirhead

Your boards pretty busy with sponsors stickers right now. Is there a limit to how many you can fit on there?
[Laughing] I'll take them mate; I got to pay the bills.
Just keep going like a NASCAR car in Talladega nights!
Exactly. Nah, I like the diversity of the companies I'm with. Ones I'm really stoked on. I've been with Rip Curl for 12 years, Reef for longer than that, same with Dragon and Creatures. I recently signed to Skullcandy and now FCS too…
So, loyalty does plays a role for you?
Um, yeah. I think loyalty is a big thing and I guess building that relationship with these companies is high on my priority list.
Okay, world title question, you're sitting sixth at the moment, comfortable?
It's one of those things where, Jordy's [Smith] been surfing great, Kelly's [Slater] had those two finals, but no ones has really come out and blown the door wide open like Joel [Parkinson] did last year. And what happen last year [Mick stormed home from 6th in the ratings to win the world title last year] does give me a lot of confidence going into the back end – but having said that I've had three ninths now and that's not that great [laughs].
Early days though, you're still on the bend and not yet on the home straight?
There a lot of different pressures being, you know, 'defending champion', and a lot of that comes through the first part of the year. Now that I'm behind the front runners they'll forget about me and I can start doing my own thing.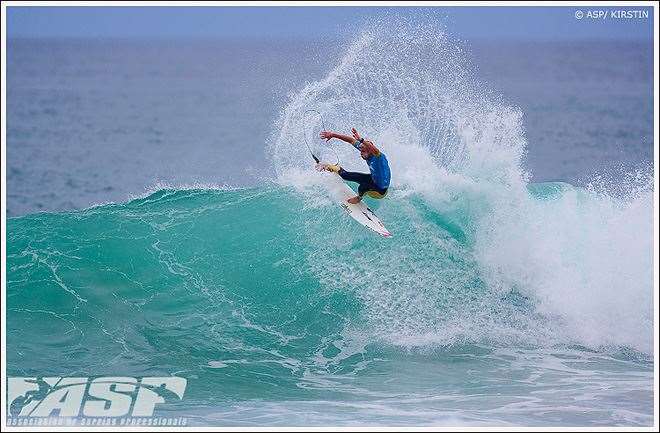 A serious fins-out power jam by Mr White Lighting himself.
What about the new ASP 36 surfer system?
Yeah, I'm really stoked about the new contest format. I was a little bit lost when we were playing with it. But then Pritamo [Ahrendt, ASP judge] came up with this new system. I think it's great. With all the feedback we get from fans and sponsors of events and that, they want to see the top guys surf as often as possible. To have the top 12 surf off and no one lose – I think there's going to be some crazy, exciting heats go down in that round. I'm super-pumped to see how that goes. It's something different.
With only 36, and the two chances, if someone loses a first round and then manages to make a final, they're going to have to be mentally and physically on their game more that ever needing to surf up to four times on the final day?
If they run that round four on the last day you could actually surf five times! Fitness is going to come into it – which doesn't bother me [laughing]. I like surfing more on the last day. I think it's going to be exciting. And that's the way the sports heading. People take fitness serious – so I don't think it's going to be a problem for anyone.
What about the return of the big-crowd big money comps. We saw the Boost at Bondi, the US Open in Huntington and now the Billabong Rio Pro. This return to average waves for bigger crowds and huge prize money is a flashback to the glory days of the OP Pro etc?
I think there are times when that style of event has to come in. Especially moving the Brazil event back to Rio. The last couple of years Brazil's been lacking for waves and we weren't getting the big crowds. And that's why you go to Brazil! You want that electricity and that excitement the crowds give, so I think that's a huge move by the licensee and Billabong to do that – step up with the extra prize money. I know they have some big plans too so hopefully they pull those off. Rio's going to be the epicentre of the world over the next eight years with the Olympics and the World Cup. So it's going to be good. And with Huntington and the Boost event, you do have to sometimes sacrifice waves for crowd size, but in saying that, Hurley and Nike did also put on the extra $$$ to get the surfers there. Huntington was crazy, I haven't seen that many people at an event since back when Occy [Mark Occhilupo] was competing. I think that's one of the things about it that is really cool.
Average Joe's can relate seeing you guys surf average waves?
It is exciting. And it is a 'WORLD TOUR' so you've got to surf all the waves of the world. That's how I look at it.
For more on thge new ASP format click HERE
Trestles August from Mick Fanning on Vimeo.
Tracks