A tribute to Australian surfing's original style king.
About a year ago I rang Midget Farrelly out of the blue and asked him if I could do a story on him for Tracks surfing magazine and also make a documentary companion piece. We had never met and although he was reticent, I eventually convinced him I could be trusted with his tale.
What ensued was fantastic. We spent hours talking on the phone, laughing mostly, about so many of the crazy surfers who make up the colourful tapestry of surfing in Australia. We got together at the Whale Beach Surf Club and I did an on-camera interview with him and then followed up with interviews with Nat Young, Bob McTavish, John Witzig, Baddy Treloar and Nick Carroll.
Midget achieved incredible success in competition while always performing with a distinctive elegance and artistry. Photo John Witzig.
What amazed me most, was the amount of respect everyone had for him as a surfer and shaper. To hear the greats of the Australian shortboard revolution speak with such reverence about Midget was surprising, as I thought they might be more dismissive of him as an 'old style mal rider'. But nothing could be further from the truth.
Nat enthused "Midget was my hero, he was the most stylish and fluid surfer of my generation and I looked up to him, I tried to emulate his surfing, everybody did". Bob almost swooned, "Midget was the most beautiful surfer and the pace-horse as far as design went, all the way through the shortboard revolution in the late 60s."   
I rang George Greenough who told me, "I saw Midget surfing at the ranch in the early 60s and he was a very classy surfer and man, all class". John Witzig spoke very kindly of Midget, with an affection one might have for a very near and dear old friend, "Midget was the most elegant and beautiful surfer of the period."
Midget was Australia's original surf star. Photo Hoole
Baddy reminisced, "I remember the first time I saw him close up, I was at the Binnings' girls home and he arrived to pick up Tanya and I was just like 'Wow … Midget Farrelly' I'd never seen him up close before, he just had this … aura'." Nick Carroll spoke of Midgets' ability to read a wave and how, "He could find the power in the wave and flow with it like few others, even just a few months ago I saw him trimming along at Palmy and thought, 'wow ... that's Midget Farrelly alright'."
Midget was humble and told me he just felt incredibly lucky to have been right at the beginning of surfing, surfboard shaping, hang-gliding and windsurfing in Australia. He was even an excellent surf ski rider and the current sweep of the Whale beach surfboat.
He was the most successful competitive surfer throughout the whole of the 1960s, starting off with his win at Makaha in '63 and rounding off the decade with his win in South Africa in 1970. There were so many wins and high places in between, including the inaugural World Championships at Manly beach in 1964, when he was only 19.
During my research, I talked to so many different old guys who only ever agreed with the consensus that Midget Farrelly was not only an excellent surfer and exquisite craftsman, but that he excelled at whatever he put his mind to. One old friend of mine told me, "I remember seeing him hang-gliding, knowing that he had hand-made his own hang-glider, now that takes some confidence, he was nothing if not confident, and with good reason."
The last time I spoke to him was just a few weeks ago and he told me, "I just feel so fortunate to have married my wife Beverly and had three beautiful healthy girls, Priscilla, Johanna and Lucy, and lived a life in and around the ocean with them; you know for me it had always been about getting in the water, either on your own, or even better with family and friends."
Midget Farrelly passed away last night, on Sunday the 7th of August 2016. He was 71.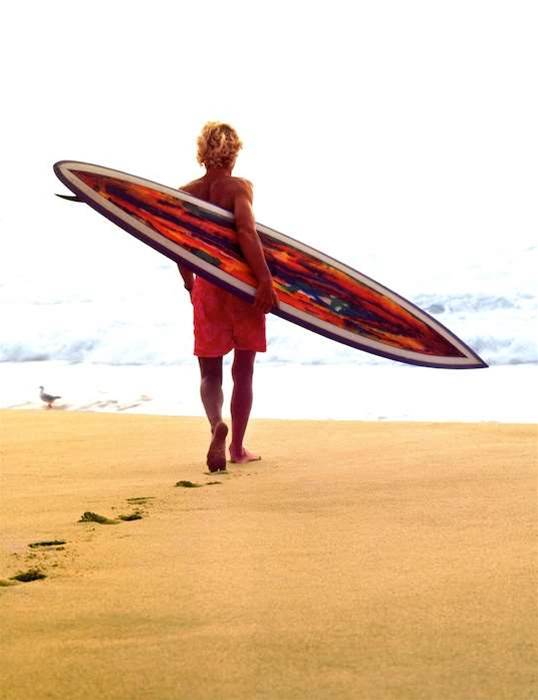 Midget clutching one of his beautifully crafted boards. Photo Albe Falzon. 
Tracks