Dressing like clowns for 12-foot surf
We decided to get out of Nias. The waves had been small for weeks, and we had had enough of small waves. So we hooked up with a few ferals and booked a fishing boat to get us onto the outer islands. There were two main islands in our sights– Bawa and Asu. It was 1996, prior tsunami, and we were there in the late off-season so we figured we'd base camp at Bawa, to make sure we had the best chance of surfing good waves on the small swell.
   We approached the little harbour with much trepidation. It was very low tide, and our captain didn't like the look of the harbour entrance at all. I took my gun and paddled it into the little harbour with my mate, Mikey, flopping around behind me on his bodyboard. The little village was very quiet in the stinking afternoon sun, and the only movement was a dirty little dog scratching absently at a scabrous head sore.
   We eventually got the attention of a lady whose husband, the aptly named Imahappi, had an outrigger for us to use. He was all smiles and brought his little canoe out to the fishing boat. We soon offloaded all twelve or so boards onto the tiny canoe, paid our captain and limped into the harbour.
   We did the two hour cross-island trek as fast as we could, as we knew that the sun was going down and that the mosquitoes would no doubt smell our blood and be intent on killing us as soon as the sun was set. We arrived on the beach at the wave called Bawa, found an empty losman, and quickly started burning some mosquito coils and setting up our mosquito nets. The mozzies soon started showing their presence, but we fought a good rearguard action to keep them at bay during the night.
The humidity, combined with our breathing, formed droplets on our mosquito nets, which occasionally coalesced on the inside of the net to plop down on us during the night. The rats came scurrying around, brazenly going for our food stashes and our soap. Luckily we had hung the food in bags from the rafters. Jungle creatures crashed through the undergrowth during the night, keeping us awake and nervous.
   We awoke to an incredible sight – twelve to fifteen-foot monsters were coming around the corner of the island and crashing over the Bawa reef. The swell had coincided nicely with our arrival. With pain we realised that Nias must be having the day of the year, as we were stuck with monster surf that none of us wanted to touch.
Spectacular enough to watch, the waves were heavy, and they all joined up over a thick inside bowl before turning into a massive sweep around the island. We decided to head for the somewhat protected left-hand reef called Asu.
Imahappi was obliging enough to get us across to Asu in his little outrigger, so we loaded up, took a little basket of food his wife had kindly made us, and headed across the channel. It took us about an hour, and we were feeling pretty exposed in this little canoe with a tiny engine attached to the back. We were in the open ocean and there were some big swells around, but we made it to Asu safely. We were greeted with perfect eight-foot walls peeling mechanically down the reef, before exploding on the dry end section known as the Nuclear Zone.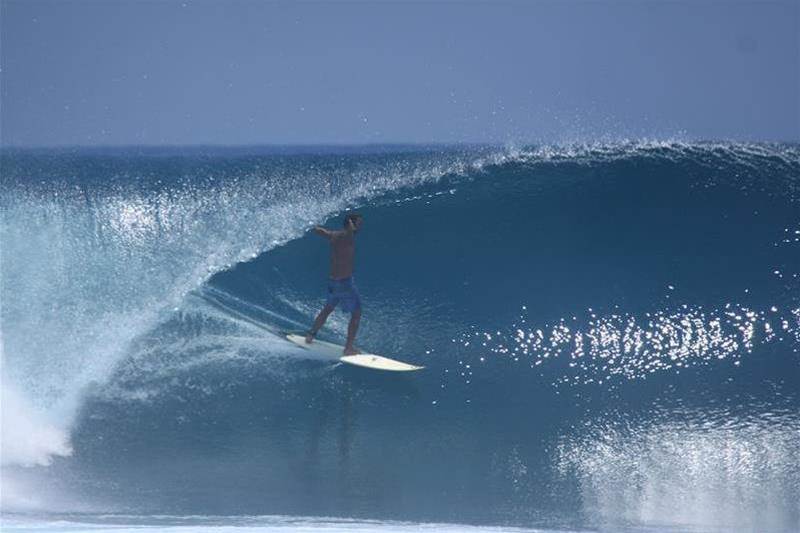 Stand-tall speed run at Asu.
   We surfed the whole day at one of the worlds' best lefthanders, Imahappi fished off the canoe and generally seemed fairly chilled with his lot, and some luxury charter boats came and joined us in the channel. We planned our trip back with time to spare so we wouldn't have to do the mosquito run across the island again. By the time we got back to camp we had an hour or so before the sun was going to set on us. The waves at Bawa were still in the twelve-foot plus zone and onshore, so we still weren't in the ballpark to give it a go.
   Seeing as this was going to be our first real night here, Mikey and I decided to do it properly - sort our beds out, make some decent food. First off we started lighting mosquito coils everywhere. We had about ten little stumps of coils burning all over the losman, from both ends, and the air was filled with tendrils of choking smoke. Still, better than malaria, we figured. Then we dressed up in our local clothing that we had bought from Gunungsitoli, on advice from our original captain. I had a pair of blue flower-printed cotton long pants and a red flower-printed long sleeve cotton shirt. Mikey had a pair of yellow printed cotton trousers and unbelievably, a matching long sleeved shirt. In retrospect we bought the garish clothing in the assumption that there were only going to be guys on the island and that they would all be similarly dressed in order to stave off the marauding mosquitoes. We cracked open a beer each and sat on the balcony of the losman, dressed like party clowns, shining from the mosquito cream we had put on our faces and hands and feet, barely visible in amongst the smoke that we had made with the mosquito coils. Mikey and I had a toast, and started off drinking our warm Bintangs. The sun was still up, but we were prepared for everything.
Everything that is, except the pretty young girl walking around the headland. She was making her way barefoot across the coral towards us. She was wearing nothing but a pair of tiny cut-off jeans and a bikini top. She had sun-bleached brown hair, a copper tan, and her bikini top was a size too small for her. This girl was genuinely beautiful. She walked along the beach towards us, as we sat open-mouthed, aghast and nonplussed at the situation.
She waved at us, and started climbing the wide stairs to our balcony. When she saw us she started laughing. We sat dressed in our clown suits with smoke all around us as our shiny faces smiled back at her. Then the penny dropped - she was dressed in next to nothing, and wasn't in the least perturbed.
"It's howling onshore, you nanas." She said in her American accent.
"This wet wind coming off the sea blows the mozzies into the jungle." I felt myself, the world-weary traveller, going redder in the face than usual as she continued to laugh.
"Well, first impressions last, so I guess we fucked this one properly." I managed to say, making light of our abject embarrassment. I handed her my beer and quickly slipped back into my boardies, and threw my outfit into the corner.
   Turns out she had arrived during the day, she was from Hawaii and her boyfriend had been surfing Asu with us the whole day. She had a boyfriend, and she wasn't manna from heaven given to horny surfers by an Indonesian god, like we first thought.
Either way, after the clown-suit incident, we weren't on her radar anyway.
Tracks