Mark Richards on Medina, Kelly and the possibility of Mick spoiling it for the two of them.
Four world titles, a win at Waimea and arguably the two most recognizable initials in surfing, if you're looking for an opinion on the who'll take crown, who better to ask than Mark Richards?
MR took time to put down the planer and offer his thoughts to Tracks on who'll win the title, the importance of it going to Hawaii, Mick equaling his record and whether Medina blew the opportunity to wrap it all up in Portugal.
He also offers his respected opinion on how the judging criteria in France and Portugal played a crucial role in the title going down to the wire in Hawaii.
Tracks: Prior to Portugal, what were you thinking about the title race?
Mark Richards: I don't follow the tour constantly and I don't watch every web cast, but I did think that Medina would wrap it up with a good result.
Tracks: Did Mick even factor into it?
MR: I hadn't considered Mick at all...again because I don't follow the points. I honestly thought that Medina and Kelly were so far ahead they were the only ones who could win.
Tracks: Do you think the pressure got to Gabriel?
MR: No, not at all. I thought the Quiksilver France and Rip Curl Portugal events were both incredibly challenging. Big shifting peaks on beach breaks with strong currents and no predictability...one heat would pump and the next wouldn't.
Also I felt from what I watched of these two events that there was a huge surfer / judge disconnect on what was required. In my opinion a lot of waves featuring barrels only were underscored and some radically over scored and the same thing when surfers went for manoeuvres on the open face instead of looking for the tube. I think the inconsistency and the challenging conditions put doubt in both the surfers and judges minds as to whether to reward barrels or open faced manoeuvres.
I think both these events drastically showed everything that is wrong with "Best Two Waves".... way too much sitting and a result based on trying to get one 'bomb' wave and a 'back-up". The original 'Best Four Waves' format was too many but two is not enough...it should be best three!!

Tracks: Were you surprised Kelly lost and more so Mick won?
MR: A little...especially considering that Medina lost in the heat prior to Kelly ...this opened the door for Kelly but he didn't take the opportunity!!
I am not surprised by Mick. I think he has had a few shock early round exits but overall has been looking incredibly strong and focused all year. His Jefferys Bay performance on the last day was one of the most impressive I have seen.... long paddles, long waves, beach runs, more heats than anyone on the final day ...he was Superman on that day!!!
Tracks: The title is now going to be decided in Hawaii, would you say that's where it should end?
MR: It makes for a very exciting finish, which is great for focusing media attention on Pro Surfing...which is what we need.
But when you are in contention for the title it is a lot nicer to have it wrapped up before the final event.
Tracks: Who do you think will win it and why?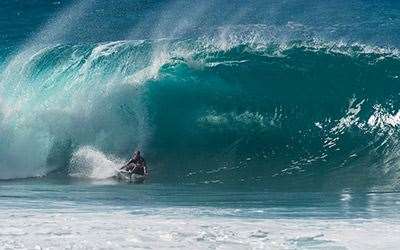 MR: I can't make a call because there are so many factors...and the hugest is the 'Wild Card' factor. The top two seeds, which will likely be Medina and Kelly or Mick, are going to get a Pipeline specialist straight off.... who, with their local knowledge, are more dangerous than any Tour surfer at Pipeline.
Tracks: And of course if Mick wins, he'll equal your record for most world titles won by an Australian (male) surfer...your thoughts on that?
MR: I am an Australian so I am cheering for Mick because he is an Aussie!!!
Tracks:  And finally, what do you think Kelly will do should he win? Ride off into the sunset or come back for more?
MR: Whatever he wants!!!  There is no question that he is the greatest competitive athlete in history ...not just in surfing, but also in any sport. In my eyes another title or loss of a title is irrelevant to his legacy. I think it will depend on what happens at Pipeline and I honestly can't see him retiring because I think he is still having fun!!
On Kelly's scale he has technically had a bad year as he hasn't won an event, but he is still top three and challenging for the title....
Tracks