What really happened today at the Quiksilver Pro and what did Kelly Slater say to photographer Nate Smith mid final?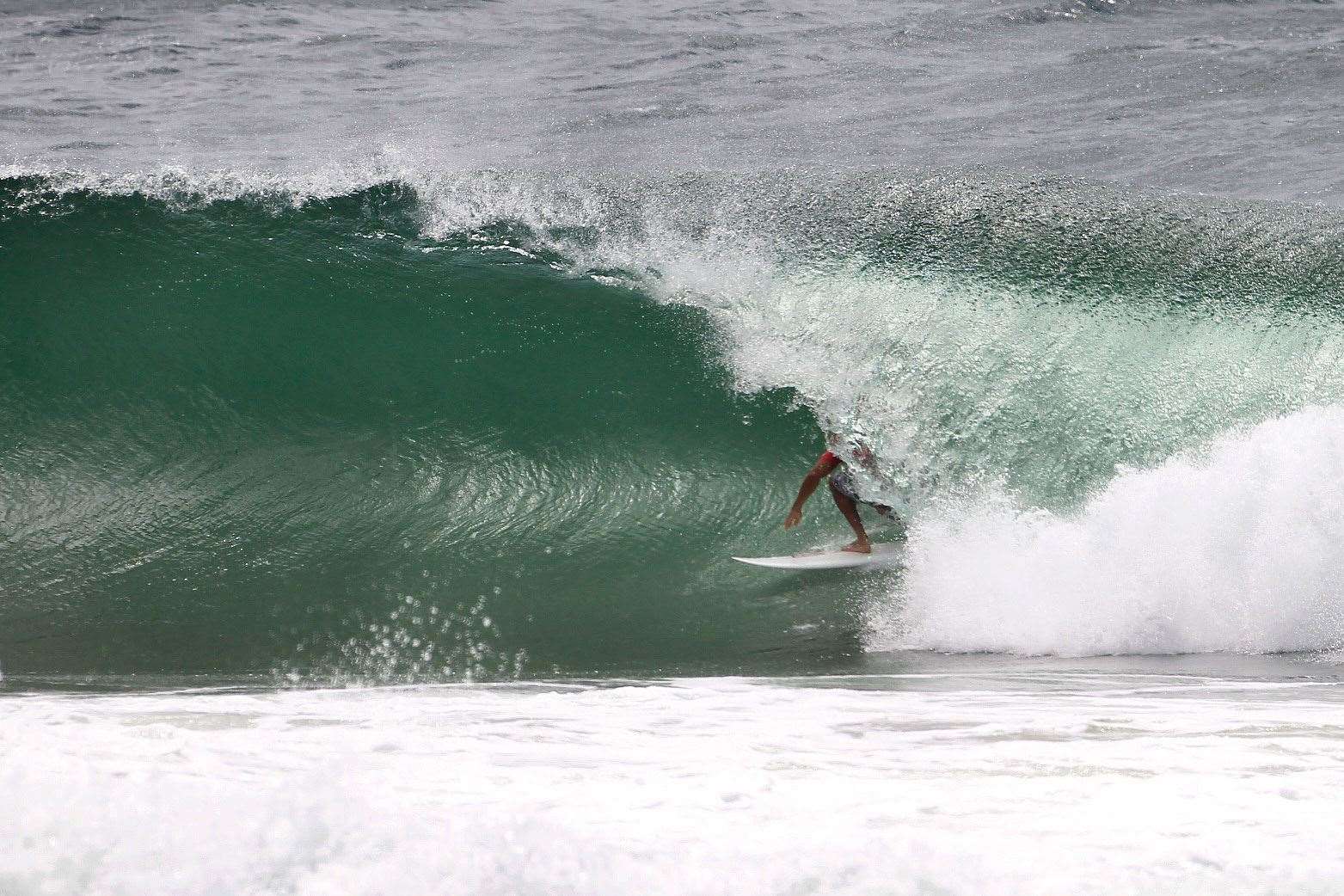 In semi-final number one Michel Bourez, aka The Spartan, surfed a strong, but strategically standard heat – waiting for two good ones a mistake from the get-go. Two blokes out pumping Kirra!? Joel Parkinson knows the rarity of such a situation and with that in mind the 2012 reigning World Champ made productive use of the 35 minutes afforded to the two lucky bastards by catching a bunch of waves (12 in total). The Tahitian etched up an 8.87 and a respectable 6.93, but limiting your chances at Kirra is like boxing with one arm strapped behind you back. Parko's 18.17 two-wave total was just reward for a man punching with both hands up.
As hundreds of surf fans multiplied like amoebas in a petri dish along the famous Kirra breakwall to secure real estate throughout semi one, combatants in semi two were gearing up. "How fun does it look out there?" Kelly Slater said out loud inside the boardriders-like competitors' tent. It was a good day to be a professional surfer for both he and Kirra local Mick Fanning. Mick had lost a Quiksilver Pro final to Snapper Boardriders number one guy and good friend Joel Parkinson right here in 2009. As Kirra's numero uno, Mick wanted to rectify that situation and claim the 2013 Quiky Pro title today.
Taking his froth to the water Kelly paddled his previous statement of fact (to no one in particular) into fruition by gripping the wall of a drainer just inside the heat's opening minute. With his froth beard wet the king attempted to capitalise on this 7.67 but to no avail. Mick, making good use of the double hand anchors-out stalling technique [my personal favourite], milked an 8.67 and for the following 15 minutes it was the Mick Fanning Show. His local knowledge shined while Kelly failed to exit not one, but two seemingly makeable tubes (remember we're talking about the world's best). Limited pumps inside the tube left him dead on the foam ball or capitulated by the cramping roof. Mick was in control. Well, as in control as an opponent of the alien that is Kelly Slater can hope to be in a final, at least.
Kicking on with the task at hand, Mick tattooed a near perfect 9.93 into the mind of Slater, only to see the winner of 51 world tour events pluck a perfect 10 from the heavens. Starved of a final shot at the 9.45 needed, Mick's run came to a whimpering end.
In the post-heat interview, Kelly seemed jazzed, almost to the point of disorientation. He was stoked, excited and twitching with energy. Californian Peter Mel asked Kelly about the two he muffed and Kelly barely produced an answer. When the interview then moved to the perfect 10, Kelly's focus went 20/20. "That one I did make was better than either of them [two he didn't make] so I don't care!"
While Parko's post-semi interview was a composed affair about enjoying the opportunity and what a pleasure it is to be surfing Kirra, Kelly's contained the analogy about getting caught in traffic this morning on his way to the event, only to have the road miraculously clear as he rounded the bend towards Kirra. "A sign to be patient – and that it would come", was what he got out of the experience behind the wheel. On top of the Gold Coast Highway epiphany, Kelly added some muscle when asked how he will deal with the current world champ in the water. "I'm not going to be nice to him." How true those words would become.
While Kelly bounced off walls fresh from the water Parko had been dry docked for nearly an hour. Would the chance to calm the jazz juju be an advantage? Or would nervous energy be the key? Or would Kirra's blessing simply be the decider.
Like a politician with good polling under his belt (a 10 in his semi the equivalent), Kelly walked down the beach smiling and talking to the people – campaigning for goodwill and votes of support come the final hooter.
Two blinks later of lava lamp later and Parko, channelling the great MP, dialled up a solid wave in the opening seconds of the final and burrowed his way through the Kirra rabbit warren [pun intended after Mr Bartholomew's performance in the super-heat – onya Rabb], to score 8.67. If his earlier heats were anything to go on, it's an ominous sign, but this is the big show. The final. Single wave scores fewer than nine are like a nightclub JD and Cokes – insufficient to get you over the line.
And so it goes.
It was about this time that Kelly paddled past Tracks' shooter Nate Smith swimming roughly midway between the top of Kirra (where Parko was focusing his attention) and the very end, where the wave almost disappears from the judges' view. Now before I enlighten you with exactly what the K-man said to Nate know this; Kelly Slater has been surfing Kirra proper longer than both Parko and Mick. I know he's a Septic Tank Yank blow-in, but the guy's done his time out there, trust me. Since he first surfed it as a 15-year-old in 1986, it's been his favourite wave. While living at Avalon in the early '90s Kelly would drop everything to fly north every time Kirra showed signs of breaking. And it wasn't the half-arsed Kirra we have today – it was the bowel turning three-step ledging 300 metre barrelling Kirra of old. So when "his Lordship", as Nate calls him, paddled passed and said, "There are a couple of crazy ones down the end!" He knew what he was talking about.
Fast-forward five minutes and Kelly (on that very end bank) has banked an 8.73 and a 9.83 and put Parko in the corner. And that was no easy feat. Parko was on fire and would've smashed every other surfer on the planet today (Julian Wilson included). He deserved better but what's better – he got to flip off the 11-time world champion when he used priority to cruel him out of a smoker later in the heat and that's something. And before you cry foul and bring up Damian Hardman's turn-in-the-whitewash snake in the Coke Classic against Tom Carroll back in 1996, don't doubt for one second Parko wouldn't have done the same thing.
And so it goes.
Kelly won this battle, but the war has just begun.
Bring on Bells I say.
QUIKSILVER PRO GOLD COAST FINAL RESULTS:

1 –

Kelly Slater (USA) 18.56
2 – Joel Parkinson (AUS) 17.47
QUIKSILVER PRO GOLD COAST SEMIFINAL RESULTS:

SF 1:

Joel Parkinson (AUS) 18.17 def. Michel Bourez (PYF) 15.80
SF 2: Kelly Slater (USA) 19.37 def. Mick Fanning (AUS) 18.60
CURRENT ASP WCT TOP 5 (Following Quiksilver Pro Gold Coast):

1.

Kelly Slater (USA) 10000 pts
2. Joel Parkinson (AUS) 8000 pts
3. Mick Fanning (AUS) 6500 pts
3. Michel Bourez (PYF) 6500 pts
5. Taj Burrow (AUS) 5200 pts
5. Julian Wilson (AUS) 5200 pts
5. Bede Durbidge (AUS) 5200 pts
5. Matt Wilkinson (AUS) 5200 pts
Note: Download the Tracks exclusive Mondayitis: Kelly Slater Today – Wallpaper
Tracks