Never in finals history has a surfer attempted an aerial like Kelly Slater's Bells full-rotation air and landed it clean.
| | |
| --- | --- |
| | Never in finals history has a surfer attempted an aerial like Kelly Slater's Bells full-rotation air and landed it clean. |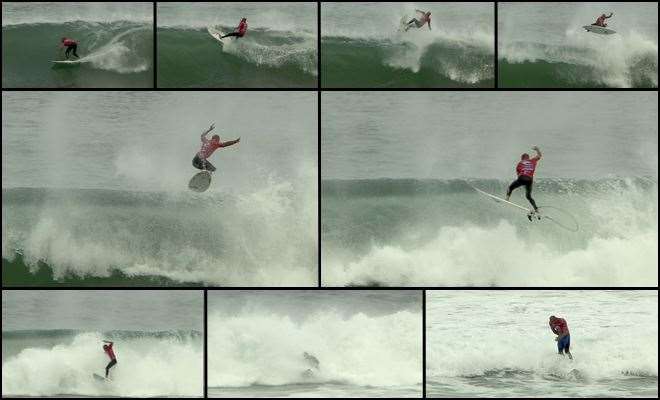 Full frontal frame grab sequence of Kelly's bombastic Bells Beach perfect ten aerial. Pics: ASP/Rip Curl

N
ever before in professional surfing finals history has a surfer attempted an aerial like
Kelly Slater's
Bells Beach full-rotation air and landed it clean. That's not to say there hasn't been some spectacular above the lip antics, on the contrary – there have been some absolute doozies.
Still, the fact is (pressure cooker situation aside even) none of those past feats of flight were performed with the same element of danger. Not even his own previous personal-best full-rotation air from his semi-final against Taj Burrow at the Quiksilver Pro New York in 2011, nor his Rodeo Clown Flip attempt at The Pipeline Masters back in 1999 [riding a 6'10"], matched the high level of potential self-harm in this bombastic Bells no-grab-front-side-full-rotation air-reverse.
Let me explain; with 17 and a half of the 40-minute Rip Curl Pro final already gone Kelly was floundering in a dire combination situation. Eventual winner Mick Fanning was dominating 'The Bowl' both with wave selection and top-to-bottom execution – and Kelly knew it.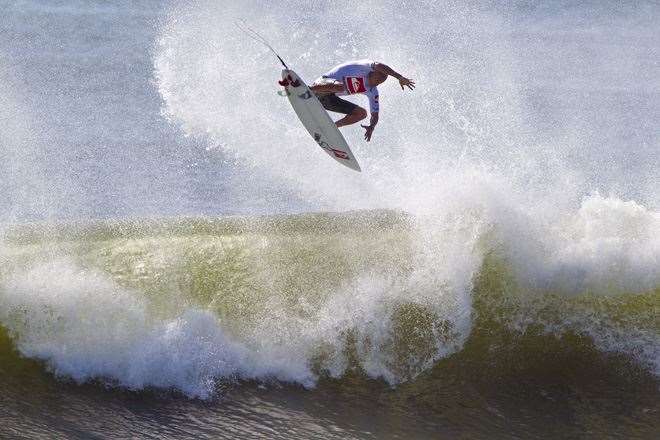 Kelly's previous PB competition air from the Quiksilver Pro New York 2011. pic: ASP/Rowland
In an attempt to turn things around, Kelly pulled up stumps and paddled away from the Bells Bowl, where (at low tide) the best quality waves are found, and implemented a plan that (at the time) appeared far from a sound strategy [I was calling the final live on the beach]. Out of sorts and with only four low scoring waves under his wettie the 11-time world champion almost looked to be in a wave catching panic… Very un-Kelly.
He needed a game changer, but what the hell? When he eventually reached what is not only Bells' shallowest spot on the reef/rock shelf but also the straightest (securing a runner from this point is almost unheard of), he then turned for an unassuming four foot wave and casually pumped up speed before launching up and out and into the flats. "I wouldn't even try something like that [air] free-surfing," He told Tracks on the podium right after the final. "It's just too dangerous... It's a sure way to break your leg or ankle."
Sure Josh Kerr's earlier air-reverse in the Bowl was a monster – but it was on a fairly buttery lip over the deeper (safer) section of the reef. And Yadin Nicol's shore break aerial was huge, but he landed on the roof after spinning only180 degrees and riding out. They were two of the best Bells airs up until this point.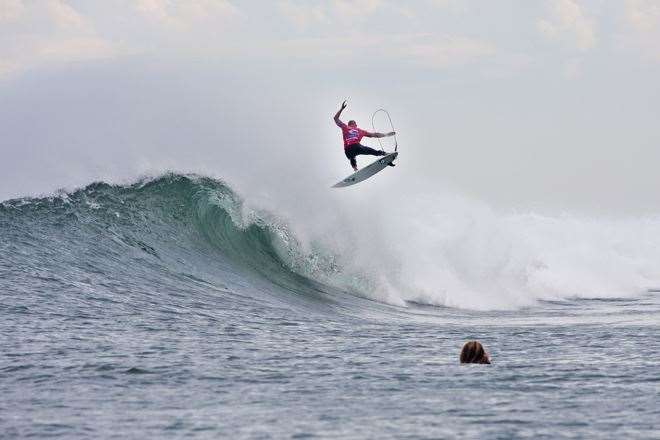 The view from the channel at Bells. Pic: ASP/Kirstin
But this one maneuver shot down all that have come before.
Go back through pro competition surfing history and the last aerial to stand up as the best was Kelly's own NY City special, and when Tracks asked, was this one bigger than New York? Kelly replied, "I think it was. It was a bigger wave – more wind… And I had to land out in the flats (pretty much)."
The fact he planned it.
The fact he launched it over a no-go section of the line-up.
The fact it was in an ASP world tour final.
The fact it was a sell-out crowd [beach access was closed off].
The fact it was at the much maligned and un-air-friendly Bells.
And the fact he indeed nailed it!
Makes this massive Kelly Slater no-grab-front-side-full-rotation air-reverse the best aerial ever in surfing finals history.
Even more amazingly, he lost!
This last fact a real credit to two-time world champion Mick Fanning who produced a methodically smart heat full of incredibly tight and powerful rail-to-rail pocket surfing... A great win not only over Kelly but also done in the honour of his friend and three time Bells champion Michael Peterson.
Epic-ness.
Tracks