Surf Lakes makes a move to flank KS Wave Co. and Wavegarden.
Yesterday a new player in the wave pool war made quite a splash. Surf Lakes came to attention yesterday after the company's new 'Surf Industry Advisor'  – none other than ex world champ and pod-cast extraordinaire Mark 'Occy' Occhilupo – dropped a clip on his facebook and instagram announcing his new position with the company. It also featured a short clip of a hollow peak produced by the pool known as 'Occy's Peak' (see below).
There's no doubt the wave is perfect, but it's also clear that it's sub one-foot. That didn't stop Surf Lakes from making some bold claims about its tech. Let's read from the company's press release:
Surf Lakes will be the first surf park in the world capable of producing eight separate waves simultaneously. The waves will vary in size and length, allowing for beginners through to experts to surf at the same time.
By using concentric waves and multiple point breaks, Surf Lakes is capable of producing more waves per hour than Wavegarden's Cove or Kelly Slater's wave pool (2,400 vs 1,000 vs 15 respectively, while also offering a variety of waves from hollow barrels, to gentle beginner waves.) Editors note: Shots fired!!
Occy has joined Surf Lakes as its Surf Industry Advisor, providing valuable input into wave design. He is also designing his own break, called "Occy's Peak", a barrelling left hander that will be 2.4 metres face height (eight feet) and run for about 60 metres.
In case you missed it, the key piece of information there was that unlike Wave Garden or KS Wave Co. Surf lakes utilises a pump located in the centre of the pool. This fires off a wave in a ring shape toward multiple waves located all around the pools edge, leading to the much higher wave count. (See pics).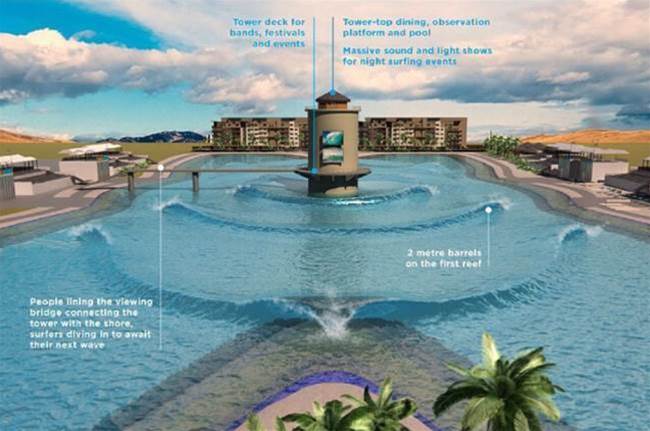 The presser also suggests Surf Lakes can produce waves of eight feet? We'll just have to wait and see on that count, as the only footage released so far features a wave clearly smaller than that.
Construction of a full-scale demonstration Surf Lake is underway at a secret location in QLD.
Stay tuned!
Tracks