The WSL listens to the feedback, and the event moves a few hours away to Saquarema.
It's a funky old wave is Saquarema. It is filled with backwash and a sweeping rips, but there are long waves and some of them are quite rippable. There are most definitely ramps, and even some barrels. Matt Wilkinson looked totally lost in his round one heat against Ace and Ian Gouveia, but then a rare right barrel opened up for him on his backhand and he managed to put a score on the board. Talking of Wilkinson, he does look more determined and focused this year, and seems to have partially lost his jester veneer, looking trim and focused. Along with him the Brazilian duo of Adriano de Souza and Filipe Toledo also surfed fast and tight, winning their respective heats with ease. They seemed to know how to surf those funky, bouncy walls of Saquarema, working their way through to the shorebreak time and again. Also winning their respective heats were John John and Jordy, who are both our favourites to win this event and possibly a world title.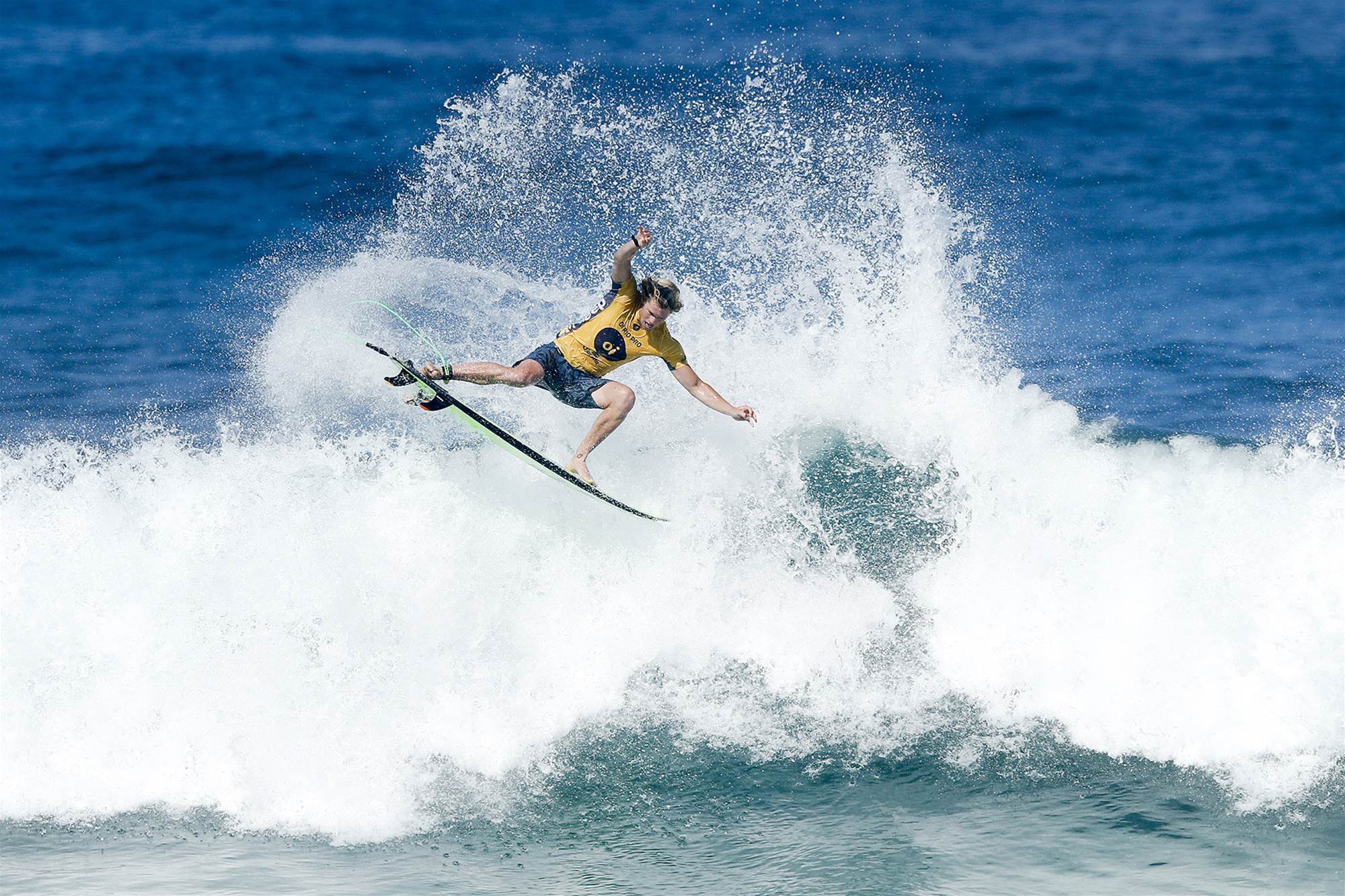 JJF was lucky to escape round 2 and a hungry Yago Dora. Photo: WSL/Poullenot
A popular commentator giving his input and feedback via his endearing broken English was one of the greatest Brazilian surfers of all time in Carlos Burle. Not everyone knows exactly how hard this man has been charging for the last 20 years, but he has unflinchingly charged harder than most surfers on the planet, pushed himself over vicious ledges, been flung over the falls on giant waves and made finals in big wave events the world over. He was a popular invited surfer at the Red Bull Big Wave Africa for the decade of those events; he surfed the Pe'ahi Challenge like a madman, and was one of the guys who played a part in the pioneering of Nazaré. In fact, he was the tow partner of Maya Gabeira when she nearly drowned at Nazaré back in the day, so the man has been through a lot during his surf career.
While the waves did have great moments, along with the whomping backwash, one of the highlights of the day was without a doubt Yago Dora's massive backhand air rotation. It was on a thick little right-hander, and Yago was up against John John Florence and Miguel Pupo and needed a 9.3 to take the lead from the world champ. He hucked this huge move to the roars of the crowds was awarded a 9.27 for his efforts for the singe move wave. It's always good to see the single move efforts being rewarded correctly, and this was a prime example of such a situation. It was also refreshing to see the wild card going extra hard in an effort to oust the current world champion. Knowing that the only way to beat him would be by taking to the skies, Yago's air was pretty outrageous and one of the best moments of the day.
So a good day's surfing in what can only be described as tricky conditions, and quite a surprise in what had been described as an excellent venue, but it was an entertaining day's worth of surfing. It's not all bad – Julian Wilson's backhand air reverse utilizing the backwash for more boost was absolutely sizzling and the wow factor gave it a 9.77 for the ride in totality. Jules, that was pretty sick.   
Tracks