Surfing events are morphing – morphing into full on festivals that is. The latest surfing contest to become more than its core element is the Drug Aware Pro in Western Australia.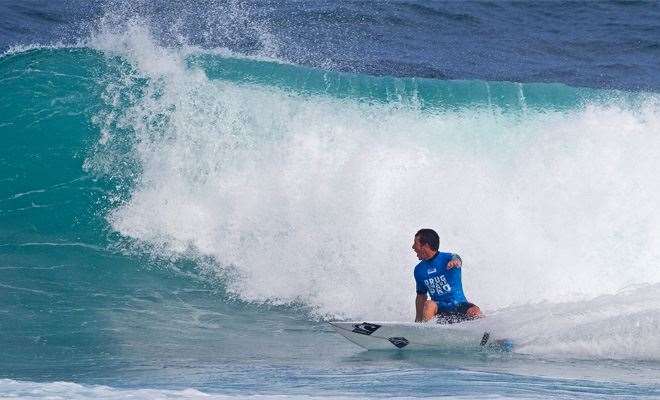 Shaun Cansdell's comeback thwarted in his opening heat – a reflection of the quality field. Pic: ASP/Steve Robertson.
Surfing events are morphing – morphing into full on festivals that is. The latest surfing contest to become more than its core element is the Drug Aware Pro in Western Australia. Not only is this old girl of West Oz Pro surfing now a six star prime WQS event, it's also a fully fledged music, art and style festival too. New presenting sponsor Rusty a major player in upping the anti. In the land of the setting afternoon sun surfers and punters are rightfully stoked. For there are two things they love in WA and that's good surfing in solid waves (Margaret River) and a good old early evening soirée – especially on a Sunday. Having kicked off yesterday the Sandgropers are set for a week of good times.
2010 will be the inaugural year of the MASS Festival - a festival aimed at being a reflection of what the, "Rusty brand and its collective represent: irreverent thinking, artistic integrity and the need to constantly push the boundaries on tradition."
Basically this entails adding the MASS Festival to the surfing proceedings. A combination of music, art, surf and style through the MASS Music Festival, Children Of The R.Evolution Art Exhibition, R. Expression Session and Fashion For Fascists Style Show.
For me personally the big winners will not only be surf fans but those who love good music. The MASS musical arm of the Festival kicks off on Saturday the twentieth delivering Perth legends Gyroscope (who are promoting their new album Cohesion), plus progressive rockers Cog, prominent Melbourne-based rock collective Eddy Current Suppression Ring, and Sydney posse Philadelphia Grand Jury (a rare modern three piece that lives up to the hype).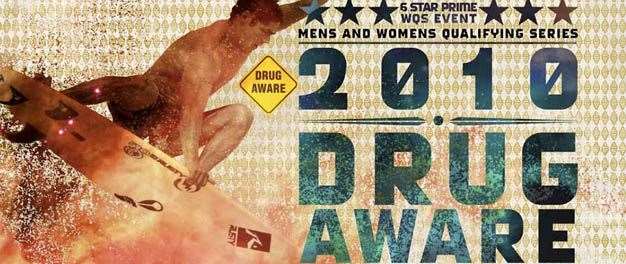 What about the surfing? Well, the line up isn't too bad there either. This year's event field is stacked with seven of the world's top 10 surfers including Fanning and current world number one and local favourite Taj Burrow along with 12 of the world's top 16 women surfers headed by Sofia Mulanovich from Peru. As Mick Fanning explains this is one special event. "It's a venue that generally delivers great surf – we go there expecting excellent surf and knowing there's a real chance we'll get some seriously big surf as well – I love the whole region and I'm looking forward to returning and surfing in what should be one of the best fields ever assembled there."
While everyone's looking forward to Mick and co hitting the water the sparks have already began flying after an interesting day one of competition. Hawaii's Sunny Garcia provided most of the spectator excitement on the opening day when the the 2000 ASP world champion was called an interference mid-way through his opening round heat following a wave altercation with Canary Island surfer Jonathon Gonzales.
The interference call resulted in Garcia being penalised with a deduction of half of his points on his second scoring ride and saw him slip from 2nd to 4th  mid-way through the heat.
Clearly angry, the Hawaiian who has found more than his share of controversy during his esteemed career, aggressively surfed through the remainder of the heat and that anger appeared to bring out his best with a strong late ride that moved him from 4th to 1st position and through to the round of 96.
In no mood for a post heat interview, Garcia left the contest site to regroup for his next heat.
That was the second last heat of the day (which began in very good clean four-to-six foot surf).
Early stand-outs included Nathan Hedge (AUS), the day's top scoring surfer with a heat tally of 14.67 along with fellow former ASP World Tour surfer and local Jake Paterson who also won through with an impressive combined two wave heat tally of 13.17.
"I love surfing here at Margaret River", said an enthusiastic Hedge after his heat.
"It's always good to get that first heat out of the way and I'm hearing there's excellent solid waves ahead and that will suit me just fine."
This year's Drug Aware Pro clearly highlights the alterations to the new ASP one world rating system and elevated status associated to 6-star prime events.
With 31 of the world's top surfers in the field including the top five rated surfers in the world, the heats are stacked with talent and the high seeded round begins when the next round of the Men's division hits the water which sees local hero and current number one world rated surfer Taj Burrow in the opening heat.
The opening rounds of the Women's division of the Drug Aware Pro are expected to surf tomorrow with men on stand-by however there is a strong chance of Burrow's heat entering the water Wednesday morning.
An excellent swell outlook through most of the week has contest director Mike McAuliffe keen to see this year's quality field getting the best of the conditions ahead.
"Wednesday should be excellent with solid new swell and ideal winds and Friday through to Sunday also looks excellent and big at times so at this stage it's looking really promising and with such an outstanding field we're in for a great event."
The final heat of the day saw Victorian pair Adam Robertson and Jack Perry defeat Spain's Hodei Collazo and USA's Matt Mohagen to both advance.
"We've both travelled overnight from the last event at Newcastle yesterday and were feeling travel weary so it's a relief to advance through that heat" said Robertson.
"With big surf approaching it would have been so disappointing for either of us to lose out in our opening heat but we're through and we'll rest up and be fully ready for hopefully some great waves in the coming days."
Organizers will convene early tomorrow to make a call on the day's proceedings around 7:00am Western Australia time line.
Watch it live: http://www.drugawarepro.com/
Tracks