Insights from one of the hardest working surf photographers in the game.
All photos Ryan Miller
Ryan Miller is one of our hardest working photographers in the business. Creative, offbeat and extremely organsied he services a suite of clients that ranging from Red Bull to Channel Islands surfboards. He's at every event on WSL tour season and... works it. Miller has nailed the art of sports photography and his consistency often means he's the first editors and brands call to get the shot. Tracks talks to the New Jersey native about the game of surf photography and how he wound up on speed dial to the pros.
Tell me about the journey that led you to shooting the best surfers in the world?
I started out doing surf photography in high school. Quickly realized that standing on the beach and not surfing was not very fun. Quit that real quick when I went to school for photography. After not being able to cut it as a documentary photographer I decided to give surf photography another shot. It kind of took off and I have been happy doing it ever since.
I live in New Jersey. Kind of in a little bumble fuck town way in the south far removed from any surf industry. Love it! Close to Philadelphia airport so it's super easy to get on a flight.
I love doing the tour because I love having a schedule and being able to plan a year in advance. The characters are what really gets me excited. Like just last night I went out with Bourez, Jeremy Flores and Bede. If I didn't do the tour I would never hang with those guys just doing free surf trips. It's super rad to mingle with all the characters on this tour.
What does it take to chase the tour?
Takes a credit card with a really big limit. It costs a ton to do the tour. It also takes a lot mentally to be on the road that much. Think I was on the road last year for 263 days.
What have you learned about the tour since following it?
Fuck where do I even begin? I've learned so much I would have to write a book. I have learned so much from just hanging out with a ton of people I wouldn't usually be around in my little bubble at home. It's so cool to be able to have a relationship with dudes from all over the world with different backgrounds.
Has there been a standout image you've shot that you are most proud of?
I started to look through some photos for this and came up with about a 100. I don't think I have a favorite shot at all. I honestly don't even like to pay much attention to photos I've shot in the past. I really try and live my life and make my work about what is happening right here and right now. I try and embody that mindset at all times to make something good out of whoever conditions I'm dealt with.
You're often juggling multiple clients. Tell me about the ins and outs of working for multiple companies and why you think you have managed to succeed?
I just try and never think about myself or what I want from my own photography. I try and be totally selfless when it comes to my clients. All I want to do is make images that suit them. I think if you embody that mindset then it all works out.
Who has been your favorite subject or most rewarding to shoot?
With the really good men on tour that can do so much you are really just documenting their abilities. They are so damn good it is easy to get great photos. The most rewarding moments are when I go to waves that are of a less quality or with surfers with a lesser ability and get great images. Those really feel like I put the work in to make it happen.
You often capture some quite intimate moments in and around the tour. How have you been able to gain that access or more importantly gain trust?
Trust is all it is. And time, so much time. If you don't burn your bridges with the guys over a long period of time then I think they are more open to letting you in. I also think it has a lot to do with not wasting their time. If you can prove that using their time is worth it to them then they will be more willing to work with you in the future.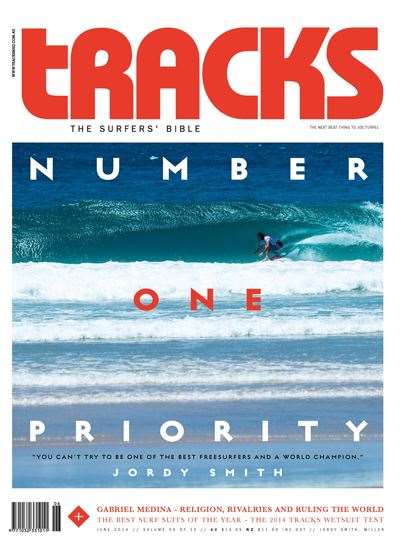 Left: One of Ryan's Tracks covers - June 2014
What's the craziest thing you've ever done just to get the shot?
I shy away from crazy. I just like to be consistent.
How can you carve a niche or create a point of difference with surf photography when it's such a competitive arena?
It really isn't that competitive. There are a million guys that want to do it but there are very few that want to be on the beach before sunrise every single day all year long. There are only a handful of guys that want to do that for a long period of time.
Online is booming, print is dying and the market is flooded with new photographers every year. Where do you see the game headed?
I just see the quality getting better online. Things are pushing that way all the time with the way brands and websites use photography. I think the days where you could put a B photo up online are gone. People on social media are too smart for that shit.
CHECK OUT THE SALT SURF PHOTOGRAPHY AWARDS HERE: saltawards.tracksmag.com
Tracks