According to Ben Mondy ...
As I saunter down the coral path on Namotu, it's easy to get overwhelmed by the beauty of Fiji. I high five Adriano de Souza who, even though he is making passionate love to his wife whilst rewatching his performance on the Heat Analyzer, still has the time for a humble, but important, surf journalist. 
I swing past Ethan Ewing's shack. He is still asleep and still wearing the snorkel apparatus from last night's Skull Drag inauguration ceremony. That gives me time to administer a quick DNA test. The test reveals he is not Andy Irons. This is not quite on the scale as the time I discovered that the Hobgoods weren't related, but shocking nonetheless. Before heading for a chat on the literary merits of postmodernism with Parko, I just have time to have eight cans of Balter with Bede, smash Medina in a game of nude tennis, go tandem kite surfing with Josh Kerr and land a 16 kilogram striped mulletheaded dogtoothed salmon, on a handline, using Fanning's last night vomit as bait. 
Of course, none of this happened. I'm about as far away from Cloudbreak as the Knights are from a premiership. The Tracks travel budget you see came in the form of an internet cafe voucher, unlimited access to the webcast and a two kilo can of Nescafe. Having watched the first two days action and being paid here (all be it in internet vouchers) to make bold predictions, I still think the best chance of an Australian win will come from the Over 30 Bure that houses Joel Parkinson, Mick Fanning and Ace Buchan.
Can Parko take a win in his beloved Fiji? Photo: WSL/Cestari
Parko and Mick have stayed together for a while on Namotu, and over the last few years have put in place a strict and age discriminatory protocol on their third guest. 
Kai Otton made the grade in recent times however with Ottz' retirement a place opened up for anyone on tour born after 1987. I've heard the interview process was rigorous and required the applicants to have an active Hotmail account and an in depth knowledge of Grinspoon's back catalogue. Ace prevailed and prior to the start I thought was a good outside bet to win the whole thing, until he lost. On that note, was it just me that thought Leo Fioravanti's heat winning wave, when he took off wide while Ace was in the tube, was a potential interference? Now sure Ace was very, very deep, but when you have one of the world's best tuberiders in one of the world's best tubes, surely you give the man in the tube the benefit of the doubt? This isn't a fucking freesurf at the Superbank for Chrissakes.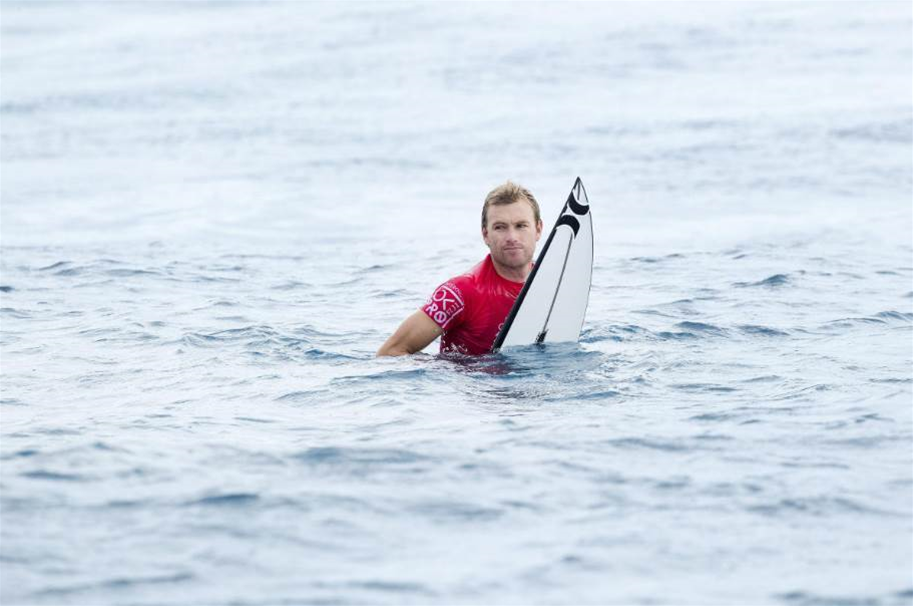 Ace throws a sneaky stinkeye after getting faded/not faded by Leo. Photo: WSL/Cestari
Anyway with Ace gone, and also Owen, it's fairly clear that Fanning and Parko are the next best bet, even if Wilko and Wilson have been impressive. Neither of the Cooly kids have won here, and Fiji remains one of the few trophies that wouldn't be relegated straight to the garage for storage.
"I've had a few quarters and maybe a semi," Parko told Tracks from Fiji, in a phone call that further spliced the travel budget. "I think it's one of those places where if it is solid six-to-eight foot day, I think you'll find experience and knowledge of the wave will outweigh talent." Parko relied on simple hard nosed competitive edge to overcome Yago Dora in their Round Two heat, a performance that spoke volumes on his pure will to win. 
Parko was also keen to big up Fanning's chances and the transition he has made. "Mick grew up as this rakey little stick figure of a kid on a perfect righthand sandbar and he's had to learn how to surf big slabbing lefthand reefbreaks," he said. "That he's turned it around to the point where he consistently makes semis and finals here and Chopes is amazing."  
Mick greets the beautiful ladies of Namotu, while a humble but important surf journalist gets ready to pounce. Photo: WSL/Cestari
It's a good point, especially given Mick will take on Michel Bourez, the Tahitian who learned to ride backside at Teahuppo. Parko also has Jeremy Flores, another deadly draw, but if one, or both, can get through those tough heats, I'll stand by my prediction. 
And if they don't, well, I'll have to console myself with a late arvo session at Restaurants, or an all night bar session with Italo Ferreira. If I was there of course, which I'm not. 
Tracks