Observations from day one of the Quiky Pro
It's been three months since the hooter sounded on a WSL CT heat. In between we've seen CEO, Paul Speaker, step down, Samsung pull out and much written about the future of pro surfing. However, after a tumultuous start to 2017 the attention was squarely fixed back on the top 34 men in CT jerseys along the sand bottom miracle of Snapper Rocks.
Gabriel Medina looked electric in his heat against fellow screwfoot, Wiggolly Dantes, and tour debutante, Zeke Lau. Gabby displayed a much more vertical attack, bashing the lip and throwing spray like confetti. However, his performance was marred by a potential event ending injury when he attempted an aerial and strained his MCL. As Gabe hobbled back to his hotel with every Brazilian expat on the Goldy holding their breath a team of doctors were already being assembled to get Gabby right for round 2.
"I'm stoked that the waves have produced for us this year," said a relieved Jordy Smith after his win. Smith fired up in heat 6 with the South African showing his teeth against Miggy Poops and trials winner, Nat Young. In what Smith described as a, "frustrating heat" he held on to victory thanks to his lacerating forehand turns, displaying his superior board control and effortless flow. Jords opted to ride the same board that took him to the podium at Trestles in 2016 and will be hoping his carpet will help him to kick off the season with a bang.
Meanwhile, John John showed why he's world number one. Looking sharp the moment he put his feet in the wax the world champ went to his trademark layback snaps and loopy carves and surfed a well paced heat. The wow factor of Mikey Wright failed to impress as he struggled to complete many of his opening rides. When Wright did take to the air he looked anxious, hurried and out of sorts. ( Of course he did make amends later in the day in the match up between the punk and the spartan) Meanwhile rookie, Connor O'Leary let his nerves get the better of him failing to post higher than an 8.20 heat total.
The most stacked heat of the day was that of Mick Fanning, Kelly Slater and Jeremy Flores. And boy did it live up to the hype. Slater's opening wave of a 5.83 seemed slightly underscored given the variety and speed, which he displayed. Call me old fashioned, but there's nothing like watching the King bank into a 360 after tearing apart a Snapper wall. But, it was Jeremy Flores who surprised us most, surfing with a vigour and enthusiasm that has been sorely lacking from the Frenchman in years past. Despite looking like he would hang on for the win, Fanning extinguished Jeremy's hopes in the dying seconds of the heat. White Lightning put together the best single wave combo of the heat—displaying committed rail surfing and edging out Flores with a 7.17, which had Flores seeing red. 
Meanwhile, fellow Aussie veteran, Joel Parkinson, had an absolute blinder today. Against Joan Duru and Italo Ferreira in heat 9, Parko stitched together the highest heat total and single highest wave score of the day. His opening wave of a 9.23 set the tone with his silky smooth power and style were on display. The French bogeyman – Duru fought back and played spoiler for much of the heat before Parko found a gem with some superior positioning. Joel's elevator drop into the barrel followed by several wrapping cutbacks sealed the win for the Australian. Despite Mick and Kelly dominating the world title conversation it'd be foolish to count Parko out.
Heat 12 will be remembered most today. Owen Wright is already a winner no matter the result at this event. After making his return to competition at Surfest, after a 12-month stint on the sidelines, the vibe around the Big O camp has been, "steady as she goes". Well today, Wright dropped an 8.23 and 8.60 for a heat total of 16.83 showing his lethal backhand hook hasn't missed a beat. "Tough journey getting here," said an emotional Owen post heat. The road back to recovery has been a long one for Owen and for now just being back is a win in itself. And without taking anything away from Owen's performance we must acknowledge runner up, Ethan Ewing. The kid blew it out of the park and put in the best rookie performance of the day. Despite his small frame the tour prodigy was wildly impressive. He surfs a bit like the late, Andy Irons, with an aggressive and razor sharp rail game. This is a kid on the rise and one to watch in round 2.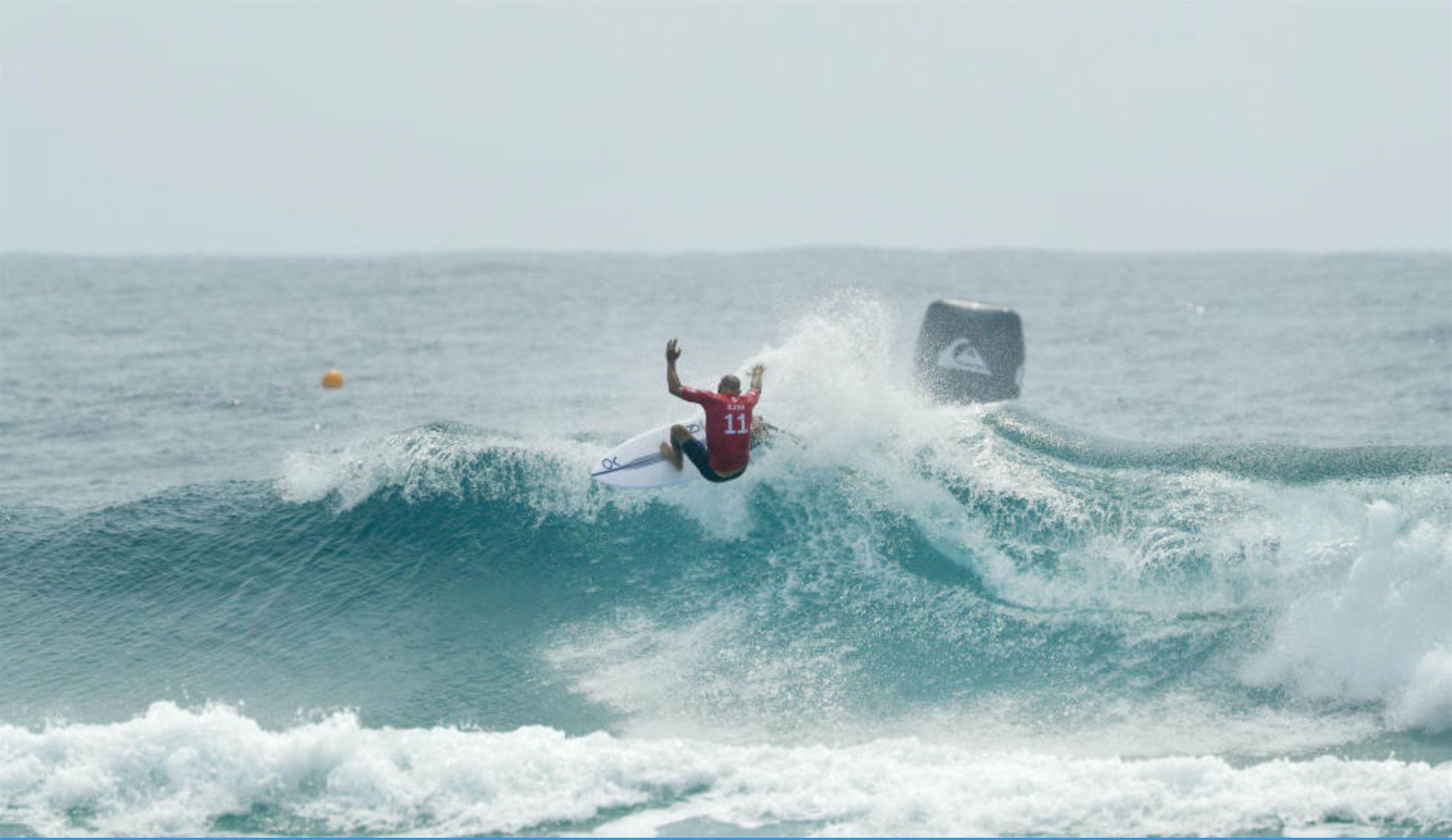 Slater looked sharp and in tune with his equipment. Pictured here during round one. Photo: WSL.
Finally, Slater's on dark defeat of Nat Young was a perfect demonstration of speed, precision and wave salesmanship. Poor Nat. Only his parents and the Hurley posse wanted him to win, with Slater the clear sentimental favourite amongst fans on the beach and at home. Kelly has stated his intent to be a contender. At 45 he can still summon speed at will and take flight if it suits his fancy. Not surprisingly he used a sneaky, behind the rock barrel to edge out Young. Expect the tour veterans to pray for hollow conditions and go to the tube when they can against their younger, wing-heeled competitors.       
Tracks