Quik has acknowledged last year was a tough year for Dane and thrown him a wildcard for the Gold Coast.
| | |
| --- | --- |
| | Quik has acknowledged last year was a tough year for Dane and thrown him a wildcard for the Gold Coast. |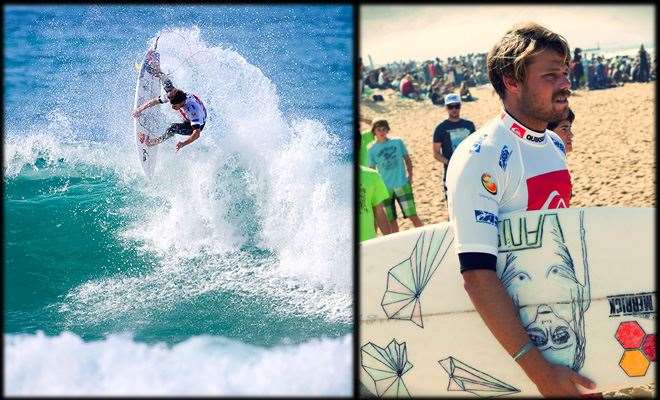 Dane Reynolds going big but eventually losing to Jordy Smith in France (L), and pre heat focus at same event (R).
Well, it's happening. Dane Reynolds will be suiting up for the Quiksilver Pro Presented by Land Rover in 2012. The Tracks office had discussed the possibility of Australian Quik event flipping the customary script of giving the wildcard to a young team rider on the move on its head – Matt Banting last year, Julian Wilson years previous – and inviting back the most popular surfer on the planet. And that's exactly what they've done.
Ironically, the surfing anti-hero's extended rise in popularity last year coincided with his decline on the ASP World Tour ratings – no thanks to injury, and his apathy towards competing – Dane finished outside the qualification bubble and dropped off tour [arguably there's every chance he would've been awarded the injury wildcard for 2012 had he wanted it].
Wisely, Quik has acknowledged 2011 was a tough year for Dane, both physically and mentally, and have thrown him an event life line for the Gold Coast.
Their press release puts it like this, "The 26-year-old [Reynolds] from Ventura, California, is easily one of the most exciting and creative surfers on the planet but endured a difficult year on the Tour in 2011 which was badly disrupted by injury. Reynolds, who finished third at the 2010 Quiksilver Pro before missing last year's event because of injury, is excited by the opportunity to make a competitive return at Snapper Rocks and feels no pressure at the possible prospect of coming up against defending Quiksilver Pro champion and 11-time World Champion Kelly Slater in Round 1."
Now that's a possible round one heat you don't want to miss. A freshly minted 11-time-World Champion versus a shackle free Dane Reynolds! "I hope it's Kelly. It would be fun," Reynolds said. "I've surfed this event as many times as a wildcard as I have a WT surfer and the wave can be super fun. It can be barrels or peelers so it's good for everything. I rate it highly."
And it is interesting to note Kelly's well known respect for Reynolds' surfing has not wavered, "If you watch a guy like Dane Reynolds, who obviously is one of the greatest surfers in the world, he could end up being one of the greats of all time and technically, right now, he is as good as anyone has ever been," Slater said. "He doesn't hold back in contests."
Note: 2012 Quiksilver and Roxy Pro presented by Land Rover is scheduled for 25th February – 7th March and will be webcast live on quiksilverpro.com.au, roxypro.com.au, Youtube, Facebook and the Quiksilver iPhone app as well as exclusively telecast on Fuel TV
Tracks