The definitive compilation of surfing's juiciest tidbits.
Remember July? You should. It rained tens in Jeffreys Bay and poured swell over the entire East Coast of Australia. Over the course of the month Tracks covered the present, mined the past and predicted the future. And from all that gold we picked the best quotes from the month that was. 

"To be honest, there are so many good guys wishing they could be where we are right now and, they're animals, so you just go into beast mode and numb the pain." - Puerto Escondido Challenge winner Kai Lenny explains his approach to the Mexican behemoth.
Kai Lenny goes beast mode. WSL/Villela
"It's not a particularly good wave. In fact it's an ugly, buckled and twisting monster that offers nothing but the demise of those who attempt it.'' - Tracks describes a South Coast Bombie. That didn't however stop local Mitch Kenyon from tackling it at the height of the last swell. It didn't go well. (Watch Here)

"I used to look up to Creedo a lot when we were younger. He was probably the most inspirational out of that whole crew.  Some of the other ones I didn't really like cos they tied me to a tree at school." - Growing up in Margaret River wasn't supposed to be easy, as Jacob Wilcox relates in Tom de Souza's River Rat Pack article.

"The WSL has experienced remarkable success and unlocked incredible innovations to transform surfing into a digital-first and world-class sport." - WSL's new CEO Sophie Goldschmidt. So next time you strap on your leggie, remember to do it digitally. 

"Yesterday, the young Brazilian gave us a taste of the future. It was, in fact, a shock to the system to be jolted that far forward through the space-time continuum on a single wave." - Tracks' Ben Bugden goes all Marty McFly on Filipe Toledo's arse.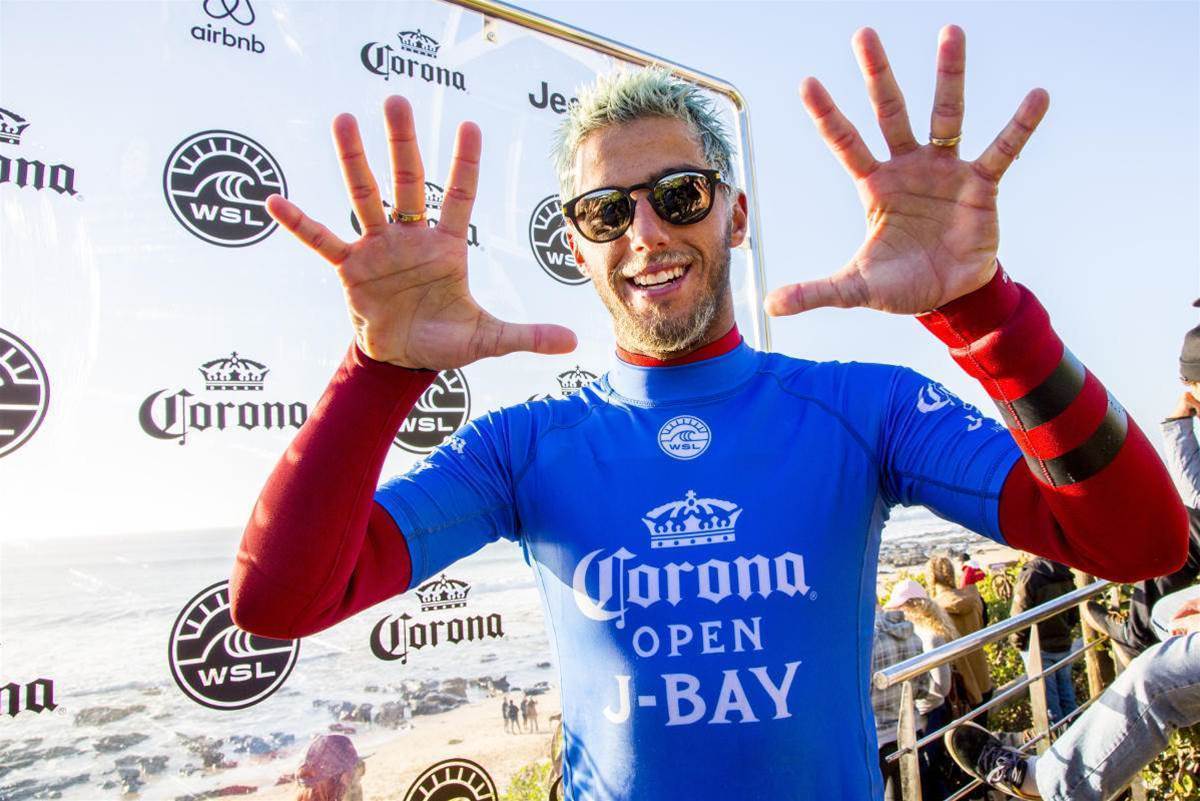 Filipe, fresh from a trip in the Delorean. WSL/Tostee
"It's the closest one I've come to where I was thinking, 'If I don't pull this off, like really knuckle down I could drown here...'' - Jamie Mitchell recounts a wipeout at Puerto Escondido which led to broken sternum. That he survived the experience was remarkable. That he came back three weeks later, packed a series of 20-foot closeouts and made the final of the Puerto Escondido Challenge was fucking demented. Mitcho, you are a certified legend. 
"I'm a baggage handler now and so is Margo. It's where freesurfers go to die. I hated airports so much and have ended up spending 45 hours a week in one. It's our purgatory; throwing guys' boardbags on belts for their surf trips." - The world's first freesurfer Gary Green recounts on life post surf career. 

"Look, maybe the BWT isn't a fair reflection of the size of a nation's stones. However right now it's the only ranking system we've got. And Australia isn't even in the mix." - In an article titled Are Australian Surfers Pussies?, we look at how there are only two Aussies are in the top 50 of the Big Wave Tour (BWT).

"I've been trying for five years and landing bombs all over the world and they just keep ignoring us. It's not fair and if we say anything, we just get put to end of line. It's completely and disgustingly not fair. Please WSL Australia, help out us Aussie guys that want our chance. Love ya all."  - Aussie big wave charger Brent Symes gives his take on the situation in the comments below the article.  

"It was like … real! It didn't feel like a wavepool, it felt like a real wave."  - No this wasn't Albert Einstein (he said, "Reality is merely an illusion, albeit a very persistent one,") but Mick Fanning after he surfed Kelly's wave. 
Tracks