Want a slice of the CT dream? Then you have to do well in events like this.
Aint too many QS 10,000's in the mix these days, and there definitely isn't any more time to fuck around in a bid to qualify or requalify for 2019. It has been a fast game out there in Ericeira, but the waves have been contestably good to great, and there were some big moves going down on day 4. When the spray finally settles, this event is going to have a whole bunch of serious repercussions at the end of the year, and we're going to lose a few friends, but possibly gain a few more as a result.
Jack Robbo is out of the game, and more's the pity. After a run of bad luck, some 50/50 interference calls going against his dad, and a couple of media flares, things seemed to be coming good for the West Oz talent. He picked up a wildcard slot and showed the world how to surf North Point, and started garnering support from the media again, most of whom expressed astonishment that someone of that talent could not be on the Championship Tour. Jack is not the surfer to excel in sloppy waves, and this was his year to do it. His early elimination means he might have blown his one big chance when the stars were aligned, albeit only briefly.
Unfortunately it doesn't look like we will get to see Jack Robinson on the WCT next year. Photo: WSL/Diaz
Mikey February's elimination is a real bummer for the stylish South African, and his chances of re-qualifying are looking slimmer by the day. MFeb's a feisty competitor when the going gets tough however, and he'll be fighting this one to the very end, but this poor result is going to make it all that much more of a challenge to rise above.
Mikey Wright is still looking good for a berth on the CT, despite his early loss in Portugal. The grumbles and gripes about the mullet-head getting an unconventional helping shove by the WSL in order to get him on tour have not slowed down much, and this sort of loss only adds fuel to the fire, but he's not too fussed about the haters, really. He'd rather just go surfing, snake a few Brazilians, get barreled etc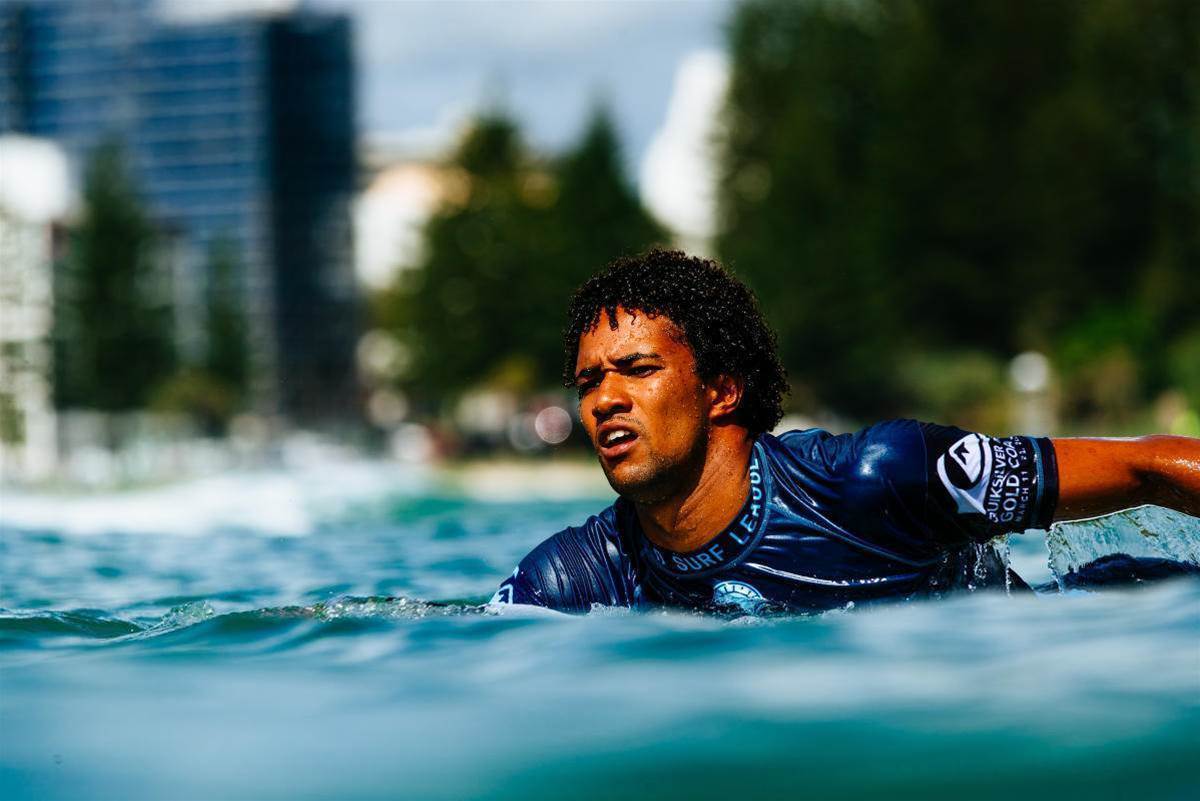 Mikey February's chances of returning to the WCT in 2019 are looking increasingly doubtful. Photo: WSL/Ed Sloane
Jadson Andre is through to round three, and currently placed 5th on the WQS. Jaddy is looking good for a slot back on the Championship Tour in 2019, and that is going to make him and his legions of supporters very happy. Jaddy has developed such a strong fan base over the last couple of years, his supporters have grown in numbers, and all have followed his trials and tribulations closely. There will be many people celebrating along with him when he officially re-qualifies.  
Sometimes Ryan Callinan is so low key that we kind of miss him, and next thing he is the final, doing all sorts of weird backhand shit. He's a great surfer and a really unconventional kind of guy, and he's actually sitting at 12th on the QS rankings right now. A couple more heat wins and a couple more packets of points and we could see him back on the tour for the first time since 2016, a place where he genuinely belongs.
Master Blaster, Mikey Wright, still looks like he could double qualify for next year's WCT. Photo: WSL/Cestari
Another surfer intent on regaining his spot on the CT is Leo Fioravanti. He too advanced today and sitting at 20th on the QS rankings also has a way to go to get into the requalification bubble. Leo has the steeze, and his style and approach are well suited to the CT.
Full results of the event thus far can be found here - http://www.worldsurfleague.com/events/2018/mqs/2801/edp-billabong-pro-ericeira/results
After this event there are two more WQ 10,000 events, the Hawaiian Pro at Haleiwa and the Vans World Cup at Sunset Beach. It's going to be an interesting finish to a crazy year on tour.
Tracks