If anyone is qualified to comment it's this guy.
If you tuned in closely to the webcast of last week's Newcastle Surfest you would have seen Reunion Island's Jorgann Couzinet pulling off some of the wildest punts of the event. Despite surfing with a broken wrist, the string-limbed natural footer with the lick of punk-blonde hair, made the quarters by landing the kind of technical airs that inspire jump aficionados to give standing ovations in front of their screens.
However, Jorgann's excitement over his best result in a contest was stifled by the knowledge that only a few days earlier he had lost another good friend to a shark attack on Reunion Island. 
Since Kelly Slater made his controversial call for culling on Reunion, the issue has been eaten up by surfing and mainstream media. Given Jorgann grew up surfing on Reunion his perspective and insights on the issue certainly seem valid.
Tracks caught up with Jorgann while he was cheering on fellow Reunion Island surfer, Johanne Defay, in the final of the Anditi Women's Pro at Newcastle Surfest.  Below, the gently spoken Frenchman discusses losing another friend to sharks, surfing Reunion with an armed security team and the top-secret technology that he hopes will allow him to return safely to the Island he still considers the best place on earth.
Tracks: How long did you spend surfing on Reunion Island?   
Jorgann Couzinet: I was living on Reunion Island for seventeen years and I decided to move to France three years ago because it was impossible to stay there and surf –with the sharks it was impossible to stay there. Now I am living in Hossegor with my girlfriend and my dog.
Did you surf St Leu a lot when you were growing up?
I lived twenty kilometres away from St Leu but I tried to surf a lot there – three or four times per week. So I think it's quite a lot.
You must have some good memories of sessions at St Leu
Yeah, Yeah (French accent) Right now I'm just dreaming about a good session there. It's been three years that I haven't surfed there so I'm super sad but that's life and I hope that maybe one day I can back there and surf.
Probably next year I'm gonna surf there because I'm going to have something for the shark because I have a sponsor that is working on this project.
St Leu remains one of the best waves on Reunion Island. Photo: Greg Ewing
You have a friend who is working on a product to make surfing in sharky waters safe?
No, a sponsor. So you will see maybe next year I am going to go there and make a clip and you're going to see it.
So what kind of product is it?
A special thing that you wear on you like a bracelet and the shark can't even be close to you. It's working in the water and putting some kind of ah…
Electromagnetic wave?  
Yeah. 
Which sponsor is it?
I can't say the name.
You can't reveal the name because it's a secret project?
Yeah, it's coming soon but I can't quite try this one yet.
You are happy to be the Guinea Pig for the product – to surf St Leu and see if it actually works.
Yeah, it's pretty scary but I want to try. It's too important for me because Reunion Island it's all for me. It's crazy because I went so many places in the world and this place is still the best place I've ever been.
It's a shame for it not to be surfed?
It's crazy.
Reunion Island local and WQS air-maestro, Jorgann Couzinet, impressed at Newcastle Surfest. Photo: WSL/Bennett
When did you start noticing that the sharks were a problem?
At the beginning of my career there were about seven years without an attack and then the problem with sharks began … Reunion was the best island to live. When we were kids you can surf every day, you improve and can be an extremely good surfer if you surf all the waves there… Now it's impossible to go there. I'm almost the last generation. That's why I'm fighting hard and going a lot to the gym and stuff.     
Did you have many close encounters with sharks yourself on Reunion?
No, not really but I have so many friends that died. Many friends. I have a friend that died like four days ago.
He was also a friend?
Yeah, a good friend. A really good guy. Super positive all the time.
So I'm so sad about this situation, but maybe one day we're going to get Reunion Island back. But now there are so many problems with the media. Maybe you have heard about it with Kelly Slater?
So do you think they need to introduce a plan to reduce the number of sharks on Reunion Island?
Yeah for sure, I think now there are to many sharks in Reunion – too many hungry sharks. They need food and there is no more food and they want to eat.
So you think the only solution is to kill some of the sharks on Reunion?
Yeah, I'm sure because I think there is too much activity.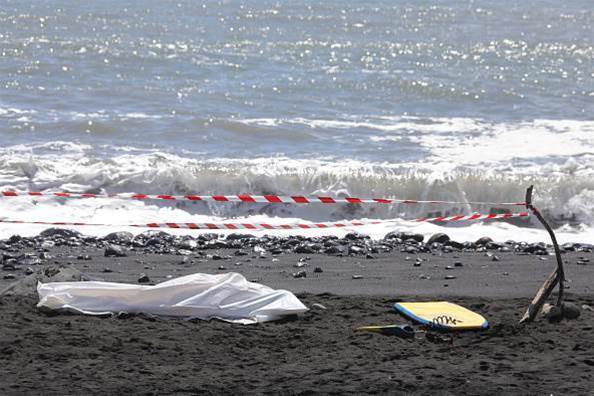 The latest fatal shark attack on Reunion Island killed 26-year-old former professional shark-spotter Alexandre Naussance. Photo: Getty
But the dream for you is to have another good session at Reunion?
I went to Reunion Island three months ago. It was crazy. I surfed a couple of waves with security. Like there's a boat with a couple of guys on it and some guys in the water with you know a gun (spear gun). I surfed a couple of good waves there but not the best wave. I was sad.
St Leu is still the best wave?
St Leu is still the best wave but there is so many other waves that are amazing… Whoa Joahanne just killed that wave! Whaa go Reunion Island! (fellow Reunion Island surfer, Johanne Defay, is dominating in the final while the interview takes place).         
You grew up surfing with Johanne Defay?
I grew up surfing with this girl. We have known each other for so many years and now I can see this girl on the world tour and I want to be there.
Your own surfing was quite impressive this week. How did you develop the aerial act?
In Reunion we can do airs because the water is super hot you know. For your feet it's way better. You can try airs and then try and go crazy on the wave and you know that the water is not super cold and that your feet are not going to break or get stiff.
So were you there when Jordy and Julian went there to shoot Bending Colour, Jordy's profile movie?
It was crazy. St Pierre is a really good wave to make some big air.
How old were you when they were there shooting?
I was seventeen. I remember thinking I really want to surf like those guys. I remember one session trying some big airs with them and I landed a couple. So, it was crazy.
So there was a competitive crew of surfers on reunion when you grew up?
Yeah, there was a couple of good surfers but I think now with Maxine (Huscenot) and Jeremy (Flores) I'm the last that want to do the tour or can do it. Johanne Defay of course. That makes me want to cry but I'm super proud.
Tracks