Two days and counting till the Puerto Rico Rip Curl Search event kicks off! Draw and video here.
| | |
| --- | --- |
| | Two days and counting till the Puerto Rico Rip Curl Search event kicks off! Draw and video here. |
SOMEWHERE, Puerto Rico – The ASP officially released the match-ups for Round 1 of the Men's and Women's Rip Curl Pro Search and webcast alert - there are some doozies...
The only slots still to be decided will be those of Sponsor Wildcard Dillon Perillo and the Trials winner. Puerto Rico's top-rated surfers and confirmed Trialists Brian Toth, Dylan Graves and Alejandro Moreda are the favorites to win the Trials, and if any of the three of them do in fact win, that would mean Perillo will face Kelly Slater and Dan Ross in Heat 6 and they (Toth, Graves, or Moreda) will face Jordy Smith and Brett Simpson in Heat 5.
RIP CURL PRO SEARCH PUERTO RICO ROUND 1 MATCH-UPS:
Heat 1: Adrian Buchan (AUS), Kieren Perrow (AUS), Travis Logie (ZAF)
Heat 2: Dane Reynolds (USA), Taylor Knox (USA), Roy Powers (HAW)
Heat 3: Taj Burrow (AUS), Tiago Pires (PRT), Luke Munro (AUS)
Heat 4: Mick Fanning (AUS), Patrick Gudauskas (USA), Gabe Kling (USA)
Heat 5: Jordy Smith (ZAF), Brett Simpson (USA), TBA
Heat 6: Kelly Slater (USA), Daniel Ross (AUS), TBA
Heat 7: Bede Durbidge (AUS), Fredrick Patacchia (HAW), Dusty Payne (HAW)
Heat 8: Owen Wright (AUS), Andy Irons (HAW), Luke Stedman (AUS)
Heat 9: Adriano de Souza (BRA), Bobby Martinez (USA), Kai Otton (AUS)
Heat 10: Damien Hobgood (USA), Jeremy Flores (FRA), Matt Wilkinson (AUS)
Heat 11: C.J. Hobgood (USA), Jadson Andre (BRA), Tom Whitaker (AUS)
Heat 12: Michel Bourez (PYF), Chris Davidson (AUS), Adam Melling (AUS)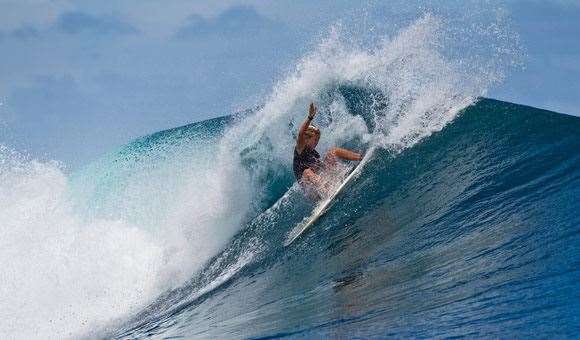 In the Women's event,
Bethany Hamilton [pictured] is once again the event's Wildcard. Both Jessi Miley-Dyer and Amee Donohoe are still injured and won't be attending. Also, Sam Cornish declined her spot, so ASP Replacement Number 2, Sage Erickson, accepted. Pauline Ado is the Replacement for the last spot.
RIP CURL PRO SEARCH PUERTO RICO WOMEN'S ROUND 1 MATCH-UPS:
Heat 1: Chelsea Hedges (AUS), Melanie Bartels (HAW), Bruna Schmitz (BRA)
Heat 2: Sofia Mulanovich (PER), Paige Hareb (NZL), Nikita Robb (ZAF)
Heat 3: Stephanie Gilmore (AUS), Rosanne Hodge (ZAF), Pauline Ado (FRA)
Heat 4: Sally Fitzgibbons (AUS), Claire Bevilacqua (AUS), Bethany Hamilton (HAW)
Heat 5: Silvana Lima (BRA), Rebecca Woods (AUS), Sage Erickson (USA)
Heat 6: Carissa Moore (HAW), Coco Ho (HAW), Lee Ann Curren (FRA)
VIDEO BELOW: There's some quality breaks in PR, Gas Chambers, Crash boat are both great examples. Then there is this baby... Rip Curl Twitted that this spot, Middles, could well be base camp. Is it any good? Check it and find out.
We Can't All Be Winstons from Jerry Ricciotti on Vimeo.
Tracks