Former pro Rob Bain suffers serious head injury surfing at his local break.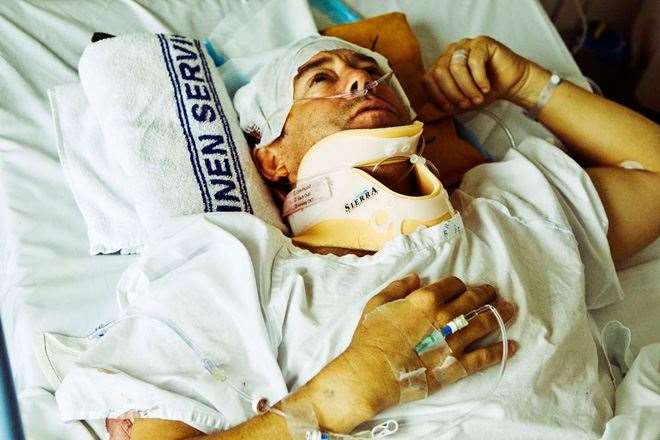 A midday surf session at Sydney's North Avalon Beach turned into a nightmare for former 11-year-tour veteran and director of O'Neill Australia Rob Bain. Surfing a spot locals refer to as Off Rocks (or O.R) Bainy, hit a submerged rock headfirst suffering a serious head injury. The rock he hit is known as The Matterhorn. This rock (unlike those around it) sticks up about half-a-foot out of the water on a high tide. On a really hight tide (like Sunday) it lurks dangerously just below the surface.
Pic: Tracks senior photographer Nathan Smith visited Rob in hospital yesterday. Bainy told Smithy he "felt the crunching of bones" when he hit. Remarkable Bainy's good humour was intact. Bainy was appreciative of the well wishes and concern he'd recieved. Credit: Smithy
Bainy told Tracks after surgery this morning that he'd, "made a mistake, and dove off my board after a wave." And collided with this infamous rock headfirst. Aware that he wasn't in good shape at the time Bainy, called for help from those around him. One of the first to assist was a local (who doesn't wish to be named), "It wasn't good." He told Tracks just hours later. "Apart from the obvious open wound he was worried about his neck and asked us to be careful getting him to shore. There was a lot of blood." Other surfers soon joined in the effort and Bainy was paddled ashore.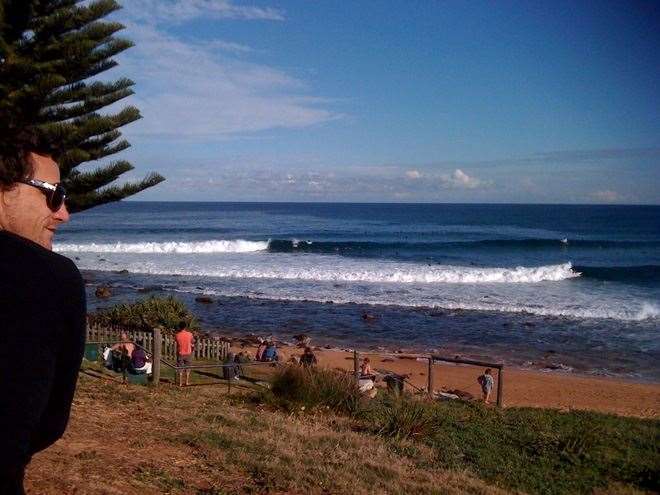 Pic: The scene of the crime. The evil Matterhorn lurks in between these two waves just in from the foam line.
The wound was described by witness's as, "almost a scalping", so there was obvious fears for the respected goofy-footers well being. An ambulance was soon on the scene and routine tests like checking limb response etc were undertaken and it was determined he had feeling and use of both hands and feet – but there was likely some upper spinal trauma. The rescue chopper also arrived but with his wife Cath by his side the onboard doctor decided (after some debate with ambulance paramedics) that Bainy needn't be airlifted due to the positive response in his fingers and toes. Bainy was then rushed to Mona Vale hospital where his injuries were deemed to be of a more serious nature so he was again moved, this time to The Royal North Shore Hospital at St Leonard's.
Late this morning Tracks spoke with Bainy via his wife Cath (mainly Cath for obvious reasons). The head wound was successfully operated on at Royal North Shore Hospital and Bainy was now recuperating and coherent. Cath confirmed that the cut was very substantial and followed his hairline from the front-side all the way to the back. "Weirdly in an almost wave like fashion." They were informed by doctors that fortunately there shouldn't be a need for more surgery at this stage, but he had suffered fractures to the spine, broken ribs and compressed vertebrae. Injury's that will take some time to heal.
In good spirits we discussed the amount of stitches and staples he received, but this number has not yet been discussed with doctors. Tracks can tell you the record amount for a head wound related to The Matterhorn stands at 80 (internal and external) stitches, and belongs to another local Anthony Von Takich who head planted it over 20 years ago. Whether Bainy takes the record or not remains to be seen but like Anthony it looks like he will thankfully be making a full recovery.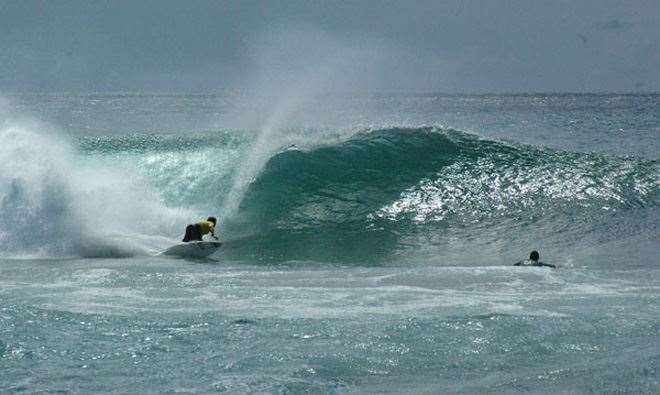 Pic: Bainy's known for his low centre of gravity power.
Tracks again sends it's best wishes to Bainy and his family and looks forward to having him back on deck.
– Col B
Tracks