If you lost, you sucked and Kelly admits he was in the club.
One thing is certain under the new, forgiving format. If you are bounced out in round two then you deserved to exit the event – you've finished third in consecutive heats and can't attribute your loss to bad luck or a temporary lapse in concentration. You basically sucked.
Today all eyes were on the big seeds (and one 47-year-old) who were trying to avoid an early grave in the opening event of 2019.
Julian Wilson found himself matched up against a rampaging Mateus Herdy, who seemed to benefit from his involvement in yesterday's Red Bull Airshow, even if he wasn't a standout amongst the high-flyers. It's going to be an interesting trend to follow. Will those, like Italo Ferreira and Jack Freestone, who have a foot in both tours at present, do well in the WCT main event or will the astronaut tour prove a distraction or potential source of injury. Yesterday Italo certainly showed  that he could match it with the full-time freesurfers who focus beyond the lip. 
Italo is a threat in the main event or the Air Show. Photo: Swilly
Julian launched but didn't land anything in his second place, round two finish.
Wilson instead relied on a rhythmical sequence of manoeuvres and the best bottom turn in Pro surfing for a sufficiently solid performance. Herdy meanwhile was electric; the speed through his manoeuvres a major point of difference from his opposition.  
After a sluggish performance in round one Jordy Smith looked reinvented on his bigger equipment. New WSL recruit, Luke Egan, pointed out that Jordy Smith had added two litres of foam to his board and switched back to a Chris Gallagher shape. It was like listening to a heavyweight boxer talk about a fellow heavyweight's right hook as Luke broke down Jordy's board switch.
With the benefit of more flow and natural speed, Jordy could throw all his weight behind his turns and had more of a platform to land on when he launched. The result was a more radical Jordy who won comfortably over Riccardo Christie and Caio Ibelli.
Christie relied on the layback slash to get the nudge over Caio. The power surfers on tour have made the layback slash something of a go-to, get out of jail card. When performed in a fast, critical section the move is a worthy heat-clincher, but the judges are getting a little savvier and won't throw easy numbers at turns that are more a spilled twenty cent coin than a dropped wallet.
And then all eyes were on Kelly who paddled north and left Peterson Crisanto and Owen Wright to duel down near the wall. Young Peterson showed no sign of nerves as he cut himself a club sandwich and carved his way to a solid position. Maybe Kelly could have rattled the rookie with his presence if he was sitting on top of him, niggling at his every ride. However, the critical factor for Kelly has been his inability to find good waves with sufficiently steep sections. His best chance to post a meaningful score will come on a vertical face that allows him to carve a hypercritical slash. His open face moves on these big sections still have heat-winning potential but it's now much harder for him to manufacture scores.
The Kelly carve won't be seen again in the Quiksilver Pro 2019. Photo: Swilly
In a recent Tracks interview Mick Fanning pointed out that Kelly just doesn't have as many 'weapons' as the younger surfers. Without an arsenal to match he will have to increasingly rely on catching the best waves or at least the waves that allow him to play to his strengths. Owen Wright's winning performance was a prime example of someone doing exactly that. The Big O's loping backside hooks have just that little bit more than the average turn and he snuffed out the runners he required then then uncoiled with perfect timing.
Watching the Kelly train wreck my seventy-year-old father, who was next to me, sagely commented, "It would be terrible to see Kelly turn into in an angry old man." Kelly had been obviously furious out in the water but by the time he was cornered by Rosie, post-heat, he looked more likely to shed a tear.      
"I think all the pressure has thrown me off enjoying it… I'd rather cry than laugh right now," sniffled Kelly.
Acknowledging his performance was not up to scratch and his preparation a little underdone, Kelly was at least showing some fight. "… A horrible performance… I better get hungrier," he told Rosy. If there's waves at Bells I might slip down there and get my waves without the guys on tour out there." Keep an eye out for Kelly in the bowl and hopefully we see much more than valiant defeat from the King in 2019.
Despite a stellar start to his WQS campaign this year, Jadson Andre could not convert the form to WCT success. It was left to the heat's top seed, Willian Cardoso, to remind all why he will be an under the radar danger man in any situation.
The Gentle Panda may not knock down his competitors, but he will put them in a sleeper hold. Meanwhile Seabass put fatherhood on delay long enough to slash his way his way to a round three clash with the 2018 Rookie of the year, Wade Carmichael.
Check out the other round three match-ups and pencil in your favourite. Jack Freestone vs Mikey Wright is shaping up as my favourite.    
Round Three Match-ups 2019 Quiksilver Pro ( A little out of order)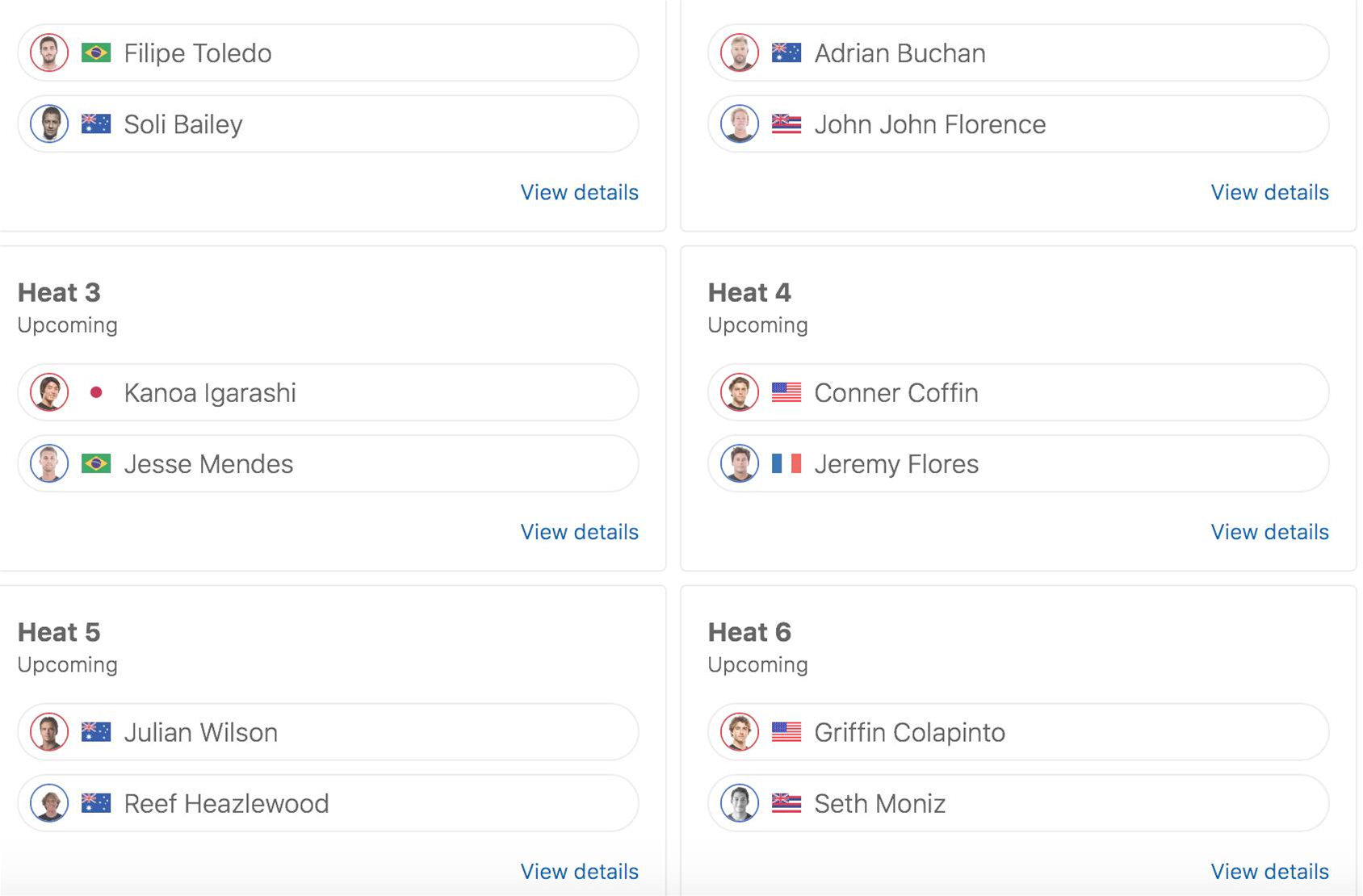 Tracks