Unforgettable slab shots don't come easy.
Russell Ord likes a challenge. After the former, first grade Rugby League player, and fireman, reinvented himself as a top-flight surf photographer, he spent a decade furnishing the pages of surf mags around the world with his images.
However, as a glut of digitally-armed newcomers capitalized on improving camera technology and swamped lineups, Ord wanted to do something that would distinguish his act from the pack. He decided to narrow his focus and reduce his photographic ambitions to a singular, somewhat brutal objective­ – swimming as close as possible to a bend of ocean at the notorious 'Right' and capturing a surfer from that frightening perspective. Get it wrong and there was a good chance he'd be buried at sea, get it right and he might just get 'The Shot'.     
ONE SHOT- An Image and An Attitude from Farmhouse Films on Vimeo.
The personal quest evolved into a full-scale project that was documented by filmmaker Darren McCagh.'One Shot' follows Russ as he physically and mentally prepares to shoot The Right from the impact zone.
Punching bags are hit, lung capacity expanded, cameras modified, logistics mapped out and families quizzed about their thoughts on dad's crazy idea. The film is ultimately an artfully compiled mixture of doco-drama and compelling heavy-wave imagery.
While big wave surfers are frequently mythologized and psychologically analyzed, rarely are we given a window into the world of the photographers who crystallize their conquests. In a surfing medium that demands increasingly more mind-blowing images, 'One Shot' is an entertaining insight into what it's like to put yourself in the path of the ocean's giants and pull the trigger.
Below, Russ Ord responds to a few questions about the project.  To view the full length film go to    https://vimeo.com/ondemand/oneshotdoco        
What was the motivation to zone in on one particular photo at one particular wave?
It just worked out that way in the end, because it was the easiest place for us to get to when a swell popped up­ – plus we had all the resources available for us to make it happen. I actually had a number of waves on the wish list to swim at, however after a couple of unsuccessful swell runs and a declining bank balance "The Right" became the wave.
In that moment when you decide to swim as close as you can to the vortex of a giant, gaping slab do you have a heavy encounter with your own fight or flight mechanism? What do you say to yourself?
I try and take my time to suss out conditions, escape routes if any and just get the general feeling of the ocean until I feel comfortable plus the cold water helps with the heart rate. I do talk to myself at times like when I was playing footy back in the day, its never a nice conversation its more along the lines "stop being a pee heart" (toned it down a bit) and get in there. There were many days I was down on myself because I didn't have a real dig.
Russ raises his right arm for the shot as The Right does its thing.
A shot takes a split-second but what sort of preparation are we talking about?
As a surfer myself of many years who loves a bit of a challenge I was pretty comfortable reading what the ocean did out there. However to feel far more comfortable I did work on my breath holding techniques, especially under duress. Looking back on it now, it's certainly a 99% mind game or the lack of one.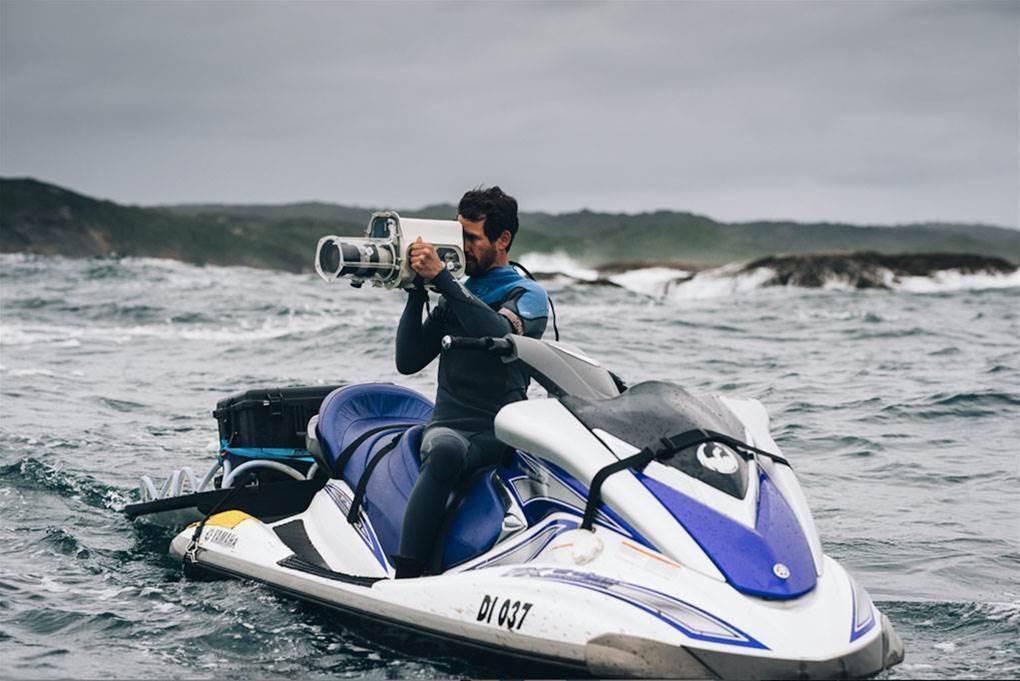 Director Darren McGagh in the saddle.
The movie has high production values and a definite aesthetic quality. It seemed like you and the director, Darren McCagh, wanted it be raw and honest, but also beautifully shot. 
I have shared an office and been friends with Darren for a number of years. We have worked on a number of creative projects together and every single time he nails it. He is extremely hard working and driven to become better every time he picks up his camera. Darren had only been shooting for a handful of months when we first started working on it, so when he looks back on some of the work he hates it. Raw and honest was the only way it was going to be. I cringe at times when I see it, because I feel I have grown as a person, however that was what it was like at the time, so be it. Plus as much as I try to convince the wife I was Brad Pitt in a past life (with no success, not sure why) I am no actor
Justen Allport on the run as the ocean tries to pour concrete on his head.
Talk us through the variables that you are considering in the moment? Surfer position/camera position/ your position/ swell angle /timing?  
I had a company call me one day and said we want the one shot to be so and so. That's not how it works for me out there, I am just not that good, whoever is on the wave when I finally happen to be in the right place gets the shot. Brett Burcher was looking the goods years ago (would have saved me some swimming time) until he hit a small bump and became one with the lip, a little short of my position. My whole focus is completely on the ocean itself, I am not trying to be arty with it; all I want to do is be in the barrel with the surfer, having a moment that I can look back in time and say that's a Russell Ord shot, there is not many of my shots I can do this with.
What rig were you shooting on? 
I had a number of different cameras over the time from the larger Nikon D3 to smaller versions and now for the last few years the mirror-less FujiFilm cameras – all housed by Aquatech.
Russ and his rigs
You are an ex-professional Rugby league player. Given the choice, would you take a hit from the biggest and hardest player in the game or a rag-doll at The Right?
I still love watching the game and I would have far more chance surviving the Right so I will take the wave. I never really knew if I was going to make top grade because when I signed for the Adelaide Rams they were basically getting booted from the comp with the Gold Coast the first day I arrived at training. Anyway our coach Dean Lance and Peter Parr set this session up where myself and a few others were getting completely bashed by the forwards (including Terry Hermansson who was the NZ prop) I had never been hit that hard for so long. It was a complete toughen you up session and going home that night I had some serious self doubts.
Do you feel the need to set a new challenge for yourself?
I certainly have created some more goals and challenges for myself, but they don't relate to surf photography. I recently moved from Margaret River (18yrs) to New Zealand. My wife and I have a lifestyle block up North and the goal is to go self-sufficient, learn new skills as a farmer and get me-self some moonshine. We are also about to go on the road while the barn gets built and create content along the way. The 'if you build it they will come' mentality, good times, a few waves along the way and new experiences. People tend to regret only the things they have not done, planning for a future life is not my style, live it now and see what happens is far more exciting.
Tracks