One of Australia's most respected and finest surf photographers talks to Tracks about his life behind the lens.
All photos Peter Boskovic
The man. The camera. The frothbeard.
Newcastle's Peter Boskovic has been shooting surf photos professionally for well over 25 years. It shows. His portfolio – were he to sit down for a month and attempt one – would be brick thick with thoughtfully composed, beautifully lit, high octane imagery of the world's best surfers going mental on the world's best waves. Bosko, as he is universally known, has climbed to the top of his field the Novocastrian way (big on work, small on bullshit). Self-taught in the day-glow 80s he knows how to use a light-meter, how to focus manually and, more importantly now that both are obsolete, how to adapt and keep pace with a rapidly evolving industry. If there is a secret to his success it may just be the enthusiasm and joy he brings to the job. The Bosko froth. He'll be out in the dark, ignoring Noah vibes, urging his subject into one more wave, so he can artfully combine flash and ambient light, click the trigger and bring home the bacon.
What attracted you to photography initially?
I was a surfer first. I'd be out surfing and see things that I thought would make a good photo. Guys doing a big spray, stuff like that. My dad had a camera and would take some photos but I always thought he was a bit of a kook with the lens. I started taking photos with dad's camera when I was young – like eight years old. It took a long while before I got to a professional level. You've got to be patient when you're starting out, you can't force things. I worked full time jobs to make money so I could buy camera equipment. I worked at Comsteel for a while doing 16 hour shifts. I spend a lot of money on bad equipment at first. You know, buying a 500mm lens for $400 thinking I was killing it. But then I'd look at the photos and realize they were nowhere near magazine quality. So I did more research and spent a lot of money and time.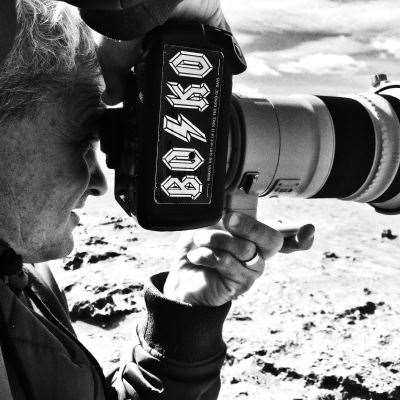 Left: Bosko in full froth-mode. Photo: Quiksilver
Did you have a big break moment or was becoming a pro a slow process?
I got my first double page spread in Surfing Life – Tommy Carroll doing a cutback out at Pipeline. After that Andrew Kidman [then editor of Waves] came up from Sydney to see me and offered me a chance to shoot for Waves magazine and to pay for all my film and developing. That really got my foot in the door and it all just went on from there.
You documented a golden era of surfing at Merewether with guys like Hoyo, Luke Egan, Nicky Woods and the great MR. Who was your favorite surfer to photograph?
There's a kid called Dave Macarthur he was amazing but he just stopped surfing. He could have been on the world tour. We surfed together as kids – I used to leave my board at his house across the road from the Carrie Hole. Nicky Woods too was pretty amazing. Luke Egan, Hoyo… they were all amazing. But the one I really loved shooting was Mark Richards. Just on a wave he was just something else. You see him on a wave and it's just like wow. But they were all amazing. They all had their own attributes and they were as good as each other. No favorites.
Do you direct the surfers you're working with or do you just let 'em do their thing?
I try and direct. I look at the waves and the talent I've got with me and I know their strong points and what they can do on a wave whether its big hacks or airs or whatever. So when I put some input in it's because I know what will look good and what will make them look the best so we can nail a money shot. Some guys don't like to be told - I've been told to shut up. Most are pretty good. Sometimes they come in thinking they've had a good session and I go well have a look at the photos boys I'm not happy. They see the shots and usually they get back out there and go harder.
You've seen a lot of the world since you quit your day job at Comsteel. Is there a country or a trip that stands out?
Actually the trip I did with you and Asher Pacey and Margo to Ireland and Wales was one of my most memorable trips ever. Just the culture and the search for waves and the way we were looked after over there was second to none. We didn't get many waves but that's not always what it's about. For me it's about travelling with a great bunch of people and having a great vibe and enjoying what we all love doing.
CHECK OUT THE SALT SURF PHOTOGRAPHY AWARDS HERE: saltawards.tracksmag.com
Tracks