Stockton Beach latest to be added to Endangered Wave List.
Stockton Beach, near Newcastle, is the latest wave to be added to Surfrider Foundation's Endangered Wave List. "Stocko" as it's known joins King Island's Martha Lavinia, Fraser Island's Double Island Point, North Narrabeen and Bells Beach on the endangered wave list. 
Now Stockton doesn't have quite the celebrity pull of those more famous waves. Rasta hasn't helicoptered in to surf the shoredump, nor have films and social petitions gone viral on social media. Yet for the town, located on the northern side of the Newcastle Harbour, the beach is a fundamental pillar of the community. And it is quickly disappearing. 
Whilst it is technically an inner city suburb of Newcastle as a peninsula on the "wrong" side of the harbour Stockton always had a unique small country town with a bit holiday vibe thrown in. Growing up near Newcastle Stockton always provided me and my mates with a reliable and quality option, especially when the winds blew south. If the banks were good, quality beachbreaks were a staple all be it protected by very good surfers. Damian Iredale, Mark Tickle, Lucas Gresham and Simon Law, to name a few, were brought up in the hollow peaks of Stockton. 
However those peaks have now disappeared as sand erosion has stripped the beach. "Like any other exposed beach, Stockton Beach has suffered through many cycles of erosion and rebuilding, but since the development of the Port of Newcastle, which begun in 1818 with the Macquarie Pier, the sand supply into Stockton has been progressively cut off," says the Surfrider Foundation. With Newcastle being the world's largest coal export port by volume; in 2016 161 million tonnes with a value of $19 billion was shipped from the port, it's unlikely that this problem is about to stop anytime soon.  

A recent addition to the Harbour's breakwall however has seemed to further accelerate the historical sand loss and the last few years has seen the beach diminished with devastating results. Back in January 8000 tonnes of former landfill was uncovered after a large swell unearthed an old rubbish tip. Just last month the beach was closed as waste workers dressed in white Hazmat suits removed, among other pollutants, large chunks of friable asbestos. 
Then in June another large swell uncovered part of the long defunct Stockton Colliery which when built in 1885 was located 110 meters inland from the low-tide mark. The Surf Club is also in danger and community members say Stockton's daycare centre, football oval, caravan park and other community assets are all under imminent threat from the coastline erosion. It is one thing to turn a good beachie into a closeout shoredump, but this is a problem that is threatening the very fabric of the town. Local resident Crystal Buxton summed it up well when she said, "This is devastating! One of the most beautiful, family friendly beaches is vanishing before our eyes!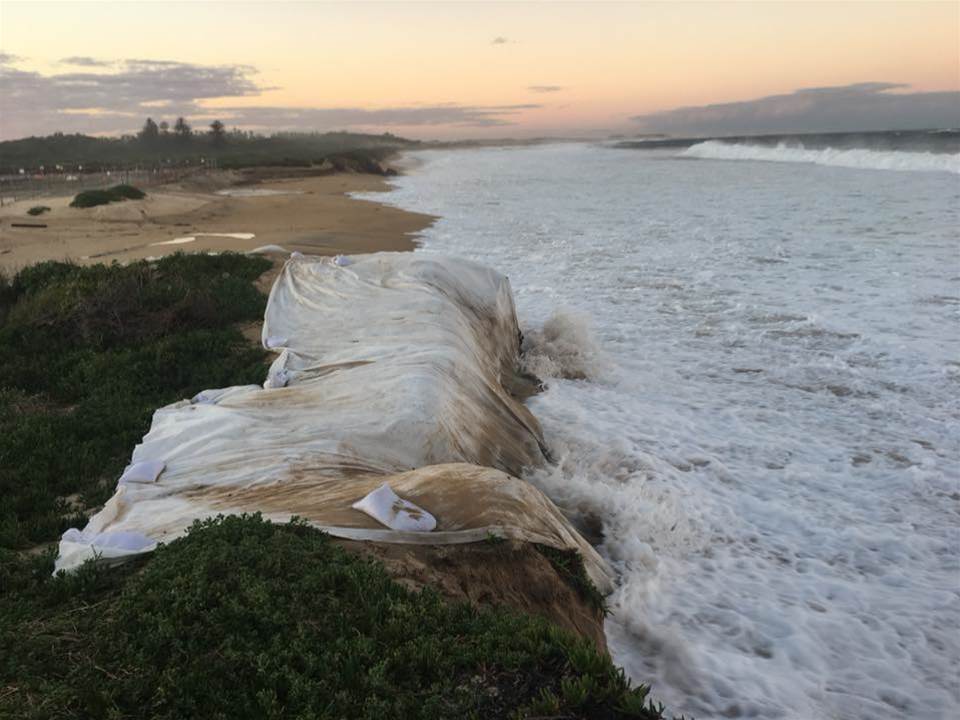 No wonder then that a petition organised by local Labor MP Tim Crakenthorpe, Surfrider Foundation, The Green Party and the local Save Stockton Beach group has recently gained over 10,000 signatures. Crakenthorpe said on the launch, "If residents were combing Bondi Beach on a daily basis to collect asbestos there would be a state emergency!" 
The adding to the Endangered Wave list has too highlighted the problem and aided in the fight to get government intervention to find a solution. These include an initial phase of sand renourishment (Surfrider estimate 500,000 cubic metres is needed) and a second stage of infrastructure that will keep the sand on the beach. Some of the potential solutions could include offshore rockwalls, artificial reefs, groins and an artificial headland.
The loss of Stockton beach is a man-made problem that now needs urgent government led attention. The loss of good waves is heartbreaking, but the loss of a beach that the community depends on would be tragic. To add your signature to the petition and for more information on how to help check out the websites below;
https://www.facebook.com/savestockobeach/
http://www.surfrider.org.au/endangeredwaves
Photos courtesy of Save Stockton Beach
Tracks