Two, former world champions are taking very different paths.
Earlier in the week I had the good fortune to spend a couple of days with Mick Fanning. Yes, one of those fabulous junkets where one of Mick's sponsors invites you and a bunch of other keyboard warriors to get chummy with Mick for a day. On this occasion it was Mercedes-Benz who was doing the wining and dining and wheeling around.  
Mick is an ambassador for the celebrated, German car company. His twenty odd years of toiling on the pro tour, combined with three world titles has rightly enabled him to forge some lucrative alliances. Rip Curl may still underpin his existence, but why not buddy up with some big players outside the surfing sphere. God knows there are some dam good surfers out there (think Matt Banting) who can't rely on the salt- water rag traders to help them fulfil their dreams.
These days Mick has time to play with the dog in between Search trips.
All that aside. What might a sponsor like Mercedes ask of Mick, besides driving around Coolangatta in one of their eye-catching, X-Class Utes?
At this particular event Mick was definitely working for his Merc deal. After joining the convoy of journos on a winding drive through the northern NSW hinterland, Mick cast himself in the role of surf coach. Down on the beach at Kingscliff Mick was front and centre, delivering the lesson, talking pop ups and paddle techniques with a cast of young, ambitious scribes who had spent plenty of time surfing the net, but never (save a couple) set foot on a surfboard.
Admittedly he had a little help from old mate Josh Fuller and one of Josh's regular surf coach staff, but there was Mick, waist deep in brine, pushing beginners into white water on an obscure little corner of North Coast beach. And truth be told he seemed to love it, relishing that moment where his students first got to their feet, living vicariously through the triumph of their rides. A few seconds of standing time by a novice was enough to have Mick with his hands over-head, shouting, "Yes"! His stoke was genuine and this small group of lucky junkateers would be able to return to the office with tales of their first waves ridden under the auspices of Mick Fanning – a three time world surfing champion. Big deal you may say. The lucky bugger has got it good so what's one day of work. Maybe so, but from my perspective it was impossible to understate how genuine Mick's engagement with people from all walks of life was.
Mick holding court over lunch at Halcyon House, with a group of mainstream journalists and mag writers.
Later Mick was called upon to host a lunch at the beach chic hotel, Halcyon House. Think casually curated luxury in the shadow of north coast Pandanus palms. After a couple of exquisite dishes washed down by a Balter or two (the beer brand Mick has a share in), Mick was called upon to answer questions from the tribe of eager media-makers. This was no post-heat lay-up from Rosie Hodge. This was a dinner table of ambitious information gatherers who, while certainly in awe of their blonde surfing champion, weren't going to let him get away without tossing at least a couple of curve balls his way. "You must get a few hangers on, how do you discern who is genuine and who isn't?" one asked. Mick played the diplomat suggesting he had a pretty trusted crew of friends, before jokingly indicating that you always get a few rat bags. The audience appreciated the honesty and cracked up.
Between questions Mick regaled the table with stories of camping out in the desert and roaming the Kasbah markets of Marrakesh, on a recent trip to Morocco. Meanwhile Taylor Knox was sighted for being the practical joking mate who always put Mick in the path of his worst fear – snakes.
Another question led Mick to explain how he begun providing financial support to the African family that looked after him ever year in J-Bay. He'd been messaging them only the night before. He didn't sound pretentiously pious, just honest about what he felt he should do given his own fortuitous circumstances.
All in all Mick Fanning proved to be an accommodating and entertaining after dinner host. World titles, contest jerseys and heat sirens were far removed from his consciousness and it seemed a more diversified, cosmopolitan future beckoned – Mick Fanning as man of the world, expansive traveller and master of the oral craft in addition to the cut-back.
I asked him if he found it strange that while he was hosting a creative event, Kelly Slater, ten years his senior at 47, was about to paddle out at Manly and surf a heat in an attempt to revive his competitive career. Mick simply replied. "I'm just so glad I'm here right now."
I missed Kelly's first heat, where he dusted the younger opposition and everyone was quick to lionise his return to the competitive arena. However, the next day I watched the Kelly show roll out on the webcast at the Vissla Pro. There he was back in a jersey having his boards scrutinised by the commentary team, his Olympic aspirations touted and his attempts to channel his Coco Beach origins talked up by Joe Turpel and the boys in the commentary box. Kelly was back on centre stage, perhaps the place where he enjoys being most.
Kelly with a board under each arm and his brain focused on the task of winning. WSL/Ethan Smith
Many of us can appreciate the desire to satisfy a competitive urge. In Australia plenty of forty and fifty year-old surfers regularly pull on a jersey to compete in local boardriders events. Ok, it's not the world stage, but that doesn't mean that surfers at club level take it any less seriously. They're just not under the microscope as much as Kelly.
Kelly spent most of the heat comboed by surfers half his age; chopped down to size by the rotor-blade crew who can do air reverses at will in two foot surf. Kelly can still fly but his capacity to manufacture a score in ordinary waves has undeniably diminished. He can't just waltz out and do a disco spin and blow them all away. He was still the most polished and stylish surfer in the heat and I personally could watch him do three to the beach all day long, because no one does the classic stuff quite like Kelly. Many ageing surfers are desperate to see Kelly do well, not merely for the sheer miracle of it, but because his longevity suggests that they too can continue to hope that some of their best surfing moments are still ahead of them.
However, when Kelly loses against younger, more nimble opposition there are many who are quick to make comparisons with those boxing legends who had one too many fights. Kelly is dubbed the GOAT (Greatest of All Time), which sometimes plays out like a kind of back-hand compliment given the acronym's farm animal implications. Ali was simply The Greatest.
In any case Kelly was not holding court with a table of curious journalists at a fabulous banquet; he was left to explain himself to a microphone-wielding web-cast commentator. "Well, it was good to get the feet in the wax," he stated. A disappointed Kelly had defaulted to the most classic of competitor clichés. "I'm feeling pretty good," he continued. "I don't really think about my foot too much when I surf now." There was that other predictable sportsman's topic – the injury update.
In a little over a week's time the Quiksilver Pro on the Gold Coast will hog our screens and preoccupy our minds while we try to complete other tasks. Kelly will be there, analysing the lineup, playing mind-games with naïve rookies, racking his brain about which board to ride and trying to figure out a way to conjure a win in every heat. We will be watching. How can we not?
Meanwhile, Mick Fanning will be checking the forecast for an exotic destination, whilst walking the dog and bantering with mates over text about what's happening in the contest – Mick readily admits he now loves watching the events from the outside looking in.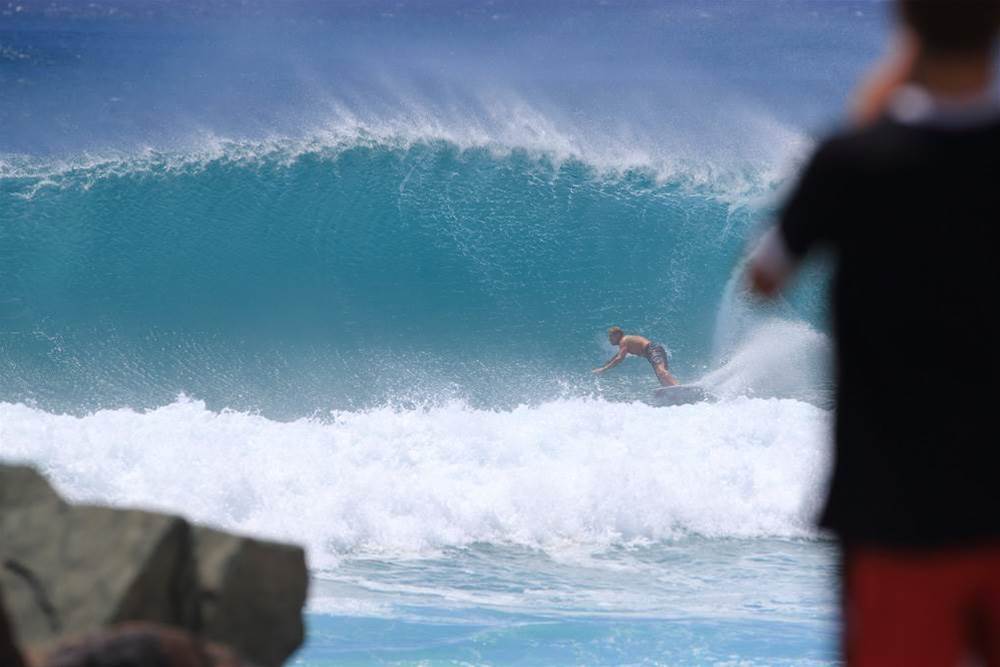 Mick, squaring up to a different future. Photo: Swilly
Tracks