You don't have to be Kai Lenny or Jamie Mitchell but you better start training. Five Lifeguards who took on the challenge.
Every year professional and amateur athletes travel to Hawaii for the Molokai to Ohau paddleboard championships. Considered the world's most challenging race of its kind, the Molokai involves a gruelling 52 km paddle through waters exposed to big swells and heavy currents. Although there are several categories, the solo event on a 12ft, prone paddleboard is still considered the blue-ribbon event. WSL big-wave-surfer, Jamie Mitchell, is famous for winning the opens division ten times in a row. 
Five lifeguards from Sydney's eastern beaches competed in the 2017, 12ft, prone paddleboard category. While each had personal goals (and most fared well in their age categories) their collective aim was to raise awareness about the role of exercise and food in preventing Type 2 Diabetes. In the interview below, Corey Oliver, details the highs and lows of his Molokai experience.                    
How many months of training did you put in? 
We all did a solid 5 months of training and it was pretty taxing on the body and the mental state. If we weren't paddling, swimming laps, walking, hitting the gym or trying to find time to have a well deserved stretch, we were catching up on sleep and trying not to get sick. I didn't really use a program, but definitely sourced strengthening tips from Nick Chapman at Rushcutters Health and tryied to get as many paddle kilometres under the belt as possible. 
Does having a group dynamic help with accountability, morale and motivation? 
Training with a group definitely makes it way more enjoyable and easier to stay focused for continuous hours of paddling. Too much silence in the middle of the ocean can definitely have a negative effect on your momentum. 
The boys dodging ferries in Sydney Harbour. LtoR: Anthony 'Harries' Carroll. Corey Oliver at the back. Ryan 'Whippet' Clark with the camera rig. Andrew Reid on the far right.
Were you competitive amongst one another? 
There was definitely a competition going on between us. Everyone was better than each other, on different days and everyone thought they had the upper hand at some stage, but come race day, it's anyone's race!! 
Training base camp, back in Sydney. L to R: Corey, Ryan Clark and Andrew Reid.  
Are you closer as mates now?  
It was so good training with Harries, Reidy, Whippet and Jules! We didn't always get to train together at the same time, but trying to keep the constant crazy logistics together and helping each other along the way, certainly brought us all a bit closer. 
Any funny moments in preparation? 
Where does one begin? A lot of paddles were started well before light was dawning on the day and with Harries (Anthony Carroll) in full flight, nothing was left to the imagination! When he wasn't trying to feed the stingrays and rant about historical conspiracy theories or aliens, he'd be telling us about his upcoming botox sessions.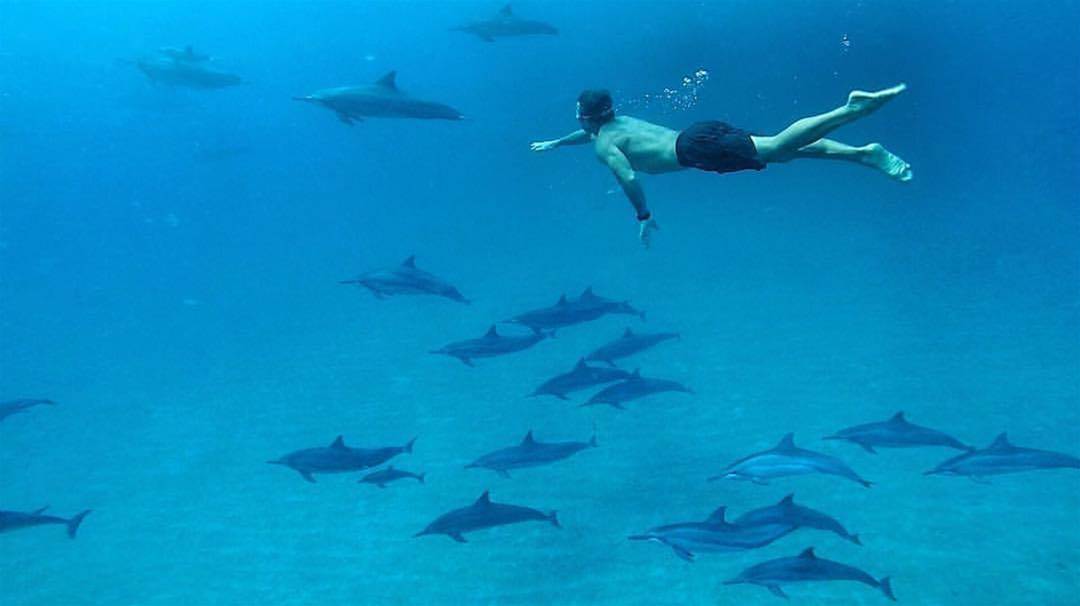 Corey enjoys a Dolphin dive at Waimea in the lead up to the race.
You spend a lot of time training in open-ocean. Many marine life encounters? 
Way too many hours in the ocean and way too many kilometres indeed!! But I must admit, for the entire 5 months of training, thankfully I didn't see any big fish that had dangerous smiles. Quite a few dolphins and the occasional whale. The one thing that did make paddling hard was getting zapped by multitudes of blue bottles!! 
What was your longest paddle pre race? 
I think the longest paddle I was able to get out, was a few 35k sessions. This was in the flat water a few times, just to make it harder and feel the pain. For my first one, I accidentally left my hydration in the fridge. That was a very bad session and pretty much cooked my soul for a few days, but it was a good test, to see what I could withstand and prep for a very serious racing distance. 
The fall-out after the day Corey forgot his fluids on a 35km training run.
Obviously you can thrash out the miles but is it important to have some technical coaching on paddling efficiency? 
I never competed in clubby events, but I've always been around different types of boards and the ocean as much as possible. But to have a high level of board control and ocean knowledge is definitely a huge key to making it really count. If you don't do it often, it's really gonna hurt!!!!
How many km's and how long did you paddle for? Race from where to where? 
The race is 32 Miles, roughly 52 Kilometres and the race starts in Molokai on Kalua Koi beach on Molokai, to the beach at Manulua Bay Beach Park, Oahu. 
Was their time to enjoy the deep blue and the surrounds or is it just pure focus on getting through. 
I had 6hrs:38mins to enjoy the Deep Blue crossing, but the consistent concentration took most of it away. There was definitely times of joy and laughter, when catching up to people and feeling their pain, as the shoulders got heavier and heavier with every kilometre.
Corey running with the white-horses while crossing 'the Channel of Bones'.
So your board was strapped with sugar gels and waters? 
On my Kracka paddle board, I had six, ClifBar caffeine gels taped to the board, two ClifBars in my pocket and two drink bottles in the drink rack. I went through 7-8 drinks, 7 gels and leading up to the race, I had 4 days of eating as much food as I could possibly fit in without spewing.
Did you have a mental strategy for staying in the zone? A buzz word or an image you focused on?
The only thing I could focus on, was knowing I could make. It was just a matter of how long it would take me and what state I would be feeling like, I also wanted to at least beat one of the crew. 
Ever feel like quitting? 
The only time I ever felt like quitting, was when I hit the "China Wall" section of the race. (At this point, I thought I was in front of the lads) The water hits the cliff face & bounces all over the place, while a horrid tide had been pulling against us for about 3hrs prior. My shoulders were cooked, my hydration was hurting and my body was almost ruined. Harries passed me like he'd just started the race, and I asked where everyone was. He replied with a massive smile and said, "The boys are up ahead". That was my breaking point!! :-) I had a bit of a stretch, and kept on keeping on. If it hadn't been for my Boat Captain and race Legend "Beetles" I wouldn't have done as well as I did. 
 
Broken but delighted after making it through the infamous China Wall section.
I've heard the final stretch can be the most grueling. After six hours you then have to face a raging current? 
The final stretch will definitely make you AND break you!! It's the final insult to the body, but there is such exhilaration when you know just how close you are. But if you get hit by one of the unsuspecting pitching waves, you'll be swimming to catch you board, or you'll get the best wave of your life!! :-)
What was the moment you hit land like? 
Such an amazing feeling to know that I ticked off a huge box on my list and to see the boys there greeting me and other amazing paddlers, was such an encouraging feeling. So much positivity and smiling faces, that really made everything worthwhile. 
Did your crew make it?
Out of us, Whippet ( Ryan Clarke) finished 1st, Harries 2nd, Reidy 3rd and then me. We all finished within 15mins of each other. Over 52k's, that's a pretty close field. But in our respective age groups, Whippet came 1st and Reidy 2nd in the 30-39yrs, and Harries came 1st and I was 3rd in the 40-49yrs. Unfortunately Jules didn't meet the cut off time and was forced into the boat for safety reasons.
The boys celebrate at the end of their six month odyssey.
Did you have a personal goal in terms of time? 
When I did teams in 2010, we finished at 6hrs:31mins. I really wanted to beat that time and was hoping to be around the 6hr - 6hr:30min mark. I'm so happy with my time and over the moon that I can say I paddled the "Channel Of Bones" on the smallest boards allowed. 
Tell us a little bit about the documentary you and your team will feature in? 
During our paddles, travels and training sessions, we'd get together with RJMedia and Solar D Sunscreen, to help put a documentary together. We really wanted to make this "Question Your Impossible" project as long-lasting and positive as possible, for as many viewers as possible. Diabetes within the younger generation is becoming more and more prevalent, and it is something that can be so easily changed. If we can help change this epidemic at a younger age, it will have a profound effect on the Health System and everyone's personal and mental health in later years. Along the way, we got to meet up with a lot of inspiring kids and their familes, Race Legends, and met a whole new bunch of amazing paddlers. It will feature on Channel 10 in November and then later on NatGeo. 
Any other element you would like to mention? 
Reidy came up with the concept of the "Question Your Impossible" project and we did it in conjunction with Diabetes Australia. We geared it towards the younger generation and their parents. With massive help from Garmin, we held Active Camps at Bondi, Burleigh, Cottesloe, and Glenelg. Our goal was to show how easy and fun it is to stay active, with only one hour of exercise. It was so good when the parents got involved and their inner competitiveness shone through :-) The goal was also about being positive and how to build a little dream into big dreams and how to achieve them. The positivity of healthy foods and the effect it will have on your future health and mental well-being. This was more aimed at the parents to make sure there are proper foods in the house, instead of quick fix manufactured foods. If it's there, the kids will eat it. So you may as well have healthy options, instead sugar-filled options. 
Also a big thankyou to Solar D Sunscreen, Garmin, ClifBar, NUUN, Kracka, ZaneRobe, Oakley, Air B&B, Mum, Dad and my girl Harmony, for putting up with my commitment!! 
Tracks