"Wave pools will feature on the World Tour within the next decade".
Former CT surfer Jarrad Howse is no stranger to hard work. The South Australian chased the dream tour in the mid 00s, worked for years as a team manager for O'Neill, played mentor for Jordy Smith and is currently corner man to three-time world champion, Mick Fanning. But it's his current role as contest director for a brand new surfing event featuring some of the most progressive surfers in the world that may come as his biggest challenge yet.
Red Bull Unleashed is the first ever stadium surfing event of its kind and Howse is at the helm of the beast, steering its course. Held at Surf Snowdonia in Wales through the 18-19th September it will give surfers equal opportunity to showcase their skills on a blank canvas, unencumbered by the trials that come with traditional surfing events such as unpredictable ocean swells, tide and wind.
"I think the guys I invited that turned down the opportunity will be kicking themselves when they hear about the whole experience," says Howse speaking to Tracks on the eve of the event from Wales.
Like anything that moves away from surfing's roots there will always be skeptics who recoil at the idea of man-made engineered waves replacing their pure wave riding experience. However the advancement of wave pool technology has lead to engineers, designers and entrepreneurs the world over rushing to build wave pools that they hope will see the world's best push the envelope of progressive surfing well into the future.
"I've been involved for about two months and I've heard of at least eight other pools being built around the world and rumours of other events with Olympic whispers and interest from the WSL," reveals Howse. "I think Red Bull Unleashed is just the beginning and wave pools will feature on the World Tour within the next decade."
Economically wave pools offer a far more viable business model to that of traditional surfing events that have served for generations. Surf Snowdonia boasts a two-day waiting period, predictable conditions, an even playing field and a 2,500-seat capacity for stadium spectators who will be closer to the action than ever before, with tickets priced at £8.
Howse has also assembled top talents from freesurfing and competitive surfing alike including Hawaiians Albee Layer & Ezekial Lau, Australians Jack Freestone & Mikey Wright, Dillon Perillo & Kainoa Igarashi from the United States and South African Brendon Gibbens.
"This is the most even playing field ever in a surf event. Every surfer will have equal opportunity of two lefts and two rights in their head to head battle. After chatting to judges, Jake Paterson, Brad Gerlach & Alain Riou we have tweaked the criteria to highlight commitment, risk and fluidity. Like the Half Pipe in snowboarding the transition between turns will be crucial to a perfect score."
So is this a new beginning or the beginning of the end for competitive surfing as we know it? If Red Bull can pull off their grandiose event in style and receive praise from the core surfing community along with interest from mainstream audiences then they might be onto a winning formula. Whether or not that translates into a fully-fledged WSL event in the next decade remains to be seen, however Howse is confident that stadium surfing is here to stay.
"You're going to get haters that try to deny its presence but I don't see it going anywhere but forward."
Red Bull Unleashed runs 18-19 September 2015
at Surf Snowdonia, Wales, UK.

Seating

: 2,500 tickets are available. All tickets £8.
For more information and tickets: www.redbull.com/unleashed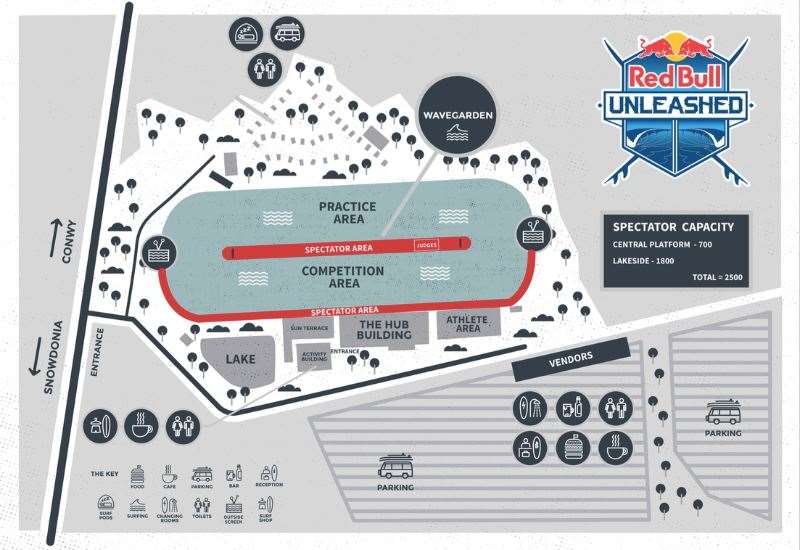 Tracks