Who may or may not be interested in the dream job of cruising the world and critiquing the world's best surfers.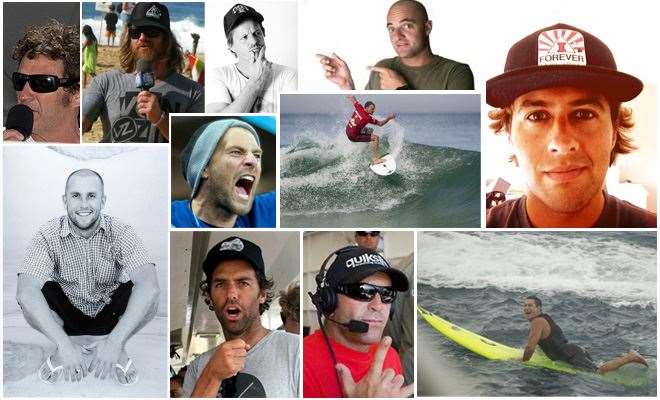 Some of the talking heads who may or may not be interested in the dream job of cruising the world and critiquing the world's best surfers.
The current crop of talking heads delivering our surfing commentary from ASP World Championship Tour events are a motley crew. From heat to heat you'll hear (and sometimes see) everyone from former pros to hired guns and even corporate cronies.
The reason for this ever-changing splatter of personalities is the current ASP event media agreement which stipulates the event licensee owns not only naming rights but also the right to deliver television broadcasts and live webcasts (and beach commentary) how they see fit.
Considering these colossal surfing festivals cost somewhere between two and three million dollars to stage, it shouldn't be a struggle to comprehend their feelings of righteousness – their event, their marketing message, their call.
Basically the decision as to who mans the headsets at each event (at present) falls solely on the shoulders of these event licensees. They hold cart blanche over the decision of each and every appointment. Or they allocate that power to one of their trusted head commentators. There are no official ASP commentators.
Well, that's all to be flipped on its head.
In 2014 the ASP's new deal with ZoSea takes affect. This partnership is to take the sport (yes, it's a sport folks), to the next level i.e. the masses. For better or worse, our baby is all grown up (nearly), and heading out into the big bad world.
Apart from bigger novelty cheques (with more zeros) this new deal will also usher in the new era of blanket coverage of all events. That means the same commentators at every event bar the odd special guests – event commentator wildcard if you like.
So, this begs the question; who should these newly employed full time commentators be?
When it comes to surfing commentary we all have our favourites and not so favourite (to put it mildly). If you've ever followed social media chatter on the subject you'd find some pretty passionate, and often humorous, views on the credibility of some getting air right now. As a commentator it's impossible to please everybody.
So, who gets the gig? Who's the lead anchor? What type of coverage do you want? Do you want beige blazers and puffy hair and stiff necks? Or half a dozen casual experts who ooze confidence and display hyperactive tendencies?
The unified ASP media coverage agreement looks set to take affect in 2014 – so the time to speak up and make some noise is now...
Who do you love?
Who do you loathe?
The list
[Leave comment and add anyone you think we've missed that's worthy]
Martin Potter
Joe Turple
Brad Gerlach
Peter Mel
Ronnie Blakey
Sean Doherty
Reggae Ellis
Nathan Webster
Tom Whitaker
Jake Paterson
Barton Lynch
Luke Egan
Pancho Sullivan
Sal Masekela
Dave Stansfield
Marty Thomas
Dylan Slater
Luke Egan
Col Bernasconi
Chris Cote
Dave Mailman
Rosie Hodge
John Shimooka
Nick Carroll
Jodie Cooper
Todd Kline
Mark Occhilupo
Dino Andino
Mike Parsons
Captain Kia Linder
Wok
Beach Interview Specialists
Toby Martin
GT
Vaughn Blakey
Adam Repogle
Peter King
JJ Jenkins
Wildcards
Dave Wassell
Spencer Hardgraves
Alex Gray
Kamalei Alexander
Rob Machado
French Speaking
Franck Lacaze
Archi Lacaze
Tracks