From cottage industry to corporate conglomerate – the buying and selling of surfing.
In the Tracks 50th anniversary issue, revered writer and former Tracks editor, Phil Jarratt, casts a discerning eye over the mercantile evolution of surfing, charting its course from a humble, cottage industry to a thriving business that has now been swallowed by multinational conglomerates. The below is an extract from the story titled, 'Days of Future Passed'. For the full article scoop up a copy of the Tracks anniversary issue.    
…Once upon a time, just a handful of years before Tracks, there was no surf industry, and no surf media to speak of. Just a few mum and pop surf shops selling home-made boardshorts, a couple of surfboard factories in the cities doing a few custom balsa logs a week, and a magazine or two barely getting by on a couple of pages of advertising for battery shavers or Pelaco business shirts.
Looking back on it, these were the halcyon days of surfing because we knew no better, had no expectations. Mum made our boardies, we wore our football jerseys to keep out the chill in winter, a new board was a bridge too far and we made do with hand-me-down water-logged beasts, their decaying cores disguised by a heavy coat of pigment.
Our aspirations were formed from grainy, out-of-focus black and white snaps in the mags or from flickering images on the side of a tent when the surf movie man would come to town each summer. Mostly, however, our influencers came from the hierarchy of the beach, where Kahuna was the guy with the biggest drop-knee turn. Our home beach was our universe, until one of us got a panel van, and we moved, en masse, to someone else's universe, fought them, if necessary, and stole their waves.
Surfing was pretty much the primitive world writ small.
But things were on the move, and the pace quickened when McTavish and company cut a foot, then a metre off the length of a surfboard, and Doug Warbrick started importing, then manufacturing proper wetsuits. John Witzig started publishing articles that sounded like a surfer was speaking to you, rather than the echo of some lame TV travelogue narration. And then along came Tracks.
Rip Curl Co-Founder, Doug Claw Warbrick, pops the champagne for Mark Richards.
It's interesting now to flip through the yellowing pages of that debut issue of October 1970, and realise how small we were when it seemed such a big deal. The ads are the best barometer of the time. Nat Young has gone country soul in Byron, building boards with McTavish and Ken Adler. Billy Wallace is still in Brookvale but making $57 popouts for kids. Hutchinson and his scary older mate Debono take a full page ad to say that they are way too cool for that and will continue to make customs only, thank you very much. Barry Bennett's Dion Blanks make some kind of statement with a full-page picture of a rocket launch, which looks a bit too much like an explosion in a blank factory. Peter Clarke has crossed the bridge and opened in Brookvale with Glynn Ritchie in the shaping bay. Baronwear has a bloke in a suit wheeling a rack of striped tees down a road. The centrefold features Shane Stedman and Nipper Williams in bed together in a wonderful piss-take from back in the days when PC stood only for police constable or Peter Crawford. Ron Wade and Chris Crozier are making boards just down the road from the Tracks office and are an easy target, Surf, Dive & Ski is opening up in the 'burbs and Denny Keyo puts his own smiley face on the back page. Ah, the way we were.
Interestingly, the first of the surf brands that would become The Big 3, both of them based in Torquay, didn't have enough marketing budget (in Quiksilver's case it would take years to unleash the moths from Alan Green's wallet), and possibly they were a bit wary of the Whale Beach hippies who might do anything, including putting a picture of the Newcastle steelworks on the cover.
Quiksilver co-founder Alan Green aka Greeny shoulders a case of grog – what a major surf company owner use to look like.
But by the middle of the '70s, Tracks was thick with ads and its editorial reflected a gradual shift from country soul to the rising tide of pro surfing. In 1977, in a thin book called The Wave Game, published by Tracks, I concluded: "I don't think it's too far-fetched to imagine a scene at Burleigh Heads (then home of The Stubbies Pro) in 10 years' time: police and security guards forming a cordon around the path out to the point while the two top-rated surfing superstars in the world make their way out into the water to carve it up for half a million bucks; the judges sitting in their air-conditioned computer towers, signalling their scores to the beachmaster, who then relays them to the television crew covering the event from the air, land and sea for the benefit of the 10 million viewing audience…"
It took longer than 10 years, and the WSL would kill for those kinds of viewer numbers, but I got most of it right. Covering my butt for the benefit of soul surfers still reading us, I added: "But Christ I hope it isn't boring. I hope the quest for big bucks produces individuals, in and out of the water. I hope that the first surfers to make a million still occasionally hurl abuse at each other, get loaded in the dunny, throw food at each other and run out of restaurants without paying the bill… I hope they still have a sense of humour about the whole bloody thing, because it is and always will be just surfing."
But money changes everything. Fast forward now to a more recent chapter of surf history. It's 2009 and, having just finished a decade working for Quiksilver in Europe and California, I pen a tell-all not just about that company but about the entire industry, just as the Global Financial Crisis kicks in. Salts & Suits sold a lot of copies but cost me a few friends in high places. I concluded it thus:
Around the world in 2009, the little people in the surf industry were still copping set after set of financial turbulence on the head. Ma and Pa surf shops were barely in business: some just shut their doors and walked away after years of work. The mass production of surfboards in China and South East Asia had turned many custom surfboard operations into non-profits, while even the best shapers found that getting into bed with the enemy was the only sure way to survive…
As I write all the major surf companies and their leading retailers are facing huge challenges. Chances are they will survive the shakeout, even Quiksilver (which had the furthest to fall) although probably not with its current empire intact. But the landscape for the surf companies has definitely changed since the GFC. The surf industry's Big 3 will now have to prove they are as innovative as they have been telling us they are for years.
But they didn't, or couldn't, at least not in their bloated condition of a decade ago, with the subprime mortgage crisis in the United States leading the world into the abyss of global recession. Of the Big 3, who absolutely dominated the global industry, only Rip Curl, a private company not so publicly beholden to its shareholders, managed to hold onto its core values as a surf company. Meanwhile world market leader Quiksilver, already gravely wounded by a misguided acquisition of the ailing French ski company Rossignol in 2004 and its fire sale four years later, which cost the brand nearly half a billion dollars, went quietly on the market. Billabong, the second-largest surfco, seemed to be surviving the recession until it went on an acquisition rampage, buying or leasing expensive retail bricks and mortar when that sector was going mostly on-line.
In 2013 the Bong board approved a rescue package that gave a California-based company called Oaktree Capital Management almost a 20 percent stake in the brand. In September 2015, Oaktree rescued Quiksilver from its Chapter 11 bankruptcy protection in exchange for a majority stake in a reorganized company to be renamed Boardriders. Just over two years later, in January 2018, Oaktree-owned Boardriders bought the controlling interest in Billabong for a package valued at $300 million. So in just a handful of years, the highest-hanging fruit in surf had fallen to a "global asset management firm" few but the shiny bums had ever heard of.
For more than 40 years we'd had the gold-plated legacy of real surfers called Greasy (Billabong founder Gordon Merchant) and Greeny (Quiksilver founder Alan Green), and now we had dudes in blue suits and brown loafers, sharpening their pencils in Mahogany Row. So who the hell was Oaktree Capital Management? …
In financial circles Oaktree is famous as the largest distressed securities investor in the world, meaning it makes its billions picking up basket case corporations, stripping away their assets, reinventing them as cash cows and then flipping them. According to IPE.com, "the firm limits its investing to niche markets where it believes the potential for reward outweighs the risk entailed. According to Oaktree founder Howard Marks, "I'm a great believer in luck, and luck is not distributed equally."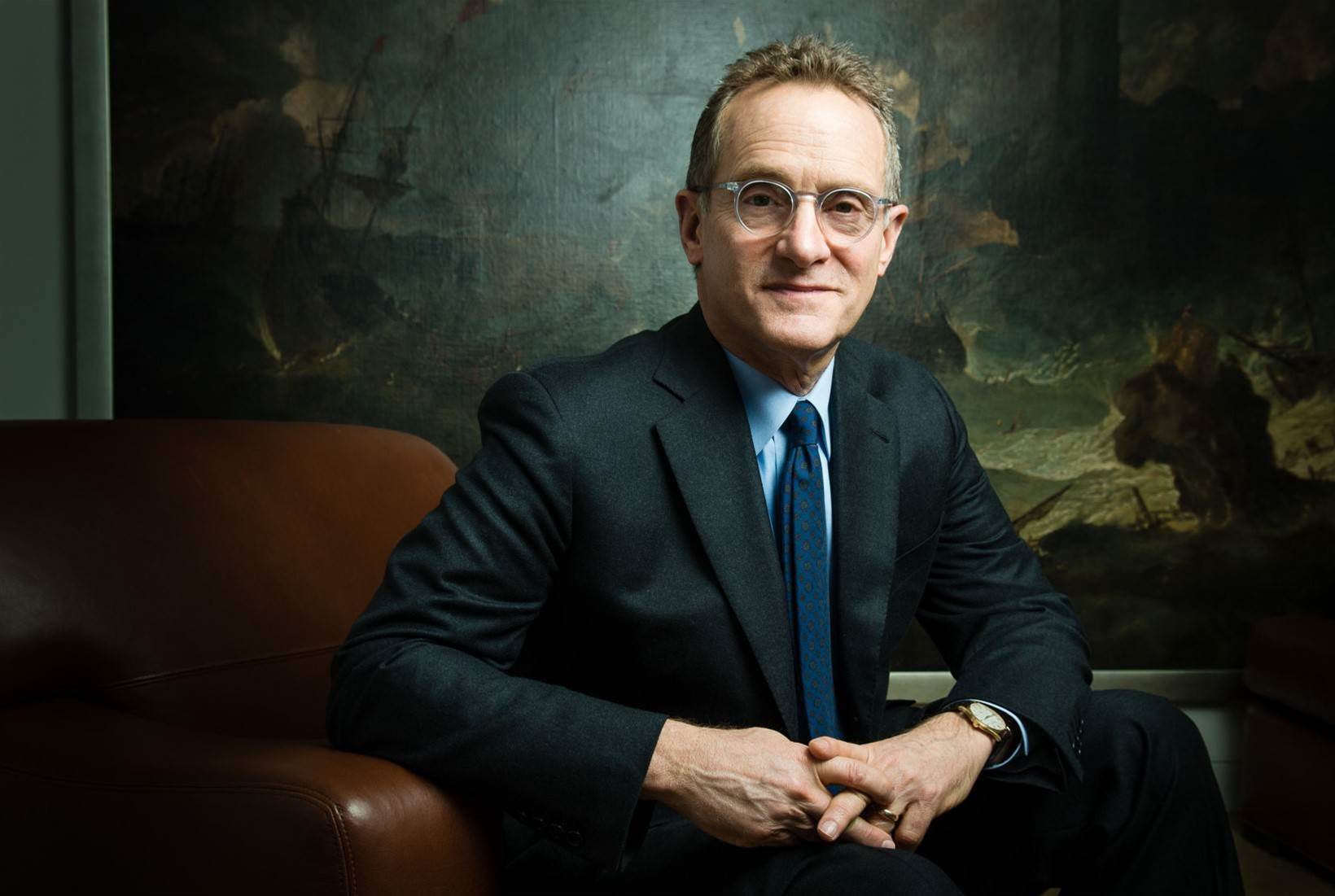 Howard Marks, founder of Oaktree Capital, which acquired controlling stakes in Billabong and Quiksilver.
While the corporatization of surf was not exactly a new phenomenon, the QuikBong takeover was only the tip of the 21st century iceberg, which had really begun to form when the Nike powerhouse took over Hurley in 2002, followed by VF Corporation's purchase of Vans in 2004 and Reef in 2005, and Volcom's sale to luxury brand house Kering in 2011.
These movements in the first decade of the century by and large represented the transition from small brand clusters to big brand clusters, not necessarily a dilution of brand values. It is the second wave of transactions, beginning with Oaktree's QuikBong raid, that have turned the global surf industry on its arse, not certain which way is up.
Possibly the only move that defied the trend, and seemed to make some kind of sense to the core surf community, was the sale of Rip Curl to New Zealand-based camping and hiking retailer Kathmandu last October for $350 million. Of course, the private sale by aging founders Brian Singer and Doug Warbrick ("Sing-Ding" and "Claw" to the cognoscenti) had been long-anticipated, but if the identity of the buyer came as a surprise, it probably shouldn't have. The two companies have had a degree of boardroom affinity since the late and highly-respected James Strong moved from chairing Rip Curl to chairing Kathmandu in 2006, and following his death in 2013, the Curl founded the James Strong-Rip Curl Undergraduate Fellowship in his memory. A year ago, you could see the possibilities of another Patagonia emerging, but that was then, this is now.
An indication of the quantum industry shift over the past decade or so can be gleaned from a cursory glance at the lead sponsors of the abandoned WSL Championship Tour for 2020. Surf brands accounted for three of 11 events on the men's tour and three of 10 for the women. In 2010, surf brands accounted for all but one of 10 events in the men's and all but two of the eight women's events. And this despite the fact that in the transition from ASP to WSL, the cost of putting your brand name on a world tour event has dropped from around $3 million to $1 million. The new financial controllers clearly work by a different set of rules.
Which brings us back to slightly scary here and now. Despite the winter surfboard boom, the inherent problems of the surf industry won't go away – they've just been subsumed by the more pressing issue of survival...
Read the full story in the 50th Anniversary issue of Tracks. On Stands Now...
Tracks 50th anniversary issue is on sale now. Put one under the tree for Christmas.
Tracks