Surf contests usually call for the biggest waves possible.
| | |
| --- | --- |
| | Surf contests usually call for the biggest waves possible. Not at the Quiksilver Pro today however. |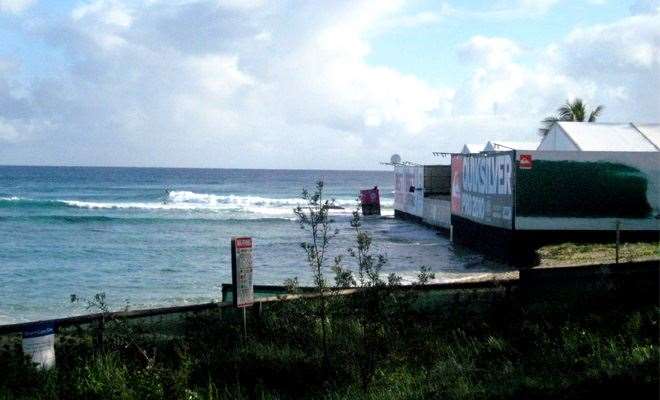 The vulnerable contest site on the high tide. Pic: Bernasconi
Surf contests usually call for the biggest waves possible.
That's what we want to see and more often than not what the surfers want to ride. Still, there's one kind of wave contest directors don't generally factor in when they're planning a surf competition–a Tsunami. It's the rogue set that has the potential to catch everyone inside. Rip Curl team manager and former Tracks editor, Gary Dunne probably said it best. " Ah the irony of it. We've got the world's best surfers here and they are being asked to run from the biggest wave." I told Gary we should have legendary Peruvian surfer, Felippe Pomar on hand just in case things got interesting. Pomar claims he once rode a Tsunami in his home country. Coincidentally the full account is actually in this month's Tracks in a story titled The Wipeout.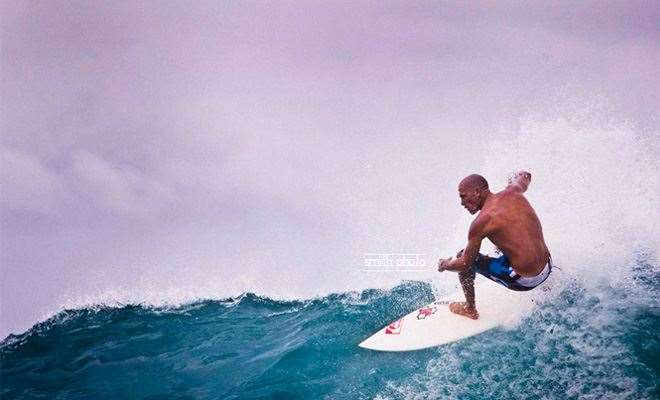 Kelly Slater snuck out Duranbah Beach in anticipation for something out of the deep. Pic: Smithy
Back at the contest site Quiksilver were probably wishing Felipe was on their team but certainly weren't taking any chances with the event. They let "Eddie Go" last year but drew the line at a Tsunami. When we tried to get in to the precariously situated contest area [right on the point at Snapper] this morning we were firmly told that the location was off-limits to the public. An unusually big tide had also made the whole set up look particularly vulnerable. Director Rod Brooks, who wasn't going to risk running heats in the midst of a natural disaster, had officially postponed the event. According to his reports the biggest surge could potentially hit hours after the initial one. No one could really tell when the big set might hit. Still it must have been hard to knock back an invaluable marketing opportunity with a shot of Slater pulling in to the Tsunami wave behind the rock at Snapper.
The warnings had done little to discourage the voyeuristic tendencies of the general public or the surfers for that matter. A massive crowd gathered on the hill at D-Bah and stared towards the ocean all morning, waiting for some tangible sign of the wave of mass destruction.
Meanwhile a 50 plus crowd tore apart fun looking three-foot D-bah peaks. SES workers manned the paths of beaches to issue an official warning to anyone who wanted to go in and the whole thing built towards becoming one of the great non-events in surfing history. I'm sitting here on the balcony of our eighth floor apartment feeling pretty safe whichever way it goes.
If it happens I'll be fine. If it doesn't, well, it's a nice view from up here anyway.
By Luke Kennedy
Tracks