"He's the carbon copy of surfing, he is the blue print." Michael's mother, Joan.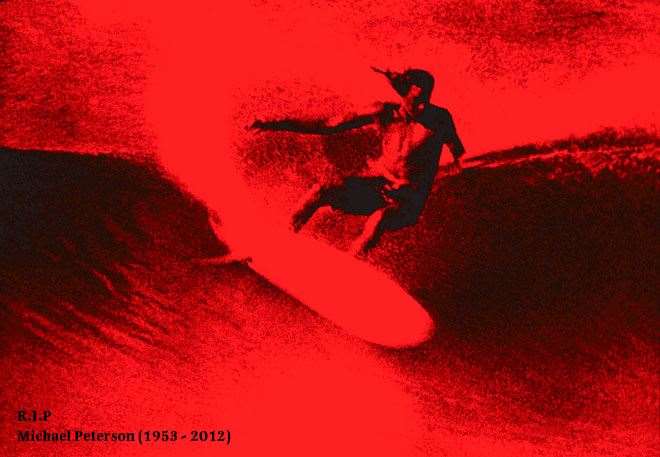 The news that Michael Peterson had died yesterday spread through the surfing community like wild fire. Here at Tracks HQ, we first received the news from his old friend, filmmaker Dick Hoole. "He wasn't just another surfer," Dick told Tracks' current custodian, Luke Kennedy. "He was King Michael." Such is the high regard MP was held in surfing circles – royalty seems an apt description.
To those close to him, MP's passing wasn't a huge surprise. The legendary natural-footer had been suffering from diabetes caused by his schizophrenia medication for some time and physically wasn't in good shape.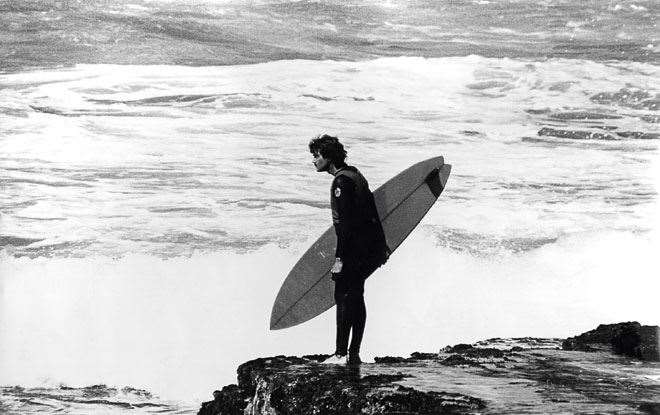 A lost (and now found) shot from the Tracks file cabinets. No marking, no names – just a pensive MP pre rock jump.
His super-sonic surfing and his wiry muscular frame, however, and those gold Ray Ban aviator sunnies and cool clothes, will be what makes up his legacy in our hearts and minds – not the latter day MP bogged down by medication. Although, to his credit, Michael still made the odd appearance at certain events to mingle with modern day champs.
His story is a colourful one to say the least; best documented by former Tracks editor Sean Doherty in the biography – The Life Of Michael Peterson. From his days as a pesky son pleading his mother for the right to surf, to shaping and re-shaping his own boards and of course dominating line-ups and competitions around Australia and even places like Hawaii. To when it all came crashing down when the pressure of his own notoriety, compounded by excessive drug use combined with his dwindling lack of competitive thirst, saw him arrested after a car chase in Brisbane and then thankfully institutionalised (not jailed).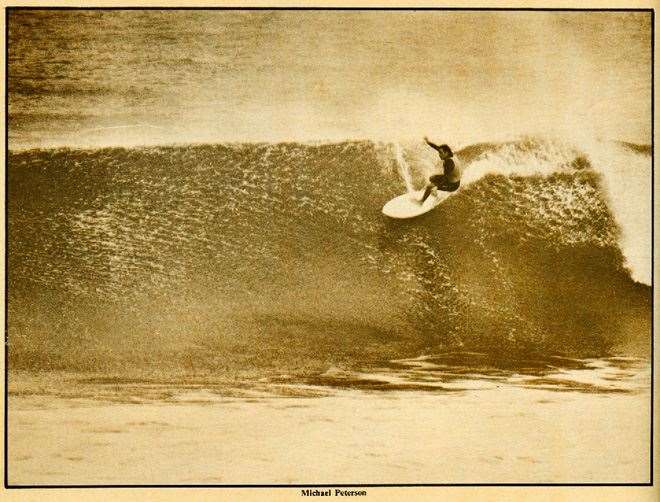 "My fondest memory of Mike was when I was shooting the final of the 73 Bells contest, his riding was so superior at the time I just felt he was taking surfing to another level. That was 40 years ago but that particular heat really stuck in my mind as something very special. It was truly an amazing performance." Words & Pic: Frank Pithers (lwebsite)

Tracks

has had a long relationship with Michael and his family, and through Dick, we'd been invited to call the family. I spoke with Michael's mother, Joan today, the rock behind Michael's longevity, and she so succinctly described her son's legacy this way: "He's the carbon copy of surfing, he is the blue print." Joan also took the chance to bravely put to rest any inaccurate reports on his passing. "He died peacefully," She said. "My friend just rang up and said some one had it on the Internet that he had his breakfast then died... Aren't people cruel? He didn't have his breakfast. He woke up around seven and was talking to me and then had a seizure. I called an ambulance and he went into unconsciousness – no pain. And then he went into cardiac arrest. He died here in his own bed." I asked if there was anything else she'd specifically like to say, knowing me from a phone call around this time last year. When I was lucky enough to talk with Michael. She said, "I asked him once, 'How did you get the board to go so fast on that cutback? He said, "That was fast!" We both had a chuckleand she spoke of Michael having a chance to meet with Morning Of The Earth director Alby Falzon just last week and what a nice time they had reminiscing. Alby later musing to Joan how amazed he was at the sharpness of mind Michael had showed... That he, "remembered every little detail".
I took the chance to tell Joan I too enjoyed my conversations with Michael last year and how great it was to hear him explain in detail the boards he rode in the seventies and why they went so well.
When you are a living legend, people hang on your every word. I certainly was a receptive ear that day and will treasure the time [and audio] of our conversation.
Michael was no fool, he had in fact cheekily told his sister Dot of what would happen in the future. "He always said to me," Dot told me over the phone prior to talking to Joan, "'When I die, watch them all come out of the woodwork. Mates I've never seen in thirty years!' And now there's people talking about Michael we've never heard of?" Dot added.
Such is the life a legend. We tend to want more from them even after they've gone. I asked Dot, as I did Joan, how they'd best remember him as. "He was my brother and my best friend," Dot said. "And he was like a Dad to us kids... We grew up with no dad (as you know) – he was a dad to us. In his day, he ran the household."
Michael, through his surfing and stoic dignity through his latter years, is a benchmark for what it means to be a hero of the surf. And it seems that the best knew it to be true even when they didn't say it or show it directly. "I got a beautiful bunch of flowers from Nat Young yesterday," Joan mentioned amongst our goodbyes. "How did he know I like white flowers? I'm going to have all white carnations for Michael too on Thursday at the funeral." And they'll be plenty of people there to see them, I assured her.
As troubled as he was and as hard as he fell, he was always the King. His ability on a surfboard, his progressive shaping and intense concentration and even how he dressed – will be a legacy that lives on in surfing for decades to come.
– Col Bernasconi
Rest In Peace Michael (1952 - 2012)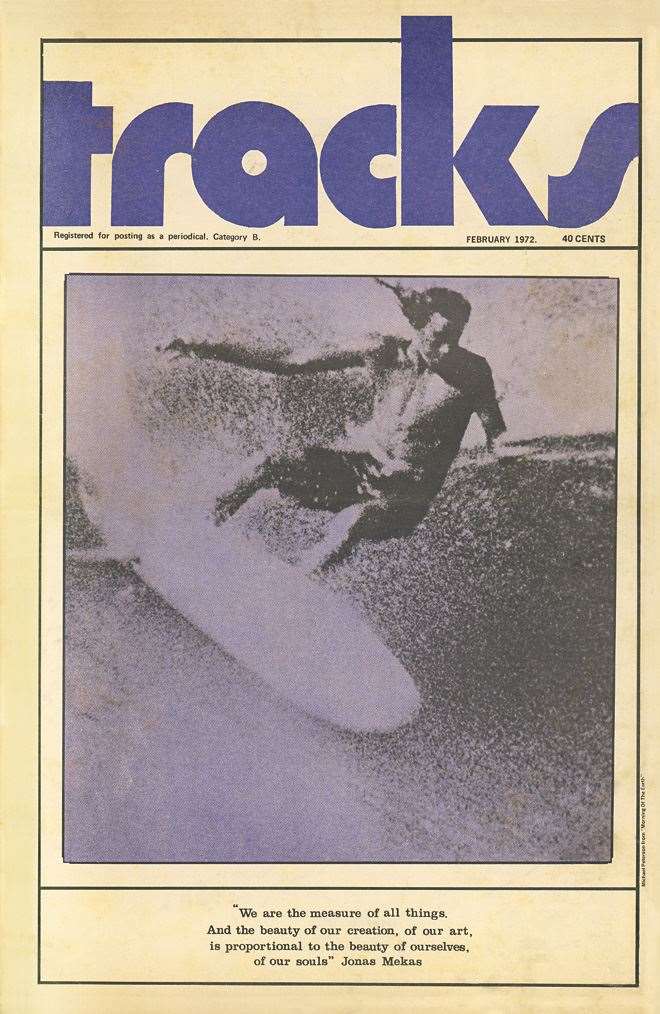 The most iconic surf mag cover of all time, Tracks' Feb 1972, featuring "that cutback". Pic: Alby Falzon (frame grab).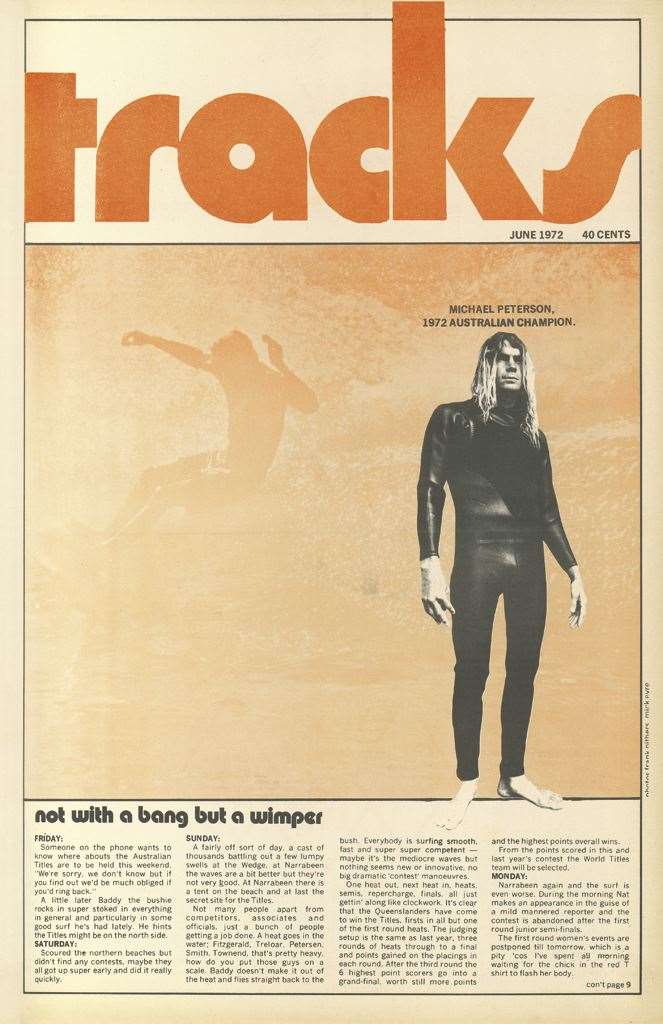 The confronting counter culture androgynous like image of Michael on Tracks' June 1972 issue. Pic: Frank Pithers & ?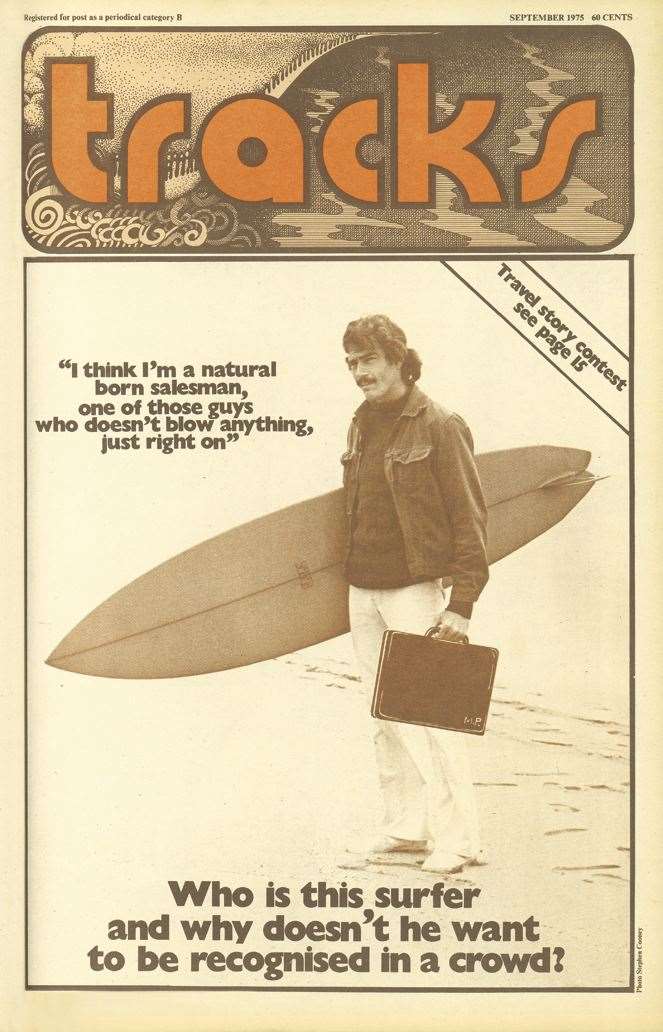 Tracks' September 1975 issue featured Michael in business mode. Pic: Stephen Cooney
Tracks