Brad Farmer talks to Tracks about the runaway success of the National Surfing Reserves movement which recognises the cultural importance of the best waves in Australia.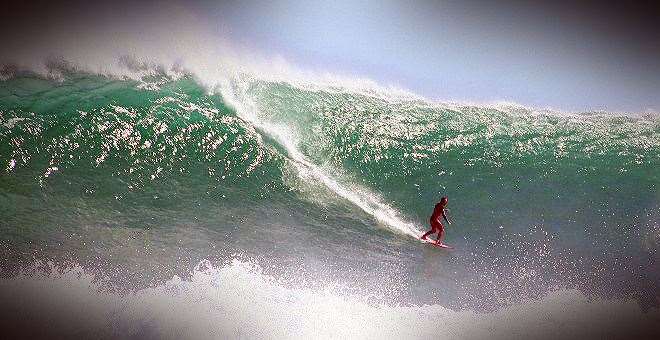 Kalbarri local Ry Craike on a bomb worth saving.
Brad Farmer talks to Tracks about the runaway success of the National Surfing Reserves movement which recognises the cultural importance of the best waves in Australia. If a Bill currently before the American parliament is accepted it will become a global institution.
The National Surfing Reserves concept is likely to go global this year. You must be thrilled?
Our time has come.  Declaring the great surfing breaks with official NSR recognition may just be a piece of paper in parliament and a plaque in the ground - but it speaks volumes about the new value society places on surfing environments - and the people who are its natural protectors. National Surfing Reserves is now deeply rooted here in Australia and growing elsewhere –the child of NSR, World Surfing Reserves (WSR) is about to stand and deliver as well. I'm totally stoked about this – it's been a long, slow and quite amazing advocacy journey over two decades.
Hawaii seems the obvious place to recognise and pay homage to our sport's scared sites. What waves will be formally recognised over there?
The common view is for Waikiki and the North Shore to be enshrined as NSR's and possibly WSR's in time.  A Bill (SB2646) for a Hawaiian NSR, based on the Australian model, is currently before the legislature there. It's likely to be accepted by the Senate. Similarly, the Californian Coastal Commission (CCC) has supported the NSR and WSR concept. We're getting real traction.
Explain the difference between a World Surfing Reserve and a National Surfing Reserve?
In a nutshell Kirk… an NSR is an 'iconic' surf site recognized by a nation for its intrinsic cultural, environmental, historical and sporting value, while an WSR will be an 'iconic' site recognised internationally. There's more to it than that, but that's the essence. My legendary surf scribe mate Drew Kampion, describes them as a "sort of coastal appreciation zone and an opportunity zone… and a possibility zone, which happens to be on the coast".
Which Australian waves are being considered as WSR? And who makes that call?
Manly and Bells Beach are the two frontrunners for WSR status in 2010-2011. As Manly is due to be declared later this year as an NSR, it's planned to use the swell of support and resources in NSW to make a joint NSR-WSR official ceremony. After exhaustive canvassing globally to all National Governing Bodies (NGB) of surfing by WSR;  Malibu, Waikiki and Manly have been nominated as the first cabs off the rank to roll out the WSR model.  Manly is well positioned right now to become the first WSR in the world – and that has a lot of people pretty amped.
A NSR doesn't formerly offer any official protection from an unwanted development or environmental degradation but is there evidence that it helps a surfing community combat these types of issues?
Well, an NSR is 'protected' under the NSW Crown Lands Act (1989) as a special purpose zone – recognizing 'surfers' as the primary user group, so that's a powerful positioning tool for protecting the integrity of a site. The existence of an NSR acts as a kind of tactical wedge that inserts itself into every future discussion concerning the fate and destiny of a NSR area.  They are also a nexus for focusing energy and assets. There's a whole proud and positive force of appreciation and valuation. Would you believe that real estate agents are now promoting properties for sale based on their proximity to an NSR?
I would. How many NSR are we up to now? And what Australian waves are likely to join the list in the future?
Margaret River and Kalbarri become the 9th and 10th NSR's in Australia at ceremonies in March, 2010. Yallingup (WA) and the Goldie on are the go for 2010-2011. Our National Patron - 'Bugs' (who replaced Peter Garrett last year) is driving the NSR on the Gold Coast, with Burleigh and the southern points being the obvious 'iconic' focus.
Finally, your thoughts on Peter Garrett. You expressed your disappointment and frustration with him quite emphatically last year in Tracks. Has he improved as Environment Minister since then? Do you feel he should he resign over the insulation scandal?
You can't help but feel great sympathy for the deep hole Peter's placed himself into. A totally saturated disappointment in his non-performance across many fronts continues monthly and covers the nation like a heavy dark cloud. Politics sure does bad things to good people.   Everyone says we've 'lost' him to the very machine he was sent by us to overhaul. He should fall honourably on his experimental sword of politics and come back to the people who once worshipped him. We need him back in the 'real' world again.
By Kirk Owers
Tracks