The key players' quotes from Day 4 of the Corona Open J-Bay as the event heads into its, hopefully, thrilling climax.
The key players' quotes from Day 4 of the Corona Open J-Bay as the event heads into its, hopefully, thrilling climax. 
There was epic performances from Toledo and Moore, a brain freeze from Callinan and upsets losses from Gilmore and Fitzgibbons. We hear straight from the horses mouths on a day that could have big implications for the World Title Race
"When I look back at the heat there will be lessons to be learned and areas to tighten things up, but I learned a lot about surfing J-Bay this week with no one out which is what I needed. The yellow jersey is something not to hold on to in itself. I'm more about improving my surfing and pushing the limits I've set myself. For me it's all about that process and my team and working with great people." Sally Fitzgibbons after her loss to Malia Manuel. The Aussie will give up the yellow skivvy if Carissa Moore makes the Final. 
Sally Fitzgibbons may not be all yellow at the next event. Photo: WSL/Tostee
 "That could be the wave that Jordy Smith looks back and says, 'That's where I lost the World Title.'" Strider Wasilewski ramps it up to 11 after Jordy, slightly too deep, elected not to go on a set wave which Owen Wright swung on. The goofy nailed an 8.30 and not only finished Jordy Smith's 2019 J-Bay run, buy may have put a possible buckle in his World Title chances too. It was Owen's first win over Jordy in his career and the first time he has made it past the Round of 16 in 2019. 
"Today was as easy to surf J-Bay as it gets. It had a little coping on the lip and was really slow. Usually you are just racing, but today you could take as much time as you want. It's really a playground out there. I have now jumped into the top 5. Jordy made a few mistakes and you can tell the pressure is building. For me it's about staying in touch then taking down those guys that are near me when I have the opportunity. Hopefully I can strike when I have to." Kanoa Igarashi, last year's Finalist, has his eyes on the prize after smashing Peterson Chrisanto.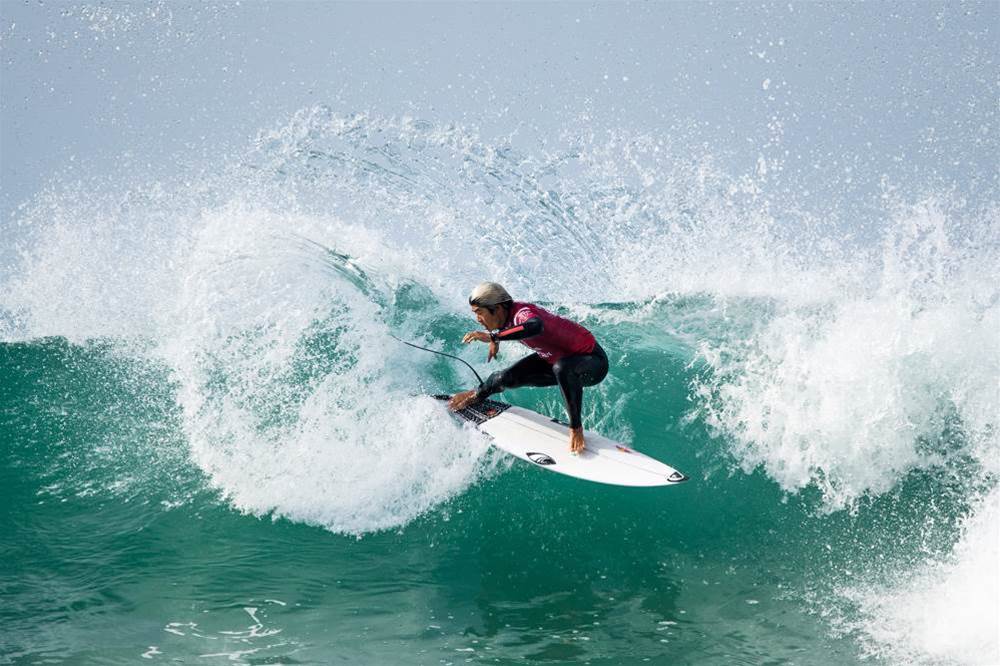 Kanoa has been oozing confidence in and out of the water. Photo: WSL/ Sloane
"It was interesting that opening 9. It was one of those waves that was going to wait and hold for me. I had some time to think at the start of the wave as I was on my own after Willian had been caught on the inside. I tried to open up some big carves and throw some big spray to get past Willian and that's what I did. Getting through the next heat is what I'm thinking about. I'm staying focused on my game and my boards and keeping the vibe alive." Filipe Toledo after posting the highest heat total of the event. Can anyone stop him? No. 
"From what I've seem the Jeep Leader Jersey has been a bit of a burden. No one in recent years has really taken it and ran with it all year. It's a long campaign so I'm just happy with the start of my year and where I'm at. J-Bay has always been a difficult wave for me to surf and get scores, but I seem to be improving each heat." Kolohe Andino who, with one more heat win, will now take the No. 1 spot. 
"I was hoping to get a rematch with Steph in the Final, but that's not going to happen and that will be a tough one for her to overcome. It would be cool come up against Caroline in the Final, but I'll just focus on myself. Hopefully on Final's Day we will have great waves with loads of opportunity."  Lakey Peterson after defeating Courtney Conlogue in their Quarterfinal. With Steph Gilmore and Sally Fitzgibbons both bowing out in the Quarters, she is now well placed to stake her claim for a World Title. 
"It's a really hard one. I had control of the whole heat and then made some priority mistakes at the end. I thought if maybe I could better my score then that might be enough to get him. I think I got a little excited about being in front of the World Champion for 30 minutes and so I just need to tighten it up and bring it home." Ryan Callinan after he gifted Medina two waves in the last three minutes. Could that have been the moment where Medina's traditional end of year tilt clicks into gear?  
Ryan Callinan may be haunted by his loss to Gabriel Medina at J-bay. Other contenders for the title might be too. Photo: WSL/ Tostee
Tracks