Parko and Steph. All Pics: natesmithphoto.com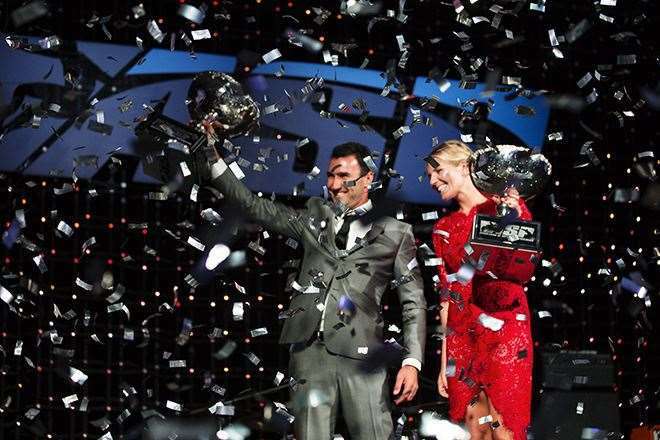 Parko and Steph. All Pics: natesmithphoto.com
It's the night where the elite of men's and women's surfing get "frocked up" – both kinds. Four-inch heels are strapped on instead of legropes for the girls and the men wax their hair instead of their boards. In the increasingly sophisticated world of pro surfing, it's even a little competitive amongst the surfers to see who can pull off the best get up.   
       This year's ASP ball was a slick affair, designed to keep live TV viewers captivated and send I-phones into instagram meltdown.
        Pat Parnell, who hosts Fuel TV's Daily Grind, was the MC and set the tone straight away. " We're going to make it festively fast and fun … and I will be your social lubricant for the night."  Pat likes his alliteration.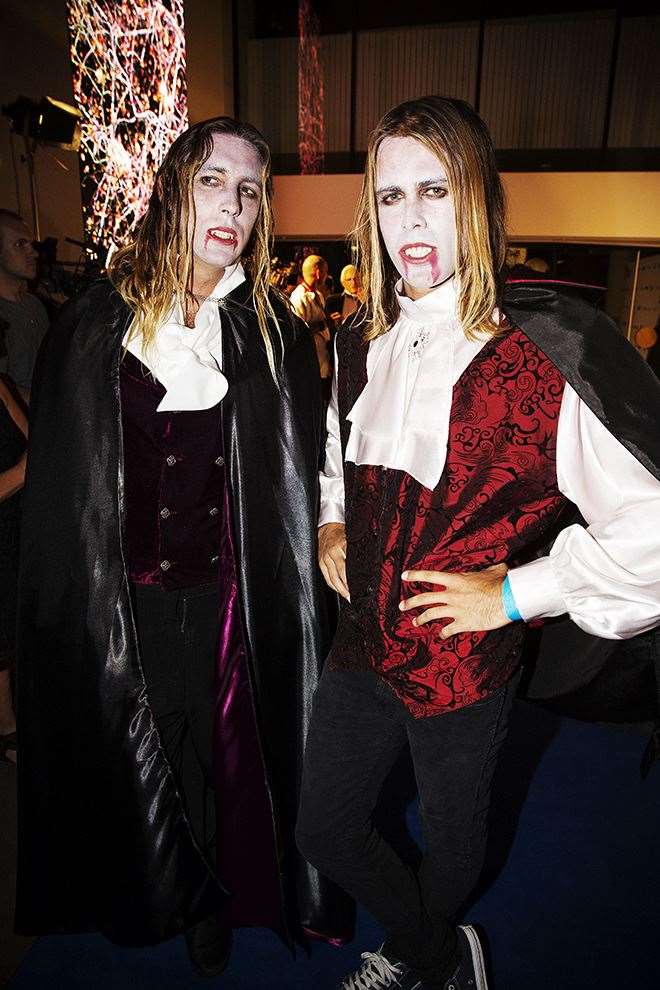 Matt Wikinson and friend.  
   The first major coup of the evening was the introduction of Paul Speaker as the new ASP CEO. Since ZoSea media, headed up by Paul Speaker and Terry Hardy [Kelly Slater's manager], announced their takeover of the ASP very little has been revealed about the company's vision for the ASP. Seeing Speaker on stage at the ASP ball was a little like watching Batman's mask taken off – suddenly professional surfing has a new face. However, it was a highly conservative cameo by Speaker, who shed no further light on the future of the sport under ZoSea. This was a soft launch of the new ASP at best and even the existing members of the sport's governing body admit to being in the dark about what's in stall. Until ZoSea makes some official statements about the specifics of their plans the rumours about the direction of professional surfing will continue to fly – will we be seeing a much leaner looking pro tour in 2014?
Alana Blanchard and Malia Manuel.
     Back to the ball. Matt Wilkinson was at his ostentatious best, vamping it up as Count Dracula and staying in character the whole night. When presenting an award alongside the delectable Roz Kelly from channel 9, Wilko did all but sink his fangs into the exposed neck of the news presenter, who is rapidly emerging as the mainstream media's face of surfing.
      Although we knew who the world champions were, the ball features a number of more novel awards, including men's and women's manoeuvre of the year.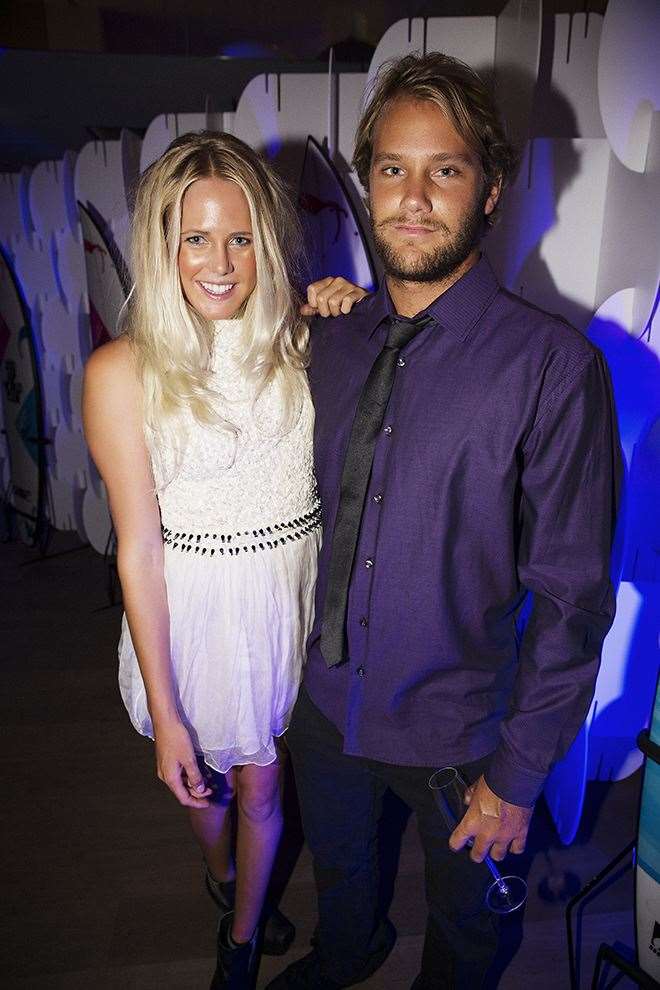 Laura Enever and Granger Larson.    
     This was a Kelly Slater consolation prize, his highness taking it out for the unforgettable " Kellycopter " air reverse at the Rip Curl Pro Bells. If Kelly wasn't winning the world title, he wanted to make sure he was remembered as the funniest guy of the night. " I thought Laura Enever was going to win the best manoeuvre for the girls for that bottom turn," Kelly joked as he accepted his award. Kelly's politically incorrect reference to Miss Enever's pokey, bikini, bottom turns was met with a mixture of shock and laughter. Either way it was refreshing to see Kelly drop his guard a little.
       He later traded barbs with Mick when their Bells final was named heat of the year.
 " You know they had Russian judges that day don't you Mick," Kelly quipped in reference to the final he lost to Mick by the barest of margins. Kelly the comedian was back again when referencing the omniscience of John John Florence. " Ah, John John's been surfing for about twenty years, he's nineteen I think?" Then when accepting his second place trophy, Slater commented, " A little downgrade, I guess. "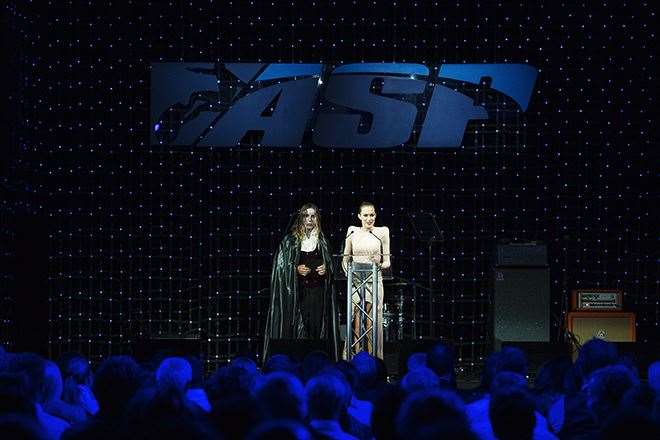 Wilko haunting co-presenter Roz Kelly.
      Kelly saved his serious commentary to pay tribute to World champion Stephanie Gilmore and women's surfing in general. "If Stephanie had a couple of heats against you you're definitely going to lose one … The gap between men's and women's surfing is not that great and certainly not what it is in other sports… "
      Try as Kelly might to steel the limelight with a comedic turn, it was always going to be Joel Parkinson's night.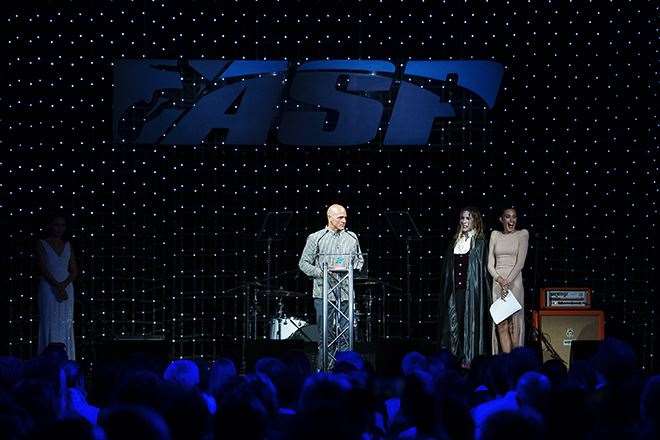 The unmistakable Kelly Slater.
     Approaching the stage with pages of written notes, Joel rapidly abandoned the script to make a heartfelt tribute to his wife, family and friends. " Oh, fuck I've pretty much lost my entire speech," he confessed and then continued while choking back the tears, " I'm a family man and I've got a beautiful wife and three beautiful kids … I don't know why I'm crying, I must have my period," he went to say, prompting much laughter from the crowd.
Since winning the world title Joel seems to be more confident in public – he's less afraid to say what he thinks or reveal his emotions and this serves to only further endear him to an already adoring Australian public.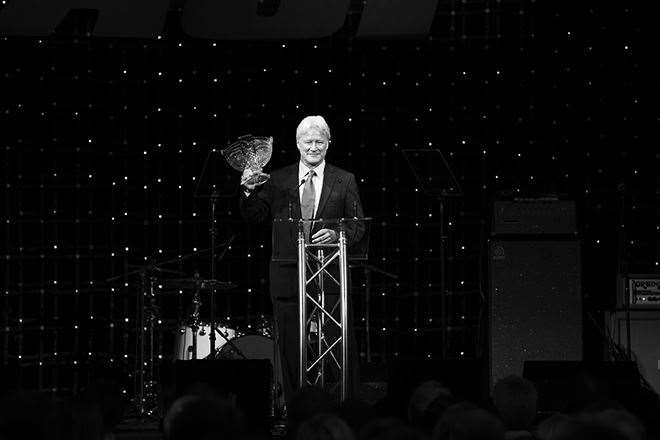 Randy Rarick gets his just deserves.     
     Parko may have dropped a few F-bombs live on Fuel TV, but given the sincere tone of his speech and the significance of his achievement this all seemed perfectly justified.
Although Paul Speaker did look a little anxious in the front row, perhaps questioning whether or not he would be able to package these wave-riding wild men into a more sanitized and homogenized product for the mainstream.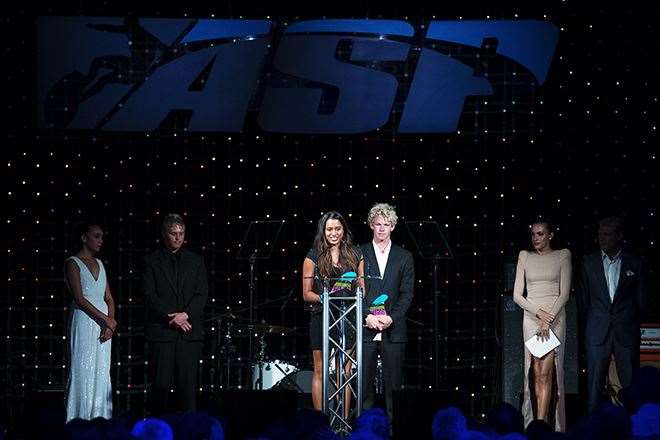 Malia Manuel and John John Florence take center stage.
      Cynicism aside, the ASP did a great job on the event and with a mixture of spectacular outfits, a few jokes and impassioned speeches the pro surfing fraternity proved they do have plenty of personality to match their performances. However, exactly how those two elements will be utilized to project the sport into its next phase at the hands of ZoSea media remains to be seen.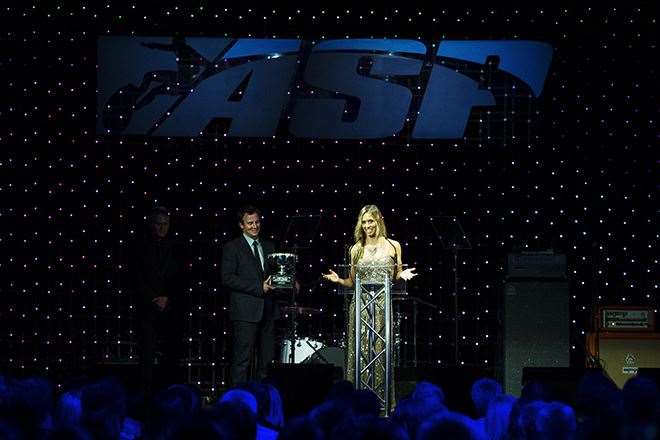 All smiles from womens runner-up Sally Fitzgibbons.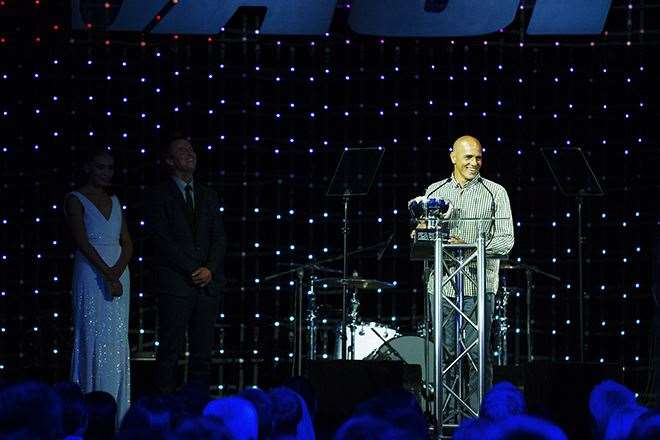 Downgraded, Kelly excepts his runner-up trophy.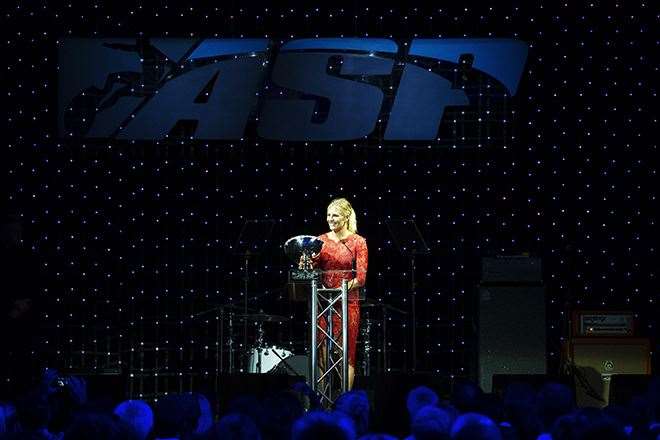 Lady in red Steph Gilmore with the cup that counts.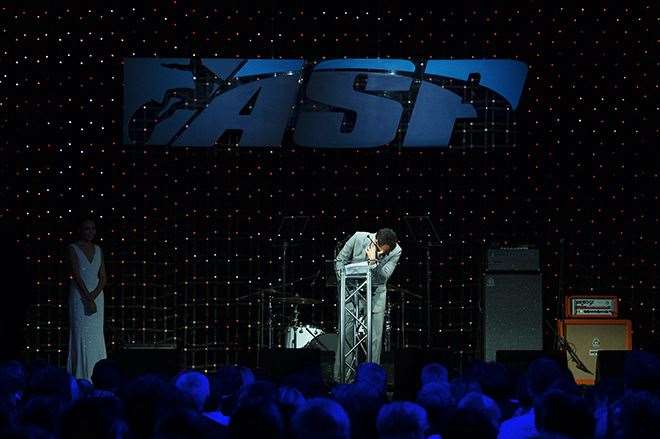 Great speech from our men's champ Joel Parkinson.
FULL LIST OF AWARDS' RECIPIENTS:
2012 ASP World Champion: Joel Parkinson (AUS)
2012 ASP World Runner-Up: Kelly Slater (USA)
2012 ASP Rookie of the Year: John John Florence (HAW)
2012 ASP Women's World Champion: Stephanie Gilmore (AUS)
2012 ASP Women's World Runner-up: Sally Fitzgibbons (AUS)
2012 ASP Women's Rookie of the Year: Malia Manuel (HAW)
2012 ASP Breakthrough Performer: Sebastian Zietz (HAW)
2012 ASP Women's Breakthrough Performer: Lakey Peterson (USA)
2012 ASP World Longboard Champion: Taylor Jensen (USA)
2012 ASP Women's World Longboard Champion: Kelia Moniz (HAW)
2012 ASP World Junior Champion: Jack Freestone (AUS)
2012 ASP Women's World Junior Champion: Nikki Van Dijk (AUS)
ASP Life Member/Chairman Emeritus: Richard Grellman
ASP Service to the Sport: Randy Rarick
Peter Whittaker Award: Adrian Buchan
2012 ASP Men's Heat of the Year (Fan Vote): Mick Fanning (AUS) vs. Kelly Slater (USA) – Rip Curl Pro Bells Beach
2012 ASP Women's Heat of the Year (Fan Vote): Laura Enever (AUS) vs. Tyler Wright (AUS) – Roxy Pro Gold Coast
2012 ASP Maneuver of the Year (Peer Vote): Kelly Slater (USA) and Carissa Moore (HAW)
2012 ASP Wave of the Year (Peer Vote): Gabriel Medina (BRA) and Stephanie Gilmore (AUS)
2012 ASP Surfers' Surfers (Peer Vote): Sage Erickson (USA) and Taylor Knox (USA)
Tracks