It's a four horse race for this year's women's world title.
It's the biggest world tour the girls have had in a decade. 100,000 points and a share of two and a half million dollars over a 10-month season is the platform for the revamped ASP Women's World Tour. There are three new events, four new rookies and one fresh major sponsor. But for all these novelties that have enlivened the new ASP, it's our predictable top four girls who have placed first or second in every event so far. On the eve before we move to the Northern Hemisphere, let's take a look back on what has gone down at the half way mark as race to crown the 2015 female champ in Maui heats up.
The first event of the year was like a homecoming for 5x world champion Stephanie Gilmore. The Queen of Coolangatta and Roxy's leading lady won the trophy over her sponsor compatriot Bianca Buitendag at Snapper. It would have been impossible to wipe the smile from Steph's face even with the biggest eraser on Photoshop, and Bianca's generosity of donating her entire prize purse to chosen South African charities thoroughly warmed the heart of the surf community.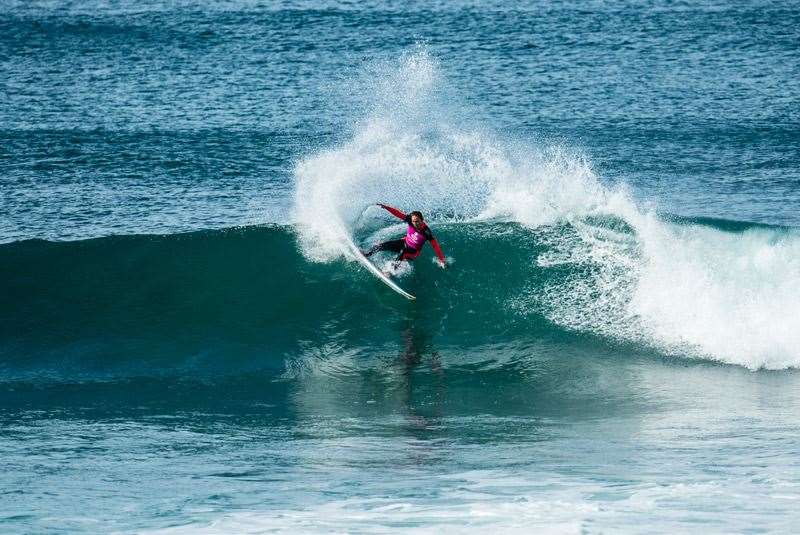 Carissa Moore went back to back at Bells this year and is currently ranked world number one. Photo: Joli 
Then the temperature dropped. April was hard work. The girls trekked from the West Australian coast down to the southern waters of Victoria with only a few days to spare. The competitors didn't get new stamps in their passports but they did travel more than 3,500kms and pass through a time zone. Martin Potter, surfing World Champion and a man who survived the grueling tour of the 80s once said, "…you have to get uncomfortable to get comfortable on tour." Hawaiian Carissa Moore showed no signs of distress during the April leg as she took out back-to-back wins to solidify her place at the top of the rankings.
Maybe it was shedding the wetsuit but there was definitely something fizzing in Sally Fitzgibbons' Berocca as the tour left Australian shores and headed to the home of the world's largest Carnival. Everyone seemed to struggle a bit in Rio. Brazil's wildcard Silvana Lima landed the best air reverse we've ever seen in a women's heat, eliminating Stephanie Gilmore in the early rounds. Even on the men's side Adriano De Souza failed to catch a single wave until the dying seconds in his heat against Kelly Slater, though he must have felt the hometown advantage.
Sally Fitzgibbons surfed a longer board in Fiji and it helped her secure her first event win in Fiji. Photo: Joli 
Sally Fitzgibbons makes the final every time she competes in Brazil and this year she took it all the way. In a recent interview with Nev Hyman, creator of Firewire surfboards and Sally's board sponsor, he credited her South American victory to a longer than normal board.
Sally persisted with this tactic going into the fifth and most talked about event this side of the year: the current crop's debut with the ferocious Cloudbreak (and a brief encounter with her sister Restaurants). As she gave copious hugs to the Fijian women who had been rooting for her all week, Sally's unspoken message was loud and clear, 'this is what I've been waiting for...'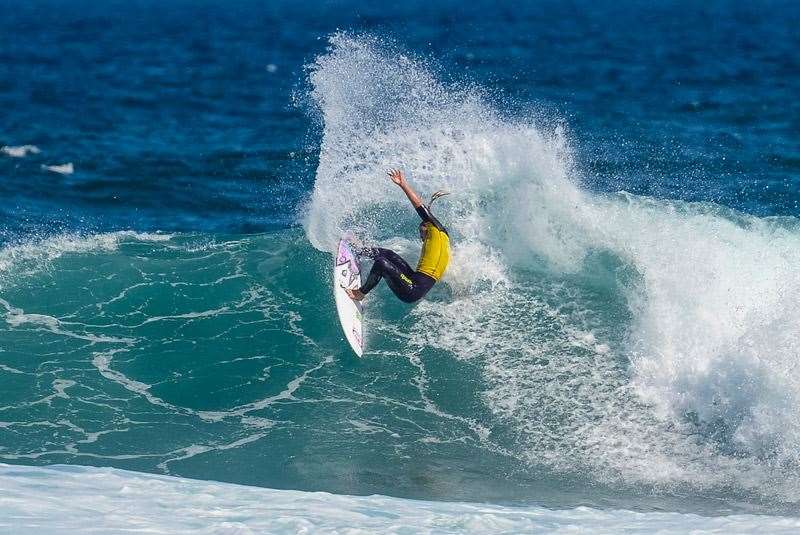 Tyler Wright throwing the kitchen sink into a turn at Margaret River. Photo: Joli 
Unmentioned but not forgotten is two time event runner-up Tyler Wright. Tyler has maintained her fourth place seed, consistently reminding the other girls that she's the one to beat. Two years ago Tyler came close to giving it all away having completely lost her enthusiasm for competing, a fate that would have been a great loss to women's professional surfing. Tyler's turns at Bells, her barrel riding in Fiji and her honesty in interviews always has me in awe. Whether she's hunting for it or not, there's still only less than one event win between her current seed and pushing into first place.
Flashback to this time two years ago and the women's world tour would already be in the final stages, but right now we're only halfway through! Carissa stands in first place with 39,700 points to her name, pushed from behind by Australia's most disciplined female surfer Sally who has 38,200 points. The oldest girl on tour, Steph, is currently seeded third on 32,750 and Tyler rounds off the top four with 31,000 points.
Carissa, Sally and Steph are all defending champions of upcoming events. Whether that is going to put them in favourable positions or not is debatable; ocean conditions play as big a part as heat strategy and Mother Nature has a reputation for injuring the most calculated of plans.
What the ASP has done this year is given the girls a much improved platform, enhancing the likelihood that a heated title race could really evolve. There are five events across three countries yet to be claimed, and 17 female athletes waiting eagerly to showcase their talents in the best year of women's professional surfing we've seen in a long time.
Tracks