More airs please and why the Oz fans should be cheering for the girls.
Women's surfing is tough; I have watched every event this year – I want to say start to finish, however I became disheartened after the midway point. The other night, I rolled home late from a wine-fuelled dinner and flicked on France. As I watched big roundhouses and some slashes through the lip, I couldn't help but drunkenly wonder, 'Where has women's surfing gone this year?'
Another year passes and again, barely an air in competition. We know they can do them, their socials show us plenty. Does the desire to win, outrank the progression of women's surfing?
The chicks could be accused of living in the land of mediocrity, there's not a whole lot of risk in the ring. Cynicism aside, as the women walk into Maui, the final event of the women's tour, thank Hughey we have two Aussie surfers vying for the world title. Yes, the Aussie women are much better poised to claim a crown for Down Under than the men. So, Oz fans should be cheering.  
I can tell you a tale, a yarn or a story. Of how Sally has never won or how Tyler's injury shows grit and brings her glory. But the facts are simple, Sally Fitzgibbons and Tyler Wright are in the midst of the closest world title race we have seen in a few years and Courtney Conlogue is an outsider nipping at their heels.
The world title will be decided in the famed horse shoe bends of Honolua Bay. Hard to say whose surfing is best suited to the wave. WSL/Poullenot.
Heading into Maui, it's hard to pick a winner, a coin could easily decide (maybe as it should priority). Heads we have Sally. Her consistency all year is a credit to her as an athlete and an ambassador for the sport, she isn't the most stylish surfer on tour, nor is she the most powerful. However, her determination and strength of character have placed her within an inch of her maiden world title, just one season after her worst performance on the tour. If you really think about what goes into the life of a professional athlete and then put that on a gas cooker, that's what Sal has put in this season.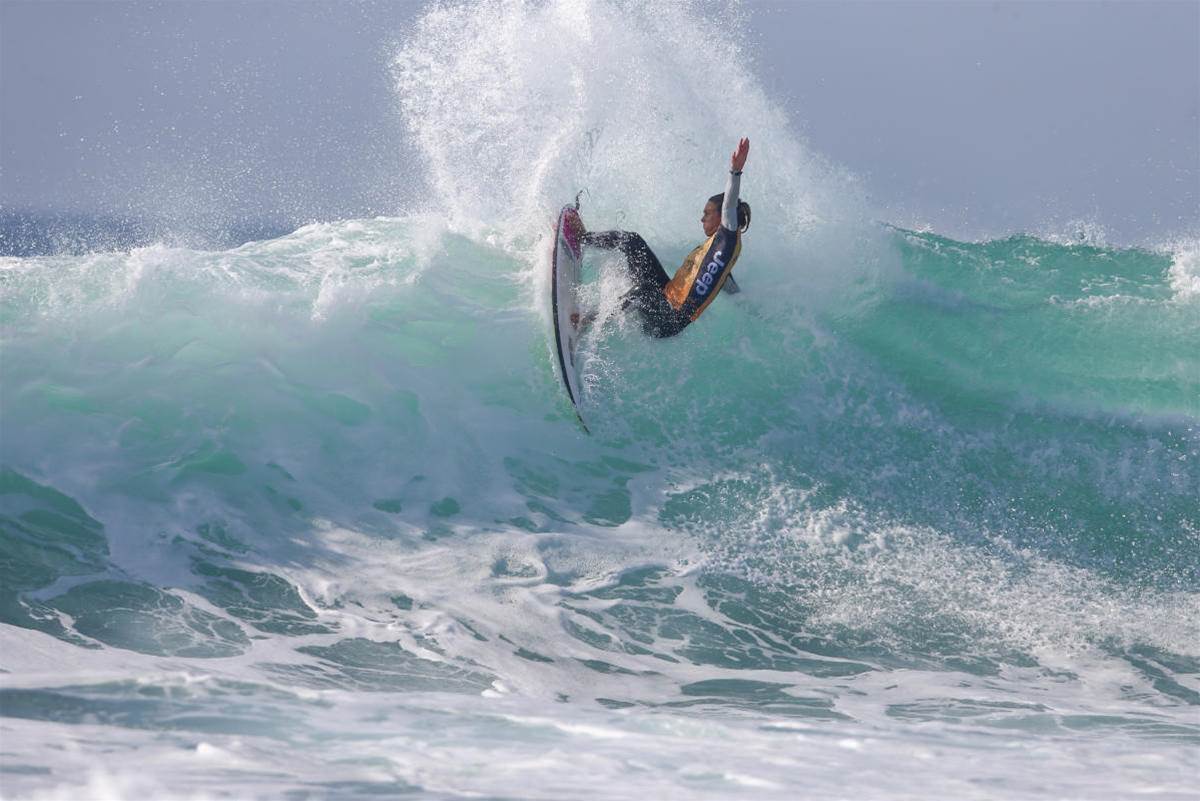 While consistency has been key for Sally Fitzgibbons there have been moments when she turns up the volume on turns. WSL/Masurel
Tails for Tyler. Wright's title defence has been an emotional rollercoaster, starting on the Goldy chairing her brother to the podium after a miracle victory. The powerhouse from down South went on to finish 2nd at Margies and who had her number? Why Sally who didn't make one blunder. Her season has consisted of a string of Semi Finals appearances, and a victory in Brazil.
Tyler gets a 'well done' hug from Mick Fanning, in France. WSL/Poullenot
With a damaged MCL she bowed out early in Portugal, but backed up in France and grinded (what must have been painfully) into the Semis. Tyler has time to recover as she hops over to Maui, but wouldn't it be magic if she went back-to-back with titles, toughing it out on one good leg.
Tracks