According to the Tracks Complete Book of Bullshit.
The year is 1978. Rabbit Bartholomew goes on to win the world title, but a lanky guy from Newcastle named Mark Richards is already refining his twin fin model and will use it to blast his way to four consecutive world titles in the ensuing years. The Coke Surfabout is the richest surf contest in the world and in '78 the final goes down at barrelling Nth Steyne, Manly. In an epic duel Larry Blair gets the nod over Wayne Lynch.
Perhaps sensing they are reaching not only the end of a decade but the end of an era, the Tracks team compile a comprehensive list of quotes from surfers, shapers and surfing luminaries. The quotes are organised according to a diverse range of subjects including 'ego', 'surfing', 'politics', philosophy and of course 'complete and utter bullshit'. It's a decorated list of contributors and some probably said a few things that they might regret in hindsight. You may have to squint a little, but it's well worth it for the laughs and insights. Keep scrolling down.   
Tracks, September 1978 issue included this definitive list of surfing bullshit and quotes.
"I don't think I can be beaten out in the water, unless of course someone turns up who's better than me." Michael Peterson
MP definitely had an unbeatable phase. Photo: Tullemans

"I ride a pink surfboard and wear pink and black shorts. That way I don't look like the average kook at the beach." Peter Townend
Peter Townend having a yellow boardshorts day, but sticking with the pink board and the very different fin set up. Ryan Burch eat your heart out.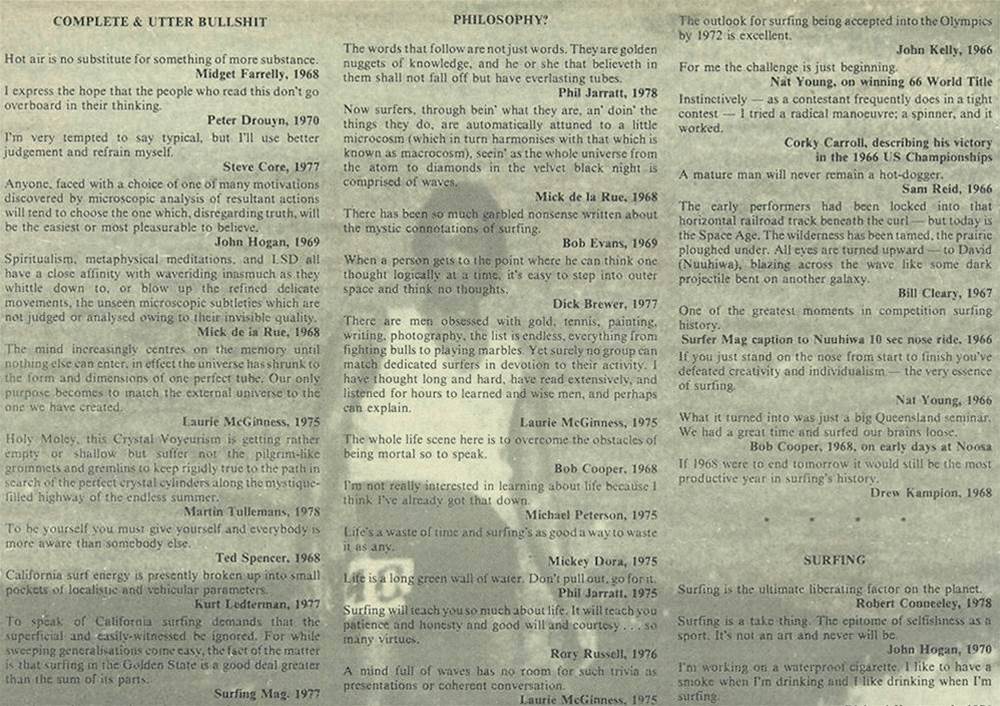 "If 1968 were to end tomorrow it would still be the most productive year in surfing's history." Bob Cooper
Bob Cooper – surfer and highly influential shaper.

Tracks