A strange chapter is added to one of surfing's best rivalries.
It was frustrating and exciting at the same time. Frustrating to see two of surfing's most watchable individuals duke it out in what were ultimately pretty bad waves. Frustrating because we were forced to sit through one restart and not quite another. Frustrating because it was the emotion written all over Jordy Smith's ropable face. But then it was exciting in a way, too. It was exciting to see everything go down in the last few minutes. It was exciting to watch that desperate final scratch-match followed by minutes of deliberation, while the competitors made their way up the cold morning sand. Most of all it was exciting because one gets the sense that this isn't the last time we're going to see these two go at it.
It started the day before, when John John got the better of Jordy in their Round 4 match-up with Josh Kerr. It's no secret that Jordy sees himself as the guy out at Jeffrey's. He's the 2x champ. He's the only top-tier representative from the proud sporting nation playing to host to the event. He believes his heavyweight brand of surfing looks better on this wave than anyone else's. And yet John John took him down out there with an air reverse on one wave and a respectable combo on the other. Jordy's not happy about it. He expresses his disapproval and crushes Alejo in an awesome act of retribution.
Then Rosie tells JJF the next morning that Jordy is annoyed he beat him and the usually humble Hawaiian prince tells everyone 'If he's annoyed that means I'm getting to him,' before letting out a confident little fuck-you-Jordy laugh and walking away to prepare for the encounter.
The encounter itself is nearly a non-event. The waves, which according to everyone on the webcast have been pumping all morning, don't bother showing up and those that do don't lend themselves much to the commentators' claims. It looks fast, wonky, only slightly bigger than yesterday. Neither competitor catches anything. There's a restart. More dribble rolls through, more minutes tick by. Then out of frustration or nervousness JJF takes off on a close-out and the first punch is officially thrown. He catches a couple more but nothing sticks. Then the local boy makes his move after much waiting—jabbing and floating down the line on a bumpy-looking set wave until a caught rail disrupts his flow and he comes unstuck on the end section. Still, it's the best wave of the heat so far and scores Jordy a 6.33. A couple more scrappy exchanges follow, one or two haymakers are thrown, and then suddenly there's two minutes left and both men realise it's time to get serious. John sneaks a wave under Jordy's priority and launches into another air reverse followed by a close-out bash. 7.33. A minute now. Jordy takes his last swing, nothing special on offer but he manages to fit in three turns before getting caught behind. Then John John paddles into one with twenty seconds to go and links a fast floater with a sloppy finish and with no further ado the heat is over.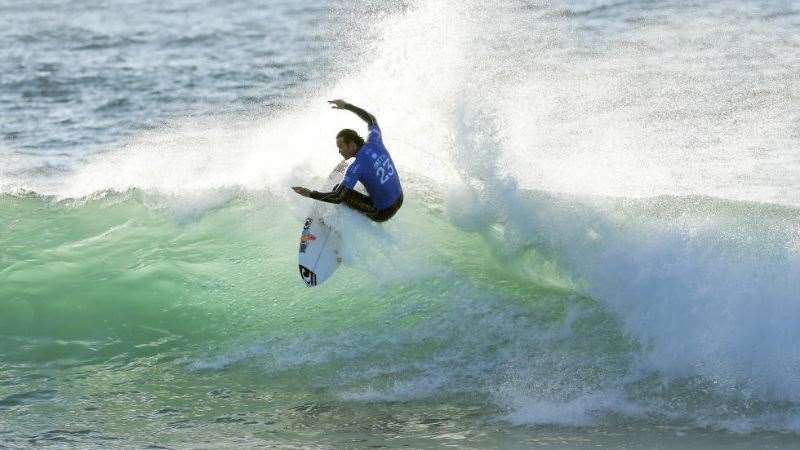 Jordy does his best to manage a wind ravaged J-Bay dribbler in the quarterfinal. Photo: WSL/Cestari
Confusion sets in. What just happened? Who needs what? Both guys do their best to appear composed as they scramble up the beach while the judges furiously review the tape. Then it's announced, there's 0.2 between them. John John wins. Jordy loses. The contest is called off for the day and no further deliberation will be entered into.
In the aftermath, Rosie tries to get an insight into how Jordy's feeling, despite the fact he looks like he could trash a five-star hotel room. 'Well Jordy,' she offers sweetly, 'pretty much all of us are baffled by that heat. I mean, the conditions pumping before your heat and then it just seemed that someone flicked the switch. What's your initial reaction?'
'Overscored on his last wave,' he tells her without a moment's hesitation, and just like that, he adds fuel to the fire of a rivalry that we can only hope will get more heated and fierce and desperate, no matter whose side of the ring you're on.
Tracks