How Parko and Kelly are approaching the heaviest world title showdown in history.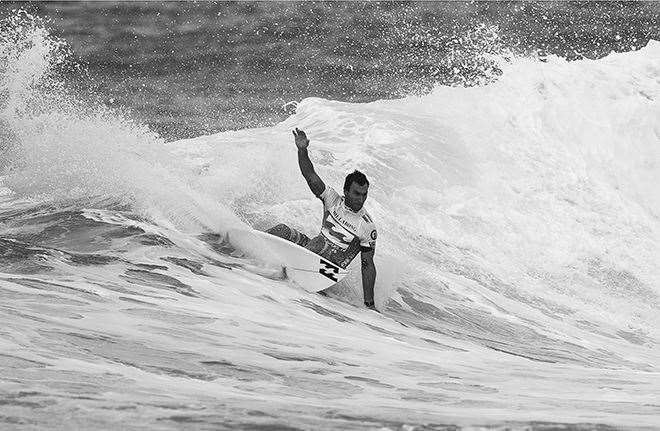 A committed Parko puts life on tilt with style and power. Pic: natesmithphoto.com
Joel Parkinson
When Tracks asked today's world title casualty, Mick Fanning, what advice he'd offer Joel Parkinson right now, he had the following to say. "Just have fun mate, he knows what he's got to do. Stay in your own zone and concentrate on your own game plan. That's all you've got to do – just better yourself and go out there and give it hell." To his credit Mick had surfed himself lame against Shane Dorian. He hobbled up the beach after putting it all on the line to keep his world title hopes alive but couldn't pull it off against the man the beach commentators have dubbed Shane "BackDorian". Mick suggested that he and Joel hadn't talked about competition all year and that it was unlikely he'd talk directly to Joel about the title now because he didn't want to "get in his head too much," but he was clear he would be one hundred percent behind his mate from Snapper, who had earlier survived a tough round three heat against Kalani Chapman.
Parko knew he wasn't going to have it easy. Chapman is a Pipe specialist and the 8-foot plus, WNW swell meant there were still plenty of lefts on offer for the Hawaiian goofy-footer to launch his stocky frame into. Chapman is not only a Pipe aficionado but a notoriously tough competitor with precious little concern for Joel's world title aspirations. Parko started well, sneaking through a smaller left like a fox slipping through a hole in the chicken coup for a 6.67. Then on his second he drifted through a backdoor runner and iced it with a patented Parko carve. The crowd wasn't here to watch turns but when Parko laid down one of his knife-through-butter rail-turns they made an exception and applauded.
Joel looked in control but Chapman was determined to upset the party and hunted down a couple of classic Pipe lefts to apply the pressure. For a few minutes Joel looked vulnerable with Kalani chasing a mid-range score and lines 10-stacking towards the horizon. After a heavy wipeout on a left, Parko put it to bed with a late, backdoor drainer that earned him a nine. Every Australian surfer and Parko fan around the world breathed a sigh of relief as the wave spat Parko out of the barrel.
Post-heat Joel did his best to relax. The trademark grin was there, but the tension which lay beneath was apparent. He didn't want to devote too much time to the media but admitted that Chapman had been a tough guy to draw. " Whoo, go all year and you come up against the hardest guy at Pipe," he grimaced.
Later in the afternoon Joel dominated his round four match-up with CJ Hobgood and Kieren Perrow. He might have needed the confidence boost after watching Kelly put on a tube-riding demonstration in his round-three heat against Billy Kemper. The win does however put the pressure right back on Kelly who has to make at least the quarters to stay in contention.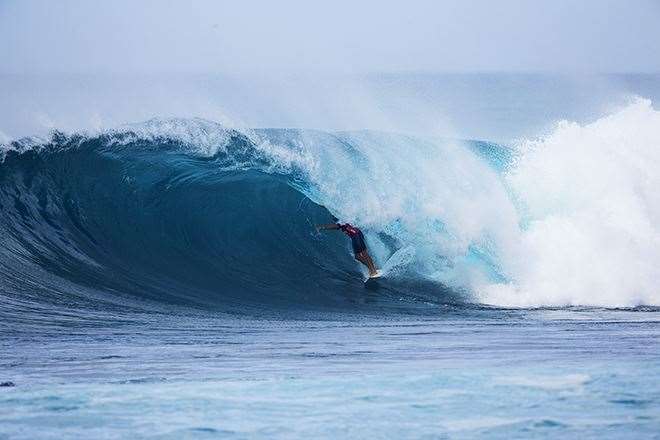 Kelly Slater
Kelly Slater reminded the crowd this afternoon that the Pipe Masters is the best free show on earth. When Kelly paddled out against Hawaiian wildcard Billy Kemper, he had to win to keep the world title race alive. Kemper had been in hot form throughout the Hawaiian season and perhaps many Australian fans were hoping he might cause a major upset and make Parko's path to world title victory a cakewalk. However, Kelly was never going to hand the title to Joel at the last post.
After failing to exit barrels on his first two rides, Kelly dropped in and went left from where you are suppose to go right. Like an aqua-gecko he somehow clung to the face, then fought a UFC battle with the foam ball and came flying out. Boobs popped out of bikinis, Burritos were spilt, and vocal chords destroyed as the crowd erupted. Several of the judges scored ten but a couple of wave scrutineers had the magnifying glass out and somehow found reason to call it less than perfect. 9.73 was the average in the end. From then on Billy got beat up. Kelly was left, right, right, left, all the way to the buzzer. Key to the performance was the fact that Kelly demonstrated his expertise at Backdoor and on the lefts at Pipe. While Parko may have his measure on the rights at Backdoor the general consensus is that Kelly has the definite advantage in the lefts.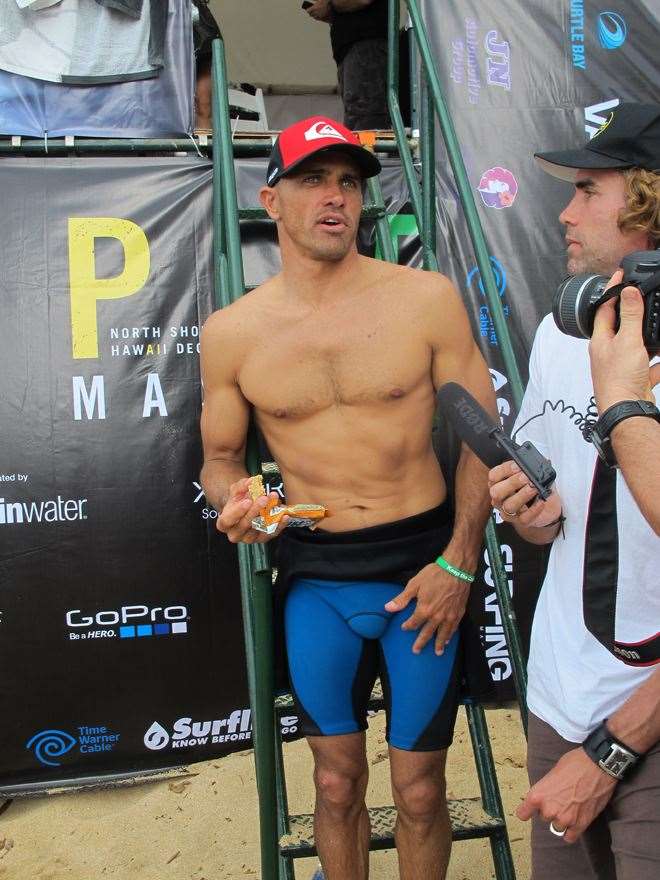 Post heat muesli grind Kelly Slater style. PIc: Zenla
Post-heat, Kelly looked languid and relaxed. He had time for media representatives from all corners of the globe and signed autographs until his hand hurt. When Shane Dorian trotted past to end Mick Fanning's world title dream, Kelly took a moment to give advice. "What fins should I use Kelly?" " Probably ones that stick you to the face," Kelly shouted back with apple-pie enthusiasm and a smile. I guess a certain peace of mind is the privilege of someone who already has eleven titles.
Afterwards he hung around chewing a muesli bar and talking about his late surf the night before. "Last night was insane. It was 8-10 feet. It was meaty. I was so excited and so adrenalised. Normally those waves would be pretty scary but I just didn't even care," he reflected. Mick Fanning's coach Phil McNamara had earlier suggested that Kelly surfed the late session with, " No sense of self-preservation."
When Tracks asked Kelly if he thought the world title climax at Pipe was a good thing for surfing he joked half- seriously, "I wish I'd won it at Santa Cruz. Joel probably wishes he did to." However, he was able to see past his own agenda and comment, "I think overall for the sport and the fans it's much better when it comes down to Pipe."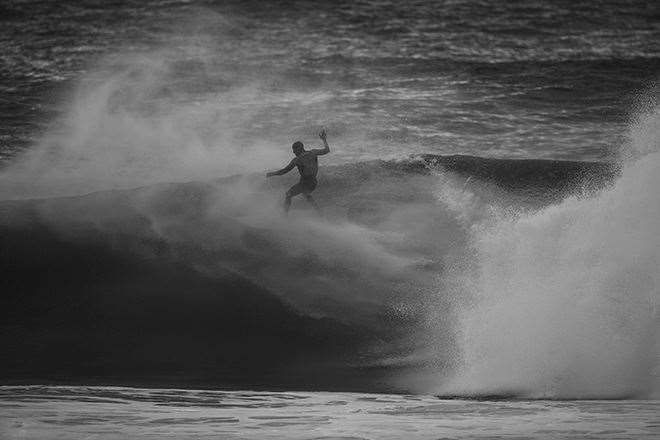 The only time spitting on a world chamion is okay – Kelly Slater exits the door. Pic: natesmithphoto.com
After the competition Kelly went back for more, charging 8-10 foot Backdoor with a Go Pro in his hand, not fixed to his board –  a kid playing with toys on a highway full of semi-trailers. He had to straighten out on one Backdoor monster. Commenting on the wave Tracks online editor, Col Bernasconi, suggested, "It was the sort of wave that might have cut any lesser surfer in half."
Kelly left the water on dark for the second night in a row. Kala Alexander had organised a charity gig at the Turtle Bay Hilton and Kelly was due to play a few tunes. Twelve world titles could wait until tomorrow.
BILLABONG PIPE MASTERS REMAINING ROUND 2 RESULTS:

Heat 4:

Shane Dorian (HAW) 13.77 def. Alejo Muniz (BRA) 11.10
Heat 5: Bede Durbidge (AUS) 14.60 def. Ricardo dos Santos (BRA) 12.76
Heat 6: Sebastian Zietz (HAW) 12.73 def. Travis Logie (ZAF) 12.17
Heat 7: Dane Reynolds (USA) 17.00 def. Kai Otton (AUS) 13.26
Heat 8: Miguel Pupo (BRA) 15.66 def. Adam Melling (AUS) 9.90
Heat 10: Yadin Nicol (AUS) 14.17 def. Matt Wilkinson (AUS) 12.17
Heat 11: Kolohe Andino (USA) 9.47 def. Brett Simpson (USA) 3.83
Heat 12: Kieren Perrow (AUS) 16.33 def. Heitor Alves (BRA) 7.12
BILLABONG PIPE MASTERS ROUND 3 RESULTS:

Heat 1:

Sebastian Zietz (HAW) 15.00 def. John John Florence (HAW) 7.83
Heat 2: Damien Hobgood (USA) 16.10 def. Owen Wright (AUS) 10.83
Heat 3: Dane Reynolds (USA) 17.83 def. Adriano de Souza (BRA) 8.50
Heat 4: Kieren Perrow (AUS) 14.16 def. Julian Wilson (AUS) 13.17
Heat 5: C.J. Hobgood (USA) 11.60 def. Jordy Smith (ZAF) 8.87
Heat 6: Joel Parkinson (AUS) 16.17 def. Kalani Chapman (HAW) 13.50
Heat 7: Gabriel Medina (BRA) 18.50 def. Kolohe Andino (USA) 14.06
Heat 8: Josh Kerr (AUS) 18.13 def. Bede Durbidge (AUS) 17.13
Heat 9: Kelly Slater (USA) 18.63 def. Billy Kemper (HAW) 15.50
Heat 10: Yadin Nicol (AUS) 12.83 def. Taj Burrow (AUS) 11.66
Heat 11: Miguel Pupo (BRA) 11.83 def. Jeremy Flores (FRA) 10.10
Heat 12: Shane Dorian (HAW) 15.67 def. Mick Fanning (AUS) 15.07
BILLABONG PIPE MASTERS ROUND 4 RESULTS:

Heat 1:

Sebastian Zietz (HAW) 16.40, Damien Hobgood (USA) 14.17, Dane Reynolds (USA) 9.96
Heat 2: Joel Parkinson (AUS) 18.10, C.J. Hobgood (USA) 6.20, Kieren Perrow (AUS) 5.83
REMAINING BILLABONG PIPE MASTERS ROUND 4 MATCH UPS:

Heat 3:

Gabriel Medina (BRA), Josh Kerr (AUS), Kelly Slater (USA)
Heat 4: Yadin Nicol (AUS), Miguel Pupo (BRA), Shane Dorian (HAW)
Brought to you by...

Book your flight now – HERE
Tracks